Google Integrates Google Meet with Glass
Workspace users can now open Google Meet calls on their Glass device.
Leave a Comment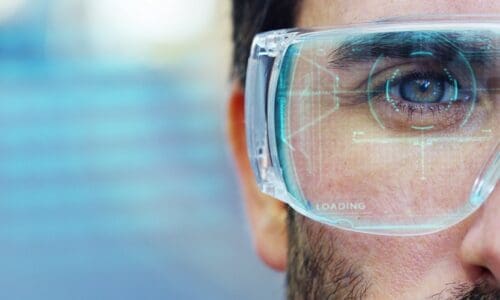 Google announced that all Workspace customers can now apply to access Google Meet, their videoconferencing app, through its face-mounted Glass device, a lightweight wearable computer with a transparent display for hands-free work, as part of an open beta program.
The Glass device is a pair of glasses that uses voice commands which can activate the right application for you whenever you need it, like training videos or instructions.
Related: Don't Sleep On Google Meet
Google Glass was once more consumer-focused but has since become more centered towards businesses as Google has offered the augmented reality (AR) contraption to them as part of an Enterprise edition, according to a VentureBeat article.
Going forward, if technical workers need to complete a real-world task with their hands, they can view written instructions directly in their line of sight.
In October 2020, Google announced that Google Meet was going to be available through Glass, which meant workers on the ground of a warehouse or datacenter, could join a Google Meet conference while allowing others in the meeting to see what they were looking at on the floor. This new capability will be extremely helpful when trying to get feedback from experts on a technical issue in a different location.
The new integration is now available to all Google workspace customers using Glass Enterprise Editon 2. Glass users can also join a scheduled meeting in Google Calendar directly from Glass because of this new update.
"Meet on Glass is one of the ways we're bringing powerful new video conferencing experiences to customers around the world, regardless of the devices they're using to connect and collaborate with their teams," says Dave Citron, Director, Project Management, Google Workspace, in a blog post. "When combined with our Google meet hardware and peripherals, the possibilities for real-time connection and problem solving are even greater."
This new development comes as part of a larger effort by Google to create more tools to allow workers to carry out their task remotely. This type of technology can boost efficiency and save an organization money along with preventing large groups of people to have to congregate to solve a complex problem.
This will also help people with less technical skills have a more expanded network of people they can reach out to and receive real-time help as they can look at a piece of equipment and perform a fix while receiving assistance from a technician in another country.
This is just one of many ways the tech community is looking to expand the use of videoconferencing to the future of work.