In The Hybrid Work Future, Audio Conferencing Quality Will Be Critical
Transcription services and asynchronous collaboration will help organizations shift to hybrid work, but that will require excellent audio.
Leave a Comment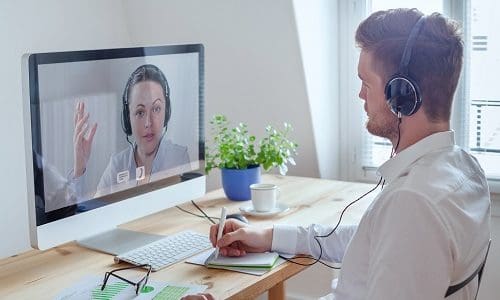 Videoconferencing services like Zoom, Microsoft Teams and Google Meet have been all the buzz going on 10 months now, and rightly so.
These platforms helped preserve revenue streams, helped teams collaborate remotely, helped companies reach their customers and help keep businesses alive during one of the most uncertain economic periods in global history.
However, we quickly realized that endless video-based meetings can be exhausting. How many times have you been on a video call and forgot what was discussed? If you didn't take notes, that information may be gone forever.
Videoconferencing providers, however, have realized this and have begun making it easier to take notes during meetings, including things like transcriptions, live captions and translation services.
Zoom and Google Meet, for example, have announced integrations with Otter.ai, a cloud-based transcription service. Services like Otter.ai automatically transcribe and provide closed captions in real time. Transcripts are saved to an Otter account so users can access and share them later. Other collaboration providers offer other transcription services as well.
As a journalist, I can't tell you how useful services like Otter can be. Before I discovered Otter, I would listen to an hour-long interview and transcribe manually. What a waste of time.
Read Next: For Conference Room System Integrators, 2021 Looms Large
However, when I discovered Otter, I realized that the clarity of the audio is extremely important. While very accurate, Otter isn't perfect, especially when audio isn't clear.
When I finally invested in a decent headset for videoconferencing instead of using the built-ins on my laptop, Otter became much more accurate.
As your customers transition to a hybrid workforce, employees will still be working away from one another, and many may not be able to attend those meetings. That makes these services and asynchronous communication that much more important.
That also means customers will need the necessary tools and equipment that will help enable crystal-clear audio so transcription services can accurately process the speech.
That's where you, the integrator come in. Your customers can have a meeting without video, but not without audio. Video helps us feel connected to one another, but it's the audio that really runs the ship.
Make sure you aren't compromising audio quality for unnecessary video features in your conference room installs.