QSC CX-Q Series Network Amplifiers Added to Q-SYS Ecosystem
At ISE 2019, QSC adds to its Q-SYS ecosystem with the new QSC CX-Q Series Network Amplifiers.
Leave a Comment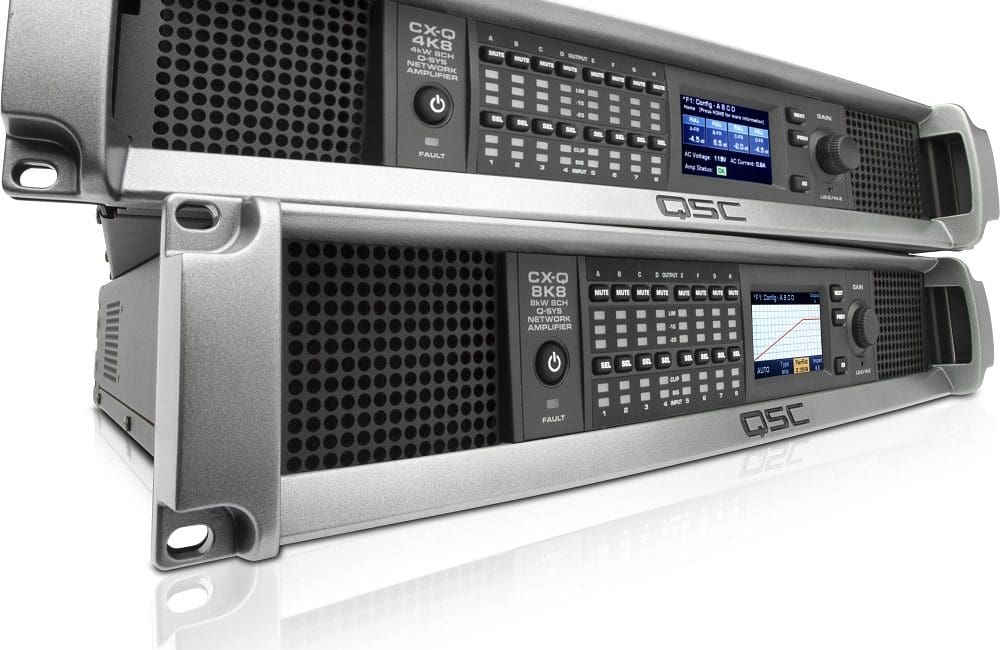 QSC kicks of Integrated Systems Europe (ISE 2019) by launching a network power amplifiers for the Q-SYS Ecosystem — QSC CX-Q Series Network Amplifiers.
 The CX-Q Series amplifiers feature four- and eight-channel models that, according to QSC, combine the company's legacy of high-performance and reliable amplifier design with the native network transport, control and monitoring capabilities of the Q-SYS Ecosystem.
As a native peripheral of the Q-SYS Ecosystem, The CX-Q Series network amplifiers can take advantage of network routing capabilities as well as advanced processing, control, monitoring and loudspeaker output load, says the company which is showing off the CX-Q in its ISE 2019 stand, 7-R200.
QSC CX-Q amplifiers also assist Q-SYS in deploying signature QSC technologies like Intrinsic Correction, which maximizes QSC loudspeaker performance and protection.
"QSC has a 50-year legacy in building the most reliable and powerful amplifiers on the market. This 5th generation amplifier platform redefines the category with a solution that delivers reliable, flexible power distribution and even better sound quality," says Sanjay Kulkarni, senior director, amplifier product development, QSC.
"Coupled with the award-winning Q-SYS Ecosystem, CX-Q Series allows integrators to take advantage of a native approach to AV&C and build a system that offers far greater value and superior performance beyond that of a system using third-party amplifier solutions."
More on QSC CX-Q Series Network Amplifiers (via press release):
CX-Q Series network amplifiers utilize a highly efficient, Class-D hybrid powertrain design built upon the dependable PL380 PowerLight™ amplifier platform, which has been installed in mission-critical installations around the world. They also feature two QSC amplifier innovations – FlexAmp™ and FAST (Flexible Summing Amplifier Technology™) that combine to offer superior fluid power distribution options in a single amplifier.

FlexAmp allows for asymmetric output channel loading by drawing from large power reserves and distributing customized output power levels per channel. FAST allows channels to be combined to deliver either higher voltage loads (up to 200 Vrms output) or higher current loads (up to 35 A). Together, these technologies help expedite installation while decreasing overall system cost by reducing wasted power and channels.

Both four- and eight-channel models include "Q" versions, with network inputs as well as routable mic/line audio inputs that provide additional on-ramps to the Q-SYS Ecosystem, as well as "Qn" versions, that feature only network audio inputs to reduce system cost when additional inputs are unnecessary.
ISE 2019 attendees can get the first look at the QSC CX-Q Series network. For more information on QSC activities at ISE, visit here.