ANC Announces Release of VERSA Portable LED Display
Anyone and everywhere–from sports arenas to shopping areas and more–can have the benefits of immersive displays with ANC VERSA portable LED displays.
Leave a Comment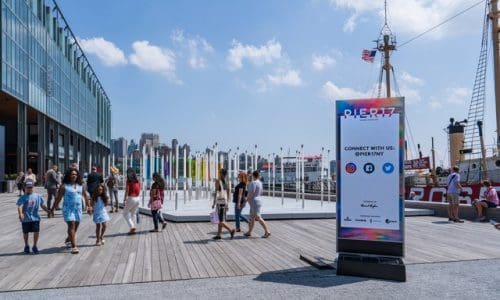 Longtime CI readers probably remember when a couple of our editors got the chance to put ANC's vSOFT software platform through its paces at Fenway Park in Boston at the end of the 2016 Red Sox season. If that experiment can serve as an example, we think integrators are really going to like ANC's newest product release.
ANC recently announced the public release of the VERSA, a portable LED video display product, inviting venues and events of all sizes to "create immersive experiences at any location in just minutes," according to the company announcement.
VERSA is "a free-standing, high-resolution LED product which can be used in one location or transported to different locations," according to the ANC announcement.
"The product's versatility allows for easy assembly and enables a variety of different configurations and sizes to meet any event, scenic or sponsorship objective," the ANC announcement says.
More Info on ANC VERSA Portable LEDs
The VERSA measures 9 feet high by 3 feet wide, while placing four panels together creates a 16:9 high-definition viewing experience.
"The flexibility of the unit enables an unlimited number of panels to be strung together to form a long singular canvas for any sized hallway, floor space, outdoor area, stage, walkway, or corridor," according to the ANC announcement.
Each panel can also fold electronically to shorten the height to approximately 5 feet high for locations with height restrictions.
The VERSA made an on-air debut during a 2019 Stanford University men's basketball game as a sponsorship activation display and is now distributing information at events at Pier 17 at South Street Seaport in New York City.
Available in both indoor and outdoor models, the VERSA can be controlled through a mobile device and has been used to display sponsor activation, live video, video game tournaments, social media engagement, dynamic event themed content, real-time messaging and wayfinding purposes.
"The creative and commercial possibilities of VERSA are endless," said ANC CEO George Linardos in the company announcement.
"The wow factor of large format HD videoboard displays that we have long specialized in for leading sports teams, major events, and distinguished public venues is now accessible to any organization, business or brand looking to make their event or venue more immersive and experiential," he said.