ANC Aims High for Multilevel Visuals to Grab Pier 17 Visitors' Attention
This Integration Award-winning work by ANC at Pier 17 in New York utilizes a large digital media network to control stunning visuals in a large space.
Leave a Comment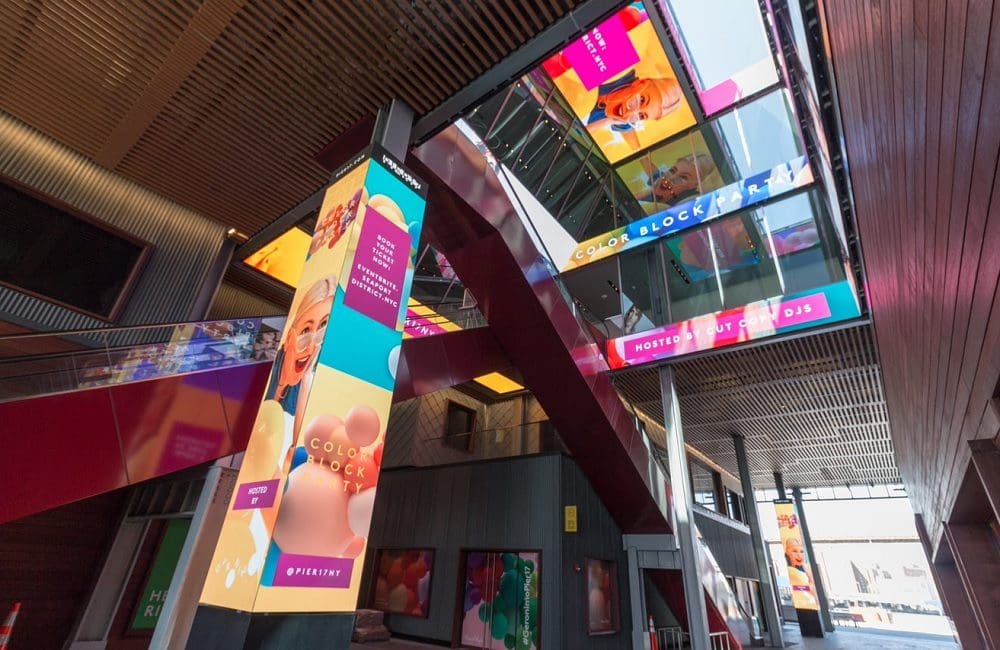 Pier 17 is fast becoming an iconic New York City destination with a 1.5-acre rooftop that serves as a year-round community amenity featuring a restaurant, outdoor bars, and a venue for concerts, cultural and public events — in partial thanks to a vast digital media network installed by ANC.
The space is also home to waterfront restaurants from culinary powerhouses such as Andrew Carmellini, David Chang of the Momofuku Group and Jean-Georges Vongerichten.
Eye-Catching Digital Media Network
The digital media network at Pier 17 at Seaport District NYC was designed to help create innovative experiences, allowing consumers to engage with eye-catching visuals as they move from floor to floor of the four-story building.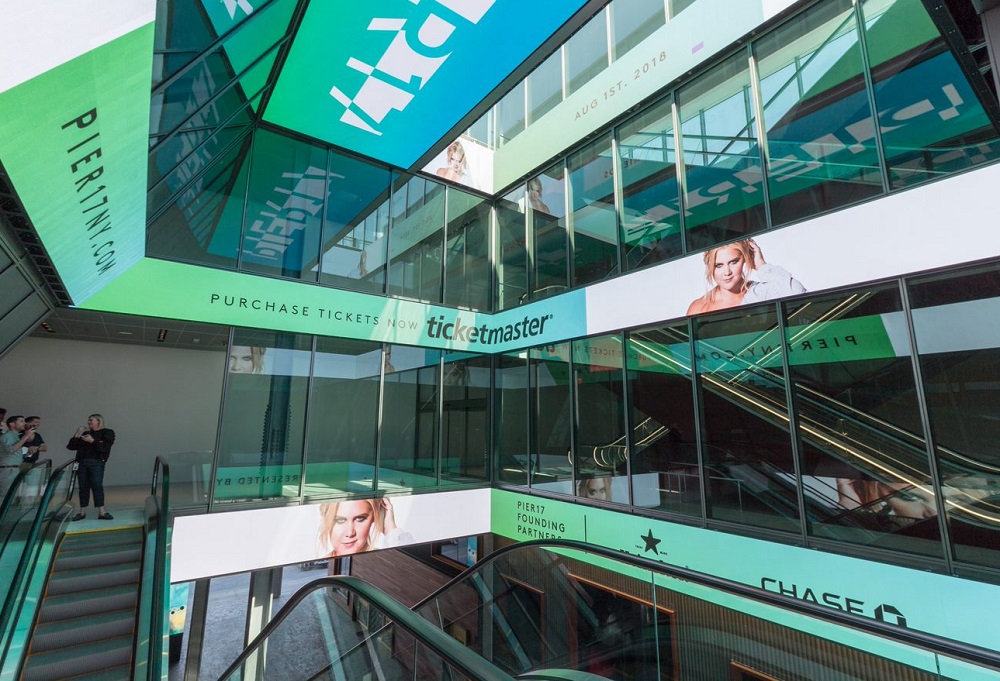 Driven by ANC's LiveSync operating system, the digital media network includes more than 2,000 square feet of 4mm outdoor LED and is customized to fit the various heights and slants of each atrium level's façade.
Howard Hughes Corporation was looking for an innovative media network to match the design aesthetic of the building and put great importance on the network.
After being familiar with ANC's work at Westfield World Trade Center and Fulton Center, the Howard Hughes Corporation felt that ANC was the only partner to help them design a network for such an iconic space. The Solution
A few years before the installation began, ANC worked directly with the project architects and were able to leverage their relationships with hardware providers to come up with 4mm LED solutions that accomplished three goals:
Clean, seamless look throughout the atrium
Custom designing and engineering the LED ribbon displays to fit the various angles and joints of the facades within the atrium
Column wrap that had a near-seamless transition from face to face around the corner edge.
The building's two-story atrium space, which is one of the main arteries to the rooftop terrace, consists of an LED ceiling and three levels featuring ribbon displays.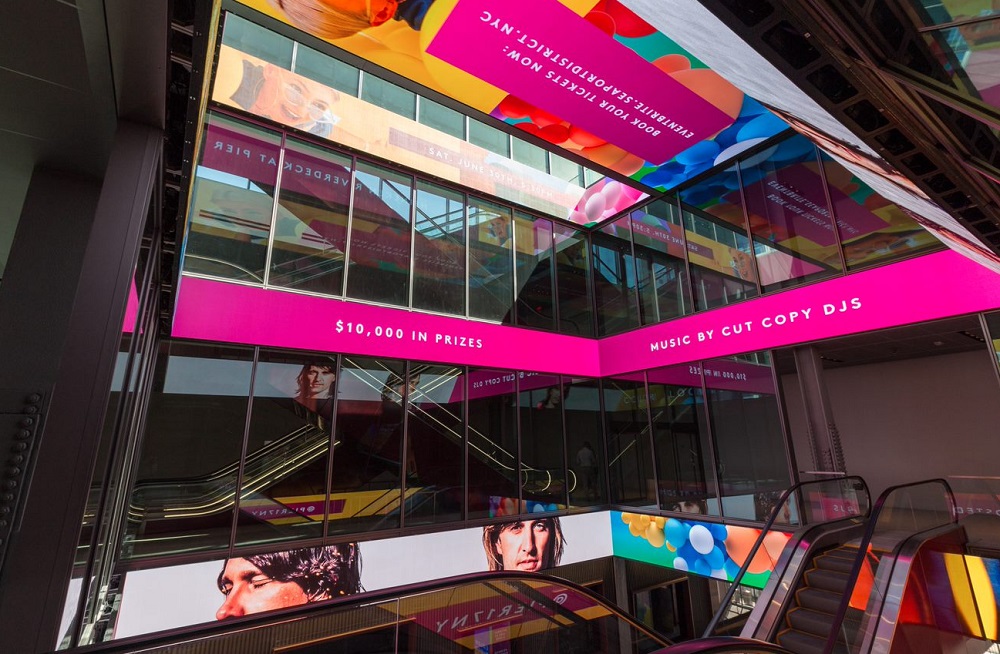 These displays are customized to fit the various heights and slants of each atrium level's façade, creating a new type of experience as consumers are engaged with eye-catching visuals as they move from floor to floor.
The unique column displays feature four flat sides, which come seamlessly together at the corners without a gap, enabling content to transition from one column face to another without interruption.
By using four individual flat faces, content creators can also clearly feature distinct pieces of content on each face before driving them as one canvas.
The objective was to create a seamless digital media network, without breaks in between the display.
There was also the challenge of creating near-seamless column displays, allowing content creators the ability to create individual content or use the columns as one canvas, while maintaining high-resolution display quality.
To overcome these challenges, ANC worked closely with Howard Hughes Corporation and SHoP Architects from the beginning of the design process, allowing ANC the time to test a variety of products as well as design custom cabinet solutions to accomplish the desired effect.
Being involved early in the process and working closely with their manufacturing partners enabled ANC to design and custom build a system which seamlessly feels a part of the architecture.
The Impact
Last summer, Pier 17 hosted a variety of Live Nation concerts, many of which were sold out.
This offered a great opportunity for Pier 17's partners to gain a great amount of exposure in the atrium space, which has been a great benefit to expanding their partner base, ANC reports.
With new restaurants from Chang and Vongerichten, this will only further the amount of exposure for advertising partners, solidifying this space has a high-profile marketing spend.
Read Next: 13 of the Brightest and Best LED Display Solutions from InfoComm 2019
"The Howard Hughes Corporation has worked closely with ANC to leverage the Seaport District's rich history as New York's original port of innovation," said Saul Scherl, president of the New York tri-state region for Howard Hughes Corporation.
"The use of cutting-edge technology is transforming Pier 17 into a state-of-the-art, dynamic environment, complete with engaging amenities and multimedia entertainment options for all our visitors."