Philadelphia Flyers Encourage Fans to Smash TVs in the Disassembly Room
Rage room-style section of Wells Fargo Center helps fans relieve their sports-related stress in a city whose fans once booed Santa Claus.
Leave a Comment
The Philadelphia Flyers are giving their fans a unique way to let out their frustrations about their favorite team—all while triggering nightmares for recycling advocates and AV integrators.
The Disassembly Room—playing off a section of Independence Hall and a recently opened area in the New City Terrace part of the Wells Fargo Center—is the first rage room inside a professional sports arena. Anyone else nervous about handing weapons to Philadelphia fans?
The rage room-style space –which can be reserved in advance for $35 for one person and $60 for two people—gives fans and guests a stress-relieving outlet. Participants wearing protective gear can unleash their rage upon TVs and dishes using bats, sledgehammers and more.
Some of the items that can be disassembled might even bear the logo of an opposing team.
"The concept is definitely one-of-a-kind and non-traditional," said Valerie Camillo, president of business operations of the Philadelphia Flyers and the Wells Fargo Center. "Fans…told us they thought this would be a fresh way to have some harmless fun."
SCI Architects teamed up with some of the Flyers' most creative young employees on the Assembly Room and Disassembly Room concepts. The team was charged with creating a must-see attraction that was also uniquely Philadelphia.
"We challenged the team to create concepts that were unlike anything seen before in a sports venue," said Camillo.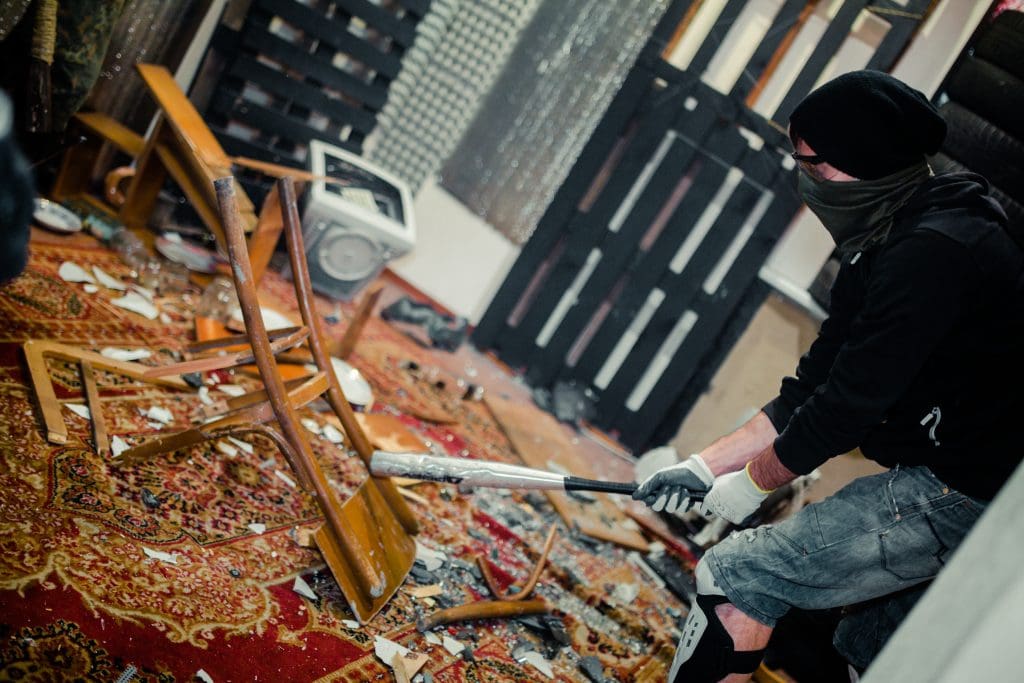 Inside the Disassembly Room
The Disassembly Room is accessible through a "secret passage" in the club and has a vestibule area where family and friends can watch all the smashing good fun as it takes place. I can't help but wonder how long it will be before someone is smashing the door to get into the room.
The Flyers aren't expected to be Stanley Cup contenders this season, so I'm guessing the Disassembly Room will be a popular spot for many of its most loyal fans in the next several months.
I've become a spoiled Boston sports fan in the last 20 years, so a lot of my sports-related rage is now a thing of the past. I can certainly picture myself taking advantage of a rage room after the 2003 American League Championship Series when Aaron Boone sent the Red Sox home on a walkoff homer in extra innings of Game 7, though. But, really, I'm over it. No, really.
I'm not sure why, but I feel badly for the Wells Fargo Center staffers who'll have to clean up the mess every night in the Disassembly Room. It's tough enough to clean up old napkins, bottles and other food and drink-related waste, but think of all the shards of glass in that area.
I also can't help but wonder if the rage room will be available during concerts and other events at the Wells Fargo Center. It would help release some of the tension of being dragged to a cheesy pop concert.