ROE Visual, GhostFrame Partner for NAB 2023
ROE Visual and Ghost Frame will team up at NAB 2023 to showcase LED innovations for broadcast and XR applications.
Leave a Comment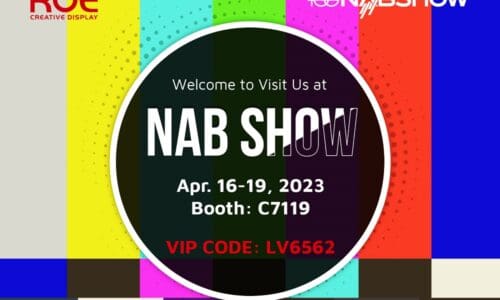 LED provider ROE Visual is gearing up for the centennial NAB show (April 15 to 19 in Las Vegas) with the help of GhostFrame. Show attendees can explore ROE Visual's LED solutions in various display applications, ranging from broadcast, to corporate, to fixed installation.
GhostFrame is a production tool that incorporates simultaneous, multi-frame viewing. Its presentation will visualize its added value for broadcast and XR applications. Demonstrations will take place in the booth, showcasing the power of GhostFrame. Moreover, attendees will learn about its use in a broadcast studio.
The ROE Visual team will be at booth C7119, which will feature its 35×20-foot Black Pearl BP2V2 LED display as the central backdrop. The booth will also feature the company's Black Marble BM2, delivering a model floor panel solution for XR shooting and more. In addition, the booth will feature products for corporate and fixed installations. Thus, attendees can explore the full portfolio of ROE panels.
Frank Montero, managing director of ROE Visual U.S., says, "Our team looks forward to meeting everyone on the show floor again this year." He continues, "Every show, NAB enables us to learn from our partners, customers and friends to grasp which aspects they are interested in and understand their application needs." Moreover, Montero adds, "We hope to present our creative LED solutions and GhostFrame as the next innovation in the broadcast and media space."
ROE Visual Products on Display at NAB 2023
The following ROE Visual products will be on display at NAB 2023:
Black Pearl BP2V2: The BP2V2 offers the trusted performance of the Black Pearl BP2 in an updated version with high-speed components and true-to-content color representation. These modifications result in the identical on-camera performance as the BP2, but with a more streamlined setup and handling. Its in-camera performance is ideal for film applications.
Black Marble BM2: The Red Dot award-winning Black Marble LED floor panel brings creativity to your feet. Available with a high-contrast glass, matte or mirror finish, these floor panels suit a wide range of creative uses. Such possibilities include broadcast, live events, hospitality, XR stages, etc.
Graphite: It offers a durable yet lightweight LED solution that provides quick installation through its intuitive smart-lock system, ideal for building large LED walls and ceilings fast and efficiently. The installation is available in multiple creative shapes, such as triangles and right angles, bringing more flexibility for stage designers.
Carbon CB5 MKII: This outdoor solution offers lightweight panels designed with a stronger structure. Now, it is easier and faster to install and maintain, guaranteeing efficient servicing.
Besides those products, NAB attendees can find other ROE Visual panels, as well. Indeed, these include the Ruby series, Black Quartz, Jasper, Amber and the Opal LED platform.
If you enjoyed this article and want to receive more valuable industry content like this, click here to sign up for our digital newsletters!