SNA Displays Announces ASPECT All-in-One Direct-View LED Series
SNA Displays ASPECT direct-view LED series comes in four standard sizes and fits in conference and meeting rooms, bars, restaurants, churches and more.
Leave a Comment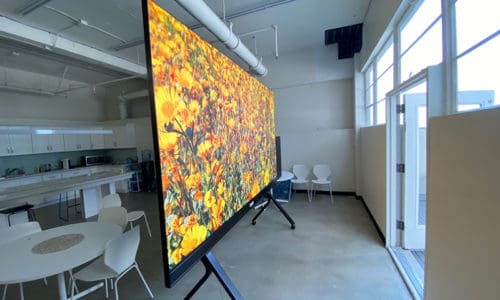 SNA Displays has announced the release of its all-in-one direct-view LED product series, ASPECT.
The initial rollout of the new plug-and-play displays includes four standard sizes, all in 16:9 aspect ratio and high-definition (HD) resolution: AS108, AS135, AS162, and AS216, indicating diagonal inches.
ASPECT display products "are ideal for conference rooms and meeting spaces; bars, restaurants, and lounges; event booths, banquet halls, and auditoriums; media rooms; and houses of worship," according to the SNA Displays announcement.
Related: Why LED Displays? 3 Questions with SNA Displays
Each all-in-one display has a 4" depth, including its frame, and comes pre-configured, so no calibration is required during setup, the company announcement says.
"The key to this technology is that it's simple and easy to use," said SNA Displays VP of global sales Rick Bortles in the company announcement.
"Fine-pitch LED has already proven to be the preferred technology for close-quarter applications, and these all-in-one displays take it to a new level. Video walls and mobile video applications have never been so user-friendly, or so attainable," he said.
More on SNA Displays ASPECT Direct-View LED
The SNA Displays ASPECT direct-view LED display line "is designed to be set up and installed by a two-person crew in eight hours or less," according to the company announcement.
Each ASPECT shipment includes required mounting hardware, and SNA Displays offers free structural engineering consultation. Products are also available with an optional stand, allowing for greatly increased mobility.
Other features of the SNA Displays ASPCT direct-view LED line include integrated cable management for a clean display presentation, a handheld magnetic tool for front-access maintenance, and the latest in LED processing in a minimized smart bar format.
Users can operate the digital displays through a variety of connection methods including Miracast, Apple AirPlay, ClickShare, Bluetooth, WiFi, and direct connection via HDMI or USB.