Why Direct-View LED Displays Are Here to Stay: The Almo/Absen Advantage
Over the last few years, use of direct view LED displays has skyrocketed for AV installations due to the increased demand for high definition, as well as the technology's high performance and long-term reliability.
Content from our Sponsor
Leave a Comment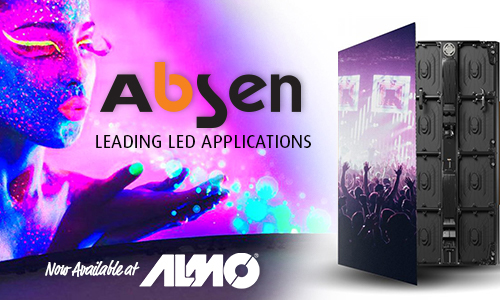 In fact, this year's InfoComm Show lists a whopping 190 exhibitors unveiling and showcasing the newest LED products!
Recently, CI shared an article about choosing LED displays at InfoComm. It discusses some of the greatest advantages of LED technology and why LED is so popular for digital signage, video walls and more. Some of the biggest benefits include:
Little or no maintenance requirements even in demanding environments
Turn on quickly without the need to warm up
Long usage to minimize the overall cost of ownership
Deliver high brightness and wide color gamuts
Efficient and environmentally-friendly
This month, distribution giant Almo Professional A/V and LED manufacturer Absen, Inc. announced a national distribution partnership. As a result, not only are Absen products available through Almo, but integrators who purchase them through Almo can also expect to receive highly focused pre- and post-sales support, along with guidance from an on-staff Business Development Manager with expertise in LED technology, design and installation.
Key Absen products available through Almo include:
Absenicon: An all-in-one display solution specifically developed for meeting rooms, event spaces and lecture theatres. Boasting higher brightness, contrast and color saturation than traditional projectors and LCD displays typically found in such spaces, Absenicon comes in five different standard sizes, ranging from 110-inches to 220-inches with 4K compatibility.
Aries Series: Ideal for mobile and fixed indoor installations in staging/production, concerts/touring, and tradeshows/events, the Aries Series includes 4-in-1 fine pixel installation for a sharp picture, as well as common cathode technology to improve brightness with better heat dissipation.
Acclaim Series: Designed for large venue indoor environments such as hotels and casinos, shopping malls and houses of worship, this bezel-free line features high brightness and high contrast. It includes easy front or rear installation and complete convex or concave curves of up to 90 degrees for customized installs.