Epson Short-Throw Lens Augments L1000 Laser Projectors
The new Epson Short Throw Lens ELPLX02 is designed to provide installation flexibility for the company's Pro L1000-Series 12,000 lumen laser projectors.
Leave a Comment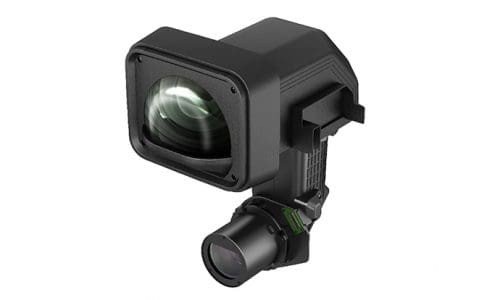 The new Epson Short Throw Lens provides more installation options for the Pro L1000-Series 12,000 lumen laser projectors, according to the company.
Epson says that its latest short throw lens grows its list of interchangeable lenses that support the installation of the Pro L1000-Series laser projectors.
"The ELPLX02 ultra short-throw lens provides installers with the opportunity to recommend a projector in applications and locations normally not ideal for a projection solution," says Ramzi Shakra, product manager, large venue projectors, Epson America, Inc.
"Whether integrating a recessed projector in the ceiling as an alternative to an expensive video wall or projection on a large screen behind live music to ensure the image does not interfere with the musicians and cast a shadow, this lens allows for an immersive experience up to 1,000 inches from short distances."
Related: Vegas Golden Knights On-Ice Projection Shows Names of 58 Killed During Las Vegas Shooting
Engineered to help integrators deal with space constraints and rear-projection applications, the ELPLX02 short-throw lens offers integrators a solution with a 0.35 throw ratio, as well other features such as negative offset and lens-shift capabilities.
More Epson Short Throw Lens Options
Epson says the ELPLX02 short-throw lens joins its ELPLX01 lens to provide integrators with a short-throw lens option for every product within the Pro L1000-Series projectors.
The global video manufacturer says the ELPLX01 lens provides zero offset, while the new ELPLX02 short-throw lens provide a negative offset with vertical lens shift from +45 to +70, and a horizontal lens shift from -15 to +15 percent.
The new ELPLX02 short-throw lens is available from authorized Epson resellers for an MSRP of $13,999.
Epson ELPLX02 Epson Short Throw Lens Specs
Designed for use with Pro L1000 Series 12,000 lumen laser projectors
Projects images that range in size from 100 inches to 1,000 inches
Negative offset with vertical lens shift from +45 to +70
Horizontal lens shift from -15 to +15 percent
More Epson News: Epson LightScene Laser Projection Redefines Digital Signage