Massive LED Installations Are Being Used to Produce Our Favorite Shows and Movies
Immersive LED installations are being used to help film and production crews reduce travel and keep up with production during COVID-19.
Leave a Comment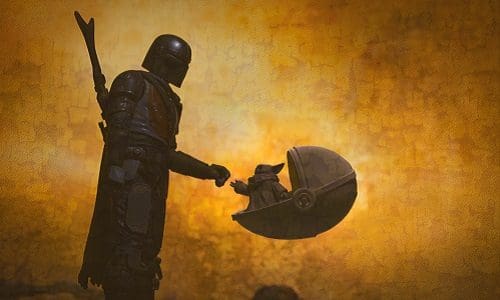 Due to the coronavirus pandemic, the U.S. film industry is struggling to maintain its production schedule with travel now a taboo and social distancing requiring fewer people to be on set.
However, crews will no longer need to travel thanks to the advancement of LED technology.
According to a new CNBC article, massive LED installations are effectively acting as newer version of a gigantic green screen, but are even more immersive and intuitive. "The Mandalorian," the Star Wars universe show on Disney+, has become known for using the idea.
Industrial Light & Magic, a visual effects company founded by Star Wars creator George Lucas, created a system known as StageCraft that is essentially a 20-foot high, 75-foot wide and 270-degree semicircle of LED video walls, CNBC reports.
The technical innovation from the veteran special effects house doesn't just place a static image on the screen, it moves the 3D image in time with the movement of the camera. Thus, creating a seamless background that acts just like a real location.

For "The Mandalorian" this became particularly important because of the main character's metal armor. Had a greenscreen been used, the post-production team would have had to edit out the green shine in his armor and replace it with a virtual image of his surroundings. Using StageCraft, the background is already present and reflected in not only his costumes, but any metallic surfaces of vehicles and weapons.
According to the article, more than half of the show's first season was filmed using the technology, so on-location shots were minimized and nearly eliminated.
Read Next: LED Screens Bring Virtual Influencer Imma to Life
CNBC mentions several other films, shows and studios using the technology, including the HBO series "Westworld."
The show used exterior shots of the City of Arts and Sciences complex in Valencia, Spain as the inspiration for the ultra-modern San Francisco headquarters for Delos, the company that owns the Westworld theme park. The production used real-time LED screen backgrounds to project those shots in the windows of interior sets. The images would subtly move as the camera shifted.
Now, filmmakers and showrunners are making these LED rigs a permanent part of production studio, like Pinewood Studios, the filming ground for several Marvel films. The studio will offer a rig that can be transported to any stage, but ultimately wants a permanent LED installation, CBNC reports.
This is just another way that pro AV can help the world adjust to the coronavirus pandemic. Wherever LED technology is in demand, the industry should take note and fill that need.
If you enjoyed this article and want to receive more valuable industry content like this, click here to sign up for our digital newsletters!