LED Screens Bring Virtual Influencer Imma to Life
An Ikea location in Tokyo was outfitted with an LED installation that gave visitors a glimpse into the dialy life of a Japanese virtual influencer.
Leave a Comment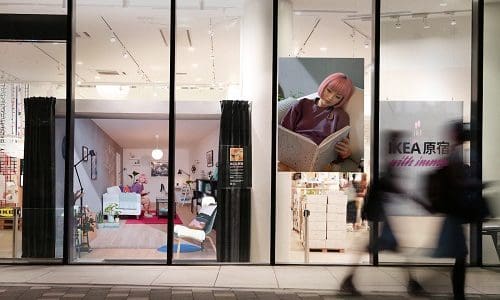 Using LED screens, the Ikea Harajuku location in Tokyo, Japan gave visitors a glimpse into the daily life of a social media star and influencer.
However, that Japanese star, Imma, isn't actually real. She's a computer-generated model that has taken the Japanese fashion industry by storm. She even has an Instagram and Twitter.
This past weekend, Imma's living room came to life via an installation at the Ikea location. On the first floor, the physical space was combined with LED screens. According to Ikea, Imma herself curated the physical rooms, giving Imma the appearance of being a real person in a real place.
In addition, her bedroom was displayed on a large screen on the second floor façade of the shop, which can be seen from the busy Harajuku Station.
The installation was dubbed "happiness at home." For three days, visitors could see the virtual person lounge on her couch, look at her phone, and sleep.
In a press release, Ikea says the light outside the window was constantly measured and the color temperature of the LED panels were adjusted to match the natural weather and brightness outside.
Unfortunately, Ikea didn't detail which manufacturer supplied the LED displays.
According to The Verge, Imma is run by a talent agency for virtual humans, Modeling Café.
Read Next: Lady Gaga Wears LED Face Mask at 2020 MTV Video Music Awards
If you enjoyed this article and want to receive more valuable industry content like this, click here to sign up for our digital newsletters!