The Best Projection at InfoComm 2019: A Recap of Commercial Projectors and Screens
Although the demand for commercial projectors projectors is dropping, it still represents an $18.5 billion market, with emphasis on corporate and education.
Leave a Comment
Photos & Slideshow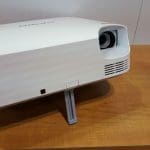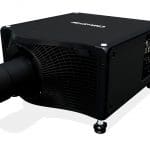 ---
We already told you about some of the top trends we saw at InfoComm 2019 in collaboration and wireless presentation. Now, it's time to focus—pardon the pun—on commercial projectors and what to expect in that segment of the business in 2019 and beyond.
In its 2019 Industry Outlook and Trends Analysis [IOTA] research, AVIXA expects commercial projectors and their related accessories to generate $18.5 billion globally through the pro AV channels in 2019, declining to about $12.8 billion in 2024.
Corporate boardrooms and education spaces remain the strongest markets for projectors in 2019 and beyond, according to AVIXA research.
AVIXA's projections of the slow decline of the projector market didn't stop Christie Digital, Epson and Panasonic from having some of the biggest booths at InfoComm 2019 though.
After all, while the numbers may be dropping as many customers lean toward LED, commercial projectors still represent an $18.5 billion [with a "B"] opportunity around the world this year and almost $13 billion five years from now.
So, in short, we're not ready to pronounce projectors dead yet and believe there's a place for them in a variety of AV applications and will be going forward.
It's going to be a long time before we officially pronounce the projector market to be a thing of the past.
And while there are certainly plenty of the large-scale—and even jumbo-sized—projectors out there for those who need them to fulfill a particular need, smaller commercial projectors are also increasing in popularity, maybe in part because it's easier to find a place for them in your classroom or huddle space.
Let's take a closer look at some of the best commercial projectors that might have made you stop in your tracks as you racked up the miles on your shoes in Orlando for InfoComm 2019.
We know no one can make it to every booth on the show floor, so there might even be a few here you missed in your travels.
Click here to see the slideshow of some of the best commercial projectors shown at InfoComm 2019
If you enjoyed this article and want to receive more valuable industry content like this, click here to sign up for our digital newsletters!