Digital Projection Drops Pricing of E-Vision Projectors
DP's historically reduced pricing on select projectors will help AV integrators attract new business and boost their bottom line.
Leave a Comment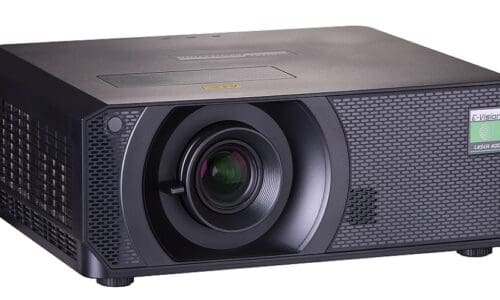 Devoted to driving more business for dealers, Digital Projection International announced its biggest price drop on projectors in years. The cost cutting focuses on select projectors in its popular E-Vision line, the company notes. This makes projection systems financially feasible for more clients. As a result, it then helps dealers sell more products and broaden their customer base. From its E-Vision 4000 4K projector to E-Vision 9000 high-lumen models, DP is delivering to dealers and their customers imaging performance at a more than 30% reduction over 2022 pricing.
Leading off the unprecedented price drop is DP's mainstream projector, the E-Vision 4000. Originally carrying an $8,425 MSRP, it now goes for $5,299. It thus provides savings of more than $3,100. Other projectors in the line to undergo a significant cost reduction include the E-Vision LASER 6500 II, 9000 WU and 9100 WU. All of these projectors are in stock and are also readily available at these low prices.
"We understand that one of the biggest inhibitors of adoption of projection systems by many commercial and residential customers has been cost. We want to change this mindset by making our entry-level E-Vision line more affordable, so that dynamic, immersive projection systems can fit into nearly anyone's budget," says Chuck Collins, DP vice president of sales.
He then continues, "At the same time, dealers can reach more customers, do more business and boost their bottom line. With incredible savings like this, we want DP to be dealers' go-to source for budget-friendly projection systems and when they need a more sophisticated, capable projector or a LED display, we have those options, too." To add more to the deal, DP says it has doubled its DP Dollars SPIFF Program on most of its projectors.
Also Read: Christie Laser Projectors Illuminate Korea's First Immersive Media Art Exhibition
New E-Vision Projector Pricing
E-Vision 4000 4K UHD projector now $5,299 MSRP; was $8,425 for a savings of over $3,100
E-Vision LASER 6500II now $6,999 MSRP; was $9,995 for a savings of nearly $3,000
E-Vision 9000 WU now $8,999 MSRP; was $13,885 for a savings of $4,886
E-Vision 9100 WU now $10,249; was $14,735 for a savings of $4,486
To take advantage of this new pricing structure authorized Digital Projection dealers can log in to the DP partner portal or contact their regional sales rep, the company adds.