Just Add Power Pumps Up Players and Wows Recruits in Revamped University of Memphis Locker Room
Miestro Home Integration taps Just Add Power ultra HD over IP platform to provide video distribution to video walls and large displays.
Leave a Comment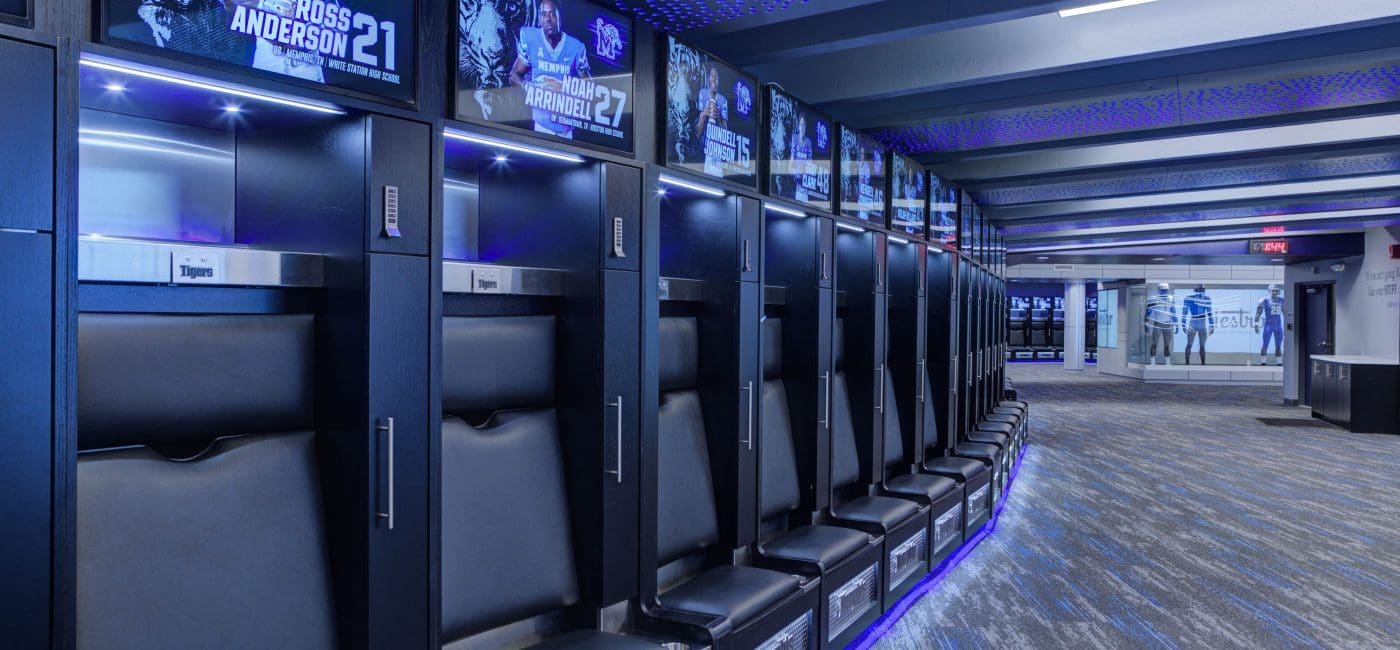 The University of Memphis football team was looking for a way to wow potential future Tigers and pump up the players before games, so they did what many before them have done: Just Add Power.
Miestro Home Integration installed J+P's ultra HD over IP video distribution system in the Tigers' renovated locker room at the Liberty Bowl Memorial Stadium to more effectively distribute video content to a variety of video walls and large displays.
The university's Ultra HD Over IP system offers ultra-low 16 ms of latency from source to screen and supports 4K Ultra HD resolutions and HDMI 2.0 devices with HDCP 2.2, says Lamar Gibson, president of Miestro Home Integration.
The platform enables switching between any resolution HDMI source as well as uncompressed lossless multichannel audio formats, including Dolby Atmos support.
Video wall functionality is built-in for displays installed in portrait and flipped configurations as well as image push, pull, and pop features. An integrated scaler on the receiver automatically adjusts the picture to fit the screen.
Each video source in the Tigers' locker room — a live feed from the field, four media players that deliver custom content, a Comcast cable box, and a direct feed for a local laptop connection — is equipped with J+P's VBS-HDIP-707 transmitter.
VBS-HDIP-508 PoE receivers are attached to 14 displays and one projector, including four two-panel video walls in horizontal and vertical orientations, a three-panel vertical video wall, a 98-inch display, a 75-inch touchscreen in the coach's office and a 65-inch display in the medical bay.
Ultra HD Over IP Helps Tigers Nab Top Football Recruits
The J+P platform is engineered to provide complete scalability, so expanding the system with an additional screen or source is as simple as adding another receiver or transmitter.
This was an important feature for the university, as the locker room also features 105 standalone displays — one above each locker — in addition to three additional touchscreens.
With an eye on future expansion, the standalone locker displays and touchscreens have been pre-wired for inclusion in the J+P system.
"In college football, winning requires elite talent and it's no secret that many schools will go to extraordinary lengths each year to get it," said Taft Stricklin, sales team manager at J+P.
Listen: Choosing the Right AV over IP Solution: Episode 57 of AV+
"This installation showcases that AV technology can be used to differentiate a football program from the pack and wow recruits, while highlighting the important role that reliable and flexible video distribution plays in creating these environments.
"We're proud to be part of the Tigers' efforts. And they've paid off; their 2019 recruiting class is looking to be the best in the school's history," said Stricklin.