Macnica To Show IPMX Hardware & Software Advances at ISE 2022
Macnica will showcase its IPMX technologies as well as a Development Kit for hardware vendors to test, evaluate and develop IPMX-ready AV over IP products at ISE 2022.
Leave a Comment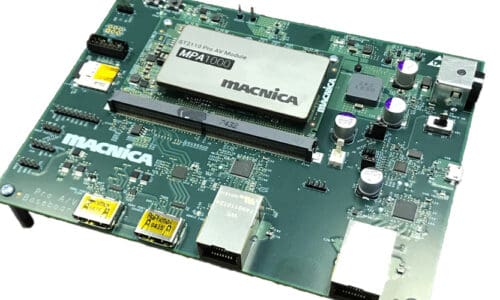 Macnica will celebrate the two-year anniversary of IPMX at ISE 2022 with demonstrations emphasizing the standard's flexibility across hardware and software implementations. Macnica is a Calif.-based live video over IP transport technology provider.
The company has worked closely with the AIMS Alliance and other standards organizations to drive IPMX product development since AIMS introduced the standard at ISE 2020. With several IPMX technologies close to ratification, Macnica has prepared an IPMX Development Kit. The Kit helps hardware vendors test, evaluate and develop IPMX-ready AV over IP products.
Key Demonstrations at ISE 2022
Macnica will expand an IPMX software demonstration unveiled at InfoComm in October. The demonstration will show UHD video streaming from a PC to Macnica's flagship MPA1000 full-stack AV over IP module. It will also showcase how IPMX technologies are seamlessly virtualized within an IT network.
Andrew Starks, director of product management at Macnica and AIMS Alliance board member, acknowledges that hardware will always be essential to the ProAV industry. "…and our IPMX Development Kit, which includes our flagship and SoC modules, will help manufacturers make open-standards AV-over-IP products that are IPMX-compliant. This means they will be interoperable and ready for use in a wide variety of use cases," he says. "We also recognize that customers want to virtualize their AV systems, like they do in every other technology workflow. A successful AV over IP standard must have robust support for software implementations and that is certainly true for IPMX."
See: MSolutions Announces New Innovations for MS-TestPro & Other Products at ISE
Starks adds that hardware-based IPMX implementations bring effective value for critical AV requirements. These include low cost, power and signal latency. He also believes that IPMX software applications' popularity will rise as integrators and end users seek greater flexibility for AV applications existing within IT workflows.
"The computer can take in any number of inputs and virtualize any number of outputs without requiring a specific server or box," adds Starks. "That creates outstanding flexibility and can save the end customer a lot of money."
Specifications of the IPMX Development Kit
Separately, Macnica will demonstrate software-to-hardware implementations, with an overview of how manufacturers can leverage its IPMX Development Kit. Macnica's IPMX Development Kit emphasizes many of the key technologies and applications required for building and managing AV over IP systems. Those include sub-frame latency, USB extension, and outstanding UHD quality over 1GbE networks.
Additionally, the kit includes Macnica's MPA1000 and ME10 SoC modules. Both of these help product developers evaluate how standards-based video works with current and future products. They also offer a reliable reference to the connections and configurations required for production purposes.
What's more, the two modules transport HDMI 2.0 4K60 4:4:4 video, audio and control data over 1GbE networks. They also support JPEG-XS compression, Lua scripting, and an integrated web interface with customizable APIs. All of this combine to provide comprehensive freedom for product developers to customize their IPMX products.
Macnica will be at ISE 2022, booth 5N200 from Feb., 1-4 at the Fira Barcelona, Gran Via in Spain.