Watch How The 120-yard Oculus LED Display is Used for Gaming
Two members of the Los Angeles Chargers tapped into the 70,000-square-foot LED Samsung display at SoFi Stadium to play popular game Fall Guys.
Leave a Comment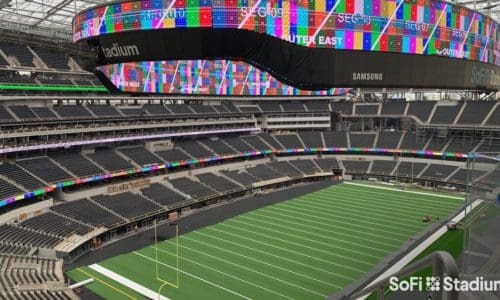 The Oculus, a 90-million pixel, 70,000-square-foot display at SoFi Stadium in Inglewood, Calif. is complete and being used by for football games of Los Angeles Rams and Los Angeles Chargers.
However, that's not all it's being used for.
According to For The Win, the massive double-sided, 2.2 million pound Samsung display was used to play popular game Fall Guys. Charger safety Rayshawn Jenkins and kicker Mike Badgely used their Wednesday to set up a gaming station on the edge of the field with the gigantic display as their gaming screen.
The Chargers' official Twitter account captured the fun.
🚨 FALL GUYS ON THE BIG SCREEN 🚨@Jenkz_26 | @MikeBadgley15 pic.twitter.com/t8TCCl9H90

— Los Angeles Chargers (@Chargers) September 15, 2020
.
Shortly after, the Fall Guys' official Twitter account commented on the setup.
Not gonna lie, that's an expensive looking gaming setup https://t.co/12pOS97Bhd

— Fall Guys 👑 (@FallGuysGame) September 15, 2020
While we aren't sure just how much the video board itself cost, SoFi Stadium came in at a cost of more than $5 billion, so we're willing to wager the 120-yard LED, 4K HDR video system wasn't cheap.
The Oculus is made up of Samsung's outdoor LED panels ranging in size from 40 feet to 20 feet and features the most LEDs ever used in a sports or entertainment venue at nearly 80 million pixels spaced 9 millimeters from center to center.
Also included in the display is a built-in JBL audio system containing more than 260 of the stadium's total 4,500 loudspeakers, and it accounts for nearly half of the 1.3 million watts of Crown Audio amplification in the stadium.
After a long COVID-19-induced sports shutdown, we've been treated to bubble basketball and hockey for the last few months. Recently, football is back with limited fans in attendance.
If the esports industry is still struggling to open gaming arenas, they should consider larger venues that already boast the latest and greatest display technology like SoFi Stadium.