Zoom Expands Platform Capabilities
Expanded SMS Support, Chat Enhancements, and post-meeting surveys have been added the to growing list of features for Zoom.
Leave a Comment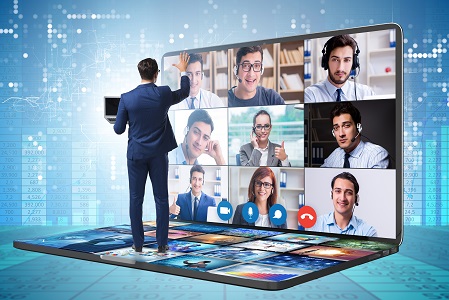 Zoom continues to add different functionalities to the videoconferencing platform this month that strengthen collaboration and help users form deeper connections in a world where videoconferencing will continue to be a big part of our lives.
Related: Zoom Is The Most Popular Videoconferencing Platform, Study Shows
In a blog post, Zoom announced the new features will be added to Zoom Phone, Zoom Meetings, and Zoom Chat and will include the following:
Survey capabilities
This will be added to Zoom Meetings and will provide meeting organizers with insight into how attendees benefited with surveys of multiple different formats that will gather feedback from the participants.
Emoji in-meeting reactions and return of the coffee mug
Also for Zoom Meetings, meeting participants will have more opportunities to express themselves in meetings without interrupting with emoji reactions to in-meeting chats. Zoom will also bring back the coffee mug, which was a user favorite, for them to indicate that they have stepped away.
Team SMS for auto receptionist
This will be added to Zoom Phone and will help customers handle call volumes by allowing callers to interact with the auto receptionist using SMS or MMS (multimedia messaging service). They will be able to ask questions along with finding the party they are trying to contact using text-based responses.
Team SMS for call queues
Another addition to Zoom Phone, the Team SMS support for call queues will allow a team of users to monitor and respond to customers through text messages. Team members will all receive a text message when a customer reaches out via SMS message, to which any team member can respond.
Voice recording compliance for financial services
Financial services users need to meet strict voice recording compliance requirements, per industry regulations, and this new capability will include defining a secondary storage location for user recordings and policies that give the administrators the ability disable and block end-user call forwarding. The update helps with various other ways to enable admins to control the policies that help them remain compliant.
Consolidated search capabilities
As part of Zoom Chat, the new unified search functionality makes it quicker and easier to find information across contacts, chats, channels, files, and more within Zoom Chat. Users will no longer need to manually search for information.
Video playback
Also added to Zoom Chat is support for video playback directly within Chat, which will streamline the way users share information and prevent them from having to download a file or open a new window to watch a video.