Chuck Wilson Transformed NSCA's Main Conference Room into a Collaboration Hub (Here's How)
NSCA executive director Chuck Wilson gave up his Christmas vacation to test the association's labor installation standard. Here's how it went.
Leave a Comment
Don't expect NSCA executive director Chuck Wilson to go back to his roots as an AV integrator any time soon, but that doesn't mean he doesn't enjoy dabbling in it every year or so.
Wilson's most recent installation came at the association's headquarters in Cedar Rapids, Iowa, where he gave up his holiday break to transform the conference room into what he calls "a true collaboration and huddle space," with an 80-inch interactive whiteboard at the heart of the job.
"I try to immerse myself in what our members are doing so I can try to relate more, so I know what I'm talking about," says Wilson, who says he usually tries to read seven books during his holiday break but was only able to finish two this year because of his AV project.
The always-humble Wilson says the biggest advantage to NSCA on this installation was "my labor was free," but he knows it also was a good way to test the accuracy of NSCA's labor installation standard.
"I want to make sure I understand the complexity of the simplicity of a system and tie that back to our [NSCA labor installation] standard," he says.
Wilson has done a lot of work for the school district in his hometown, where he's on the school committee, including a voice lift system, adding a voice recording system and a digital mixer board with iPad interface along with work in the computer lab, AV and science lab.
Learning By Doing
Wilson knows not all of his installations are successful, though, and he's unlikely to get any referral work by those who visit his home.
"I went too far in my house," he says with a laugh. "I think all my devices are going to start turning on me."
NSCA HQ Tech:
NSCA members donated all the equipment—including:
a Vaddio camera
Chief mounts
Barco ClickShare collaboration system
Crestron Air Media
Bose L2 line arrays
Sharp 80-inch interactive whiteboard
"I've got all the bells and whistles here," says Wilson.
"It's wonderful our members would donate all this equipment and help me learn on my own, so I'll be able to help our members understand all the safety and connectivity issues. It helps me understand all the variables. I've been in this office for a while now, but I guess I didn't know the building materials."
NSCA uses the wireless collaboration space for its monthly board of directors calls and daily briefings with staff members, some of whom work outside the office regularly, including Education Founation program director Kelly Perkins and business resources director Mike Abernathy
"They feel like they're part of the team now," says Wilson.
"We don't spend our time [on video calls] talking about getting everybody up to speed like we used to. People get to know each other on more visual level, so we're using technology in a way that's beneficial for the industry."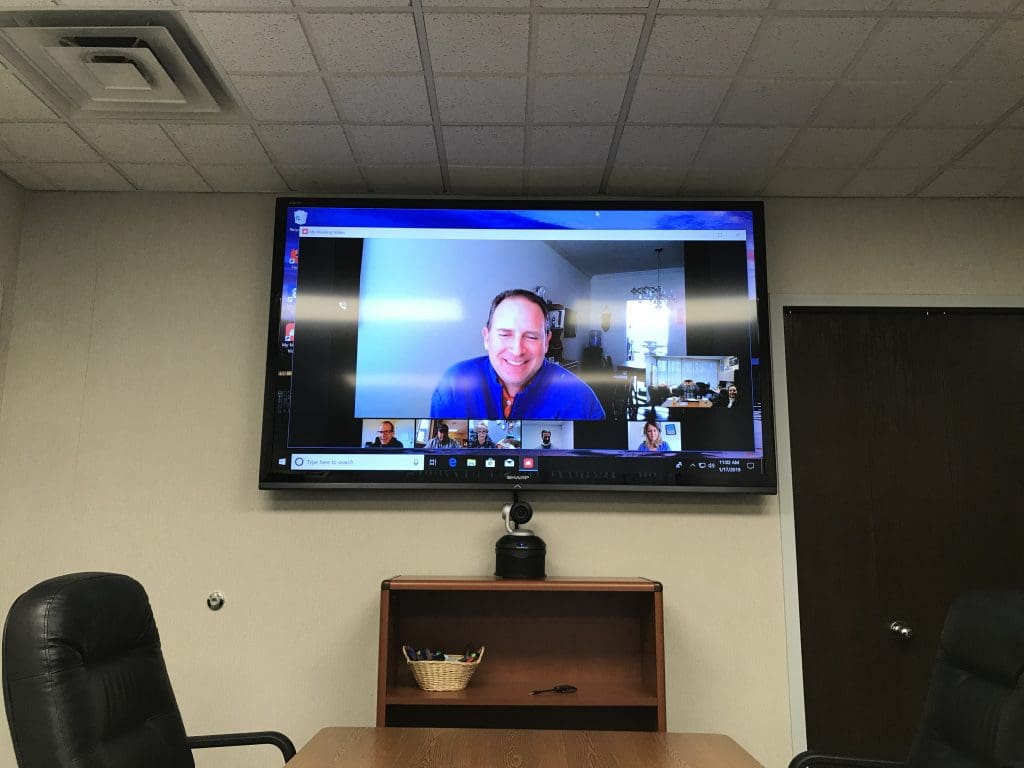 Testing NSCA Labor Standards
Wilson's holiday break project took about 30.5 hours, which was significantly longer than NSCA's labor standard says it should have taken (19.57 hours), but he's not embarrassed or disappointed in the extra time since he didn't have all the proper tools and he wasn't expecting the walls to have metal studs.
Wilson mounted the display by going through the studs into a store room next door, but he knows that's not always an option on every job, which is why it's important for integrators to do site visits ahead of starting on the actual AV installation.
"If it had been someone's office, I'd have been in trouble," says Wilson.
"What worries me when our members do something like this, they won't always know how to get the proper mounting. It scares me to death when you're talking about plastic anchors into metal studs. It took me about 50 percent longer than most people, but I did it in a way that was focused on safety."
The only part of the job Wilson needed help with was mounting the whiteboard on the bracket, mostly because of the size. The NSCA labor installation standard says any display of 46 inches or more requires two people to hang it but he was joined by two others and it took about 20 minutes.
He ensured each of the four weight points can hold 2.5 times the recommended weight.
"That thing isn't going anywhere," says Wilson. "If that thing came down, I assure you the whole wall would come with it."
Wilson knows he was lucky to have extra help available when he needed it.
"You don't always have that resource of people coming from another job," he says. "I lost about 10 hours on this job. If you multiply that out, there isn't always a safety net on the labor side, if you mess up one room, that's times five or more in some cases."
Wislon "never cracked open a single manual and I didn't go online" when doing this installation.
"I looked intuitively where everything went, how everything tied in," he says. "There wasn't anything that tripped me up. I did have a few parts left over, though. If I had the right tools, I bet you the next time I did that, I could do it in 20 hours."
Although Wilson is "limited to doing this once a year," he says he'll look into LED lighting, motorized shades, 5G, IoT and power over ethernet as the next upgrade.
And, while this installation was a success, Wilson says he's turning over AV production responsibilities for the 2019 NSCA Business & Leadership Conference in Tampa, Fla., this week to someone else this year for first time.
"It'll probably look and sound a whole lot better," he says with a laugh.