'Craig's List' of 8 InfoComm Essentials
Here are the InfoComm essentials our trade show-experienced editor-at-large recommends—no, demands—that you bring to Orlando.
Leave a Comment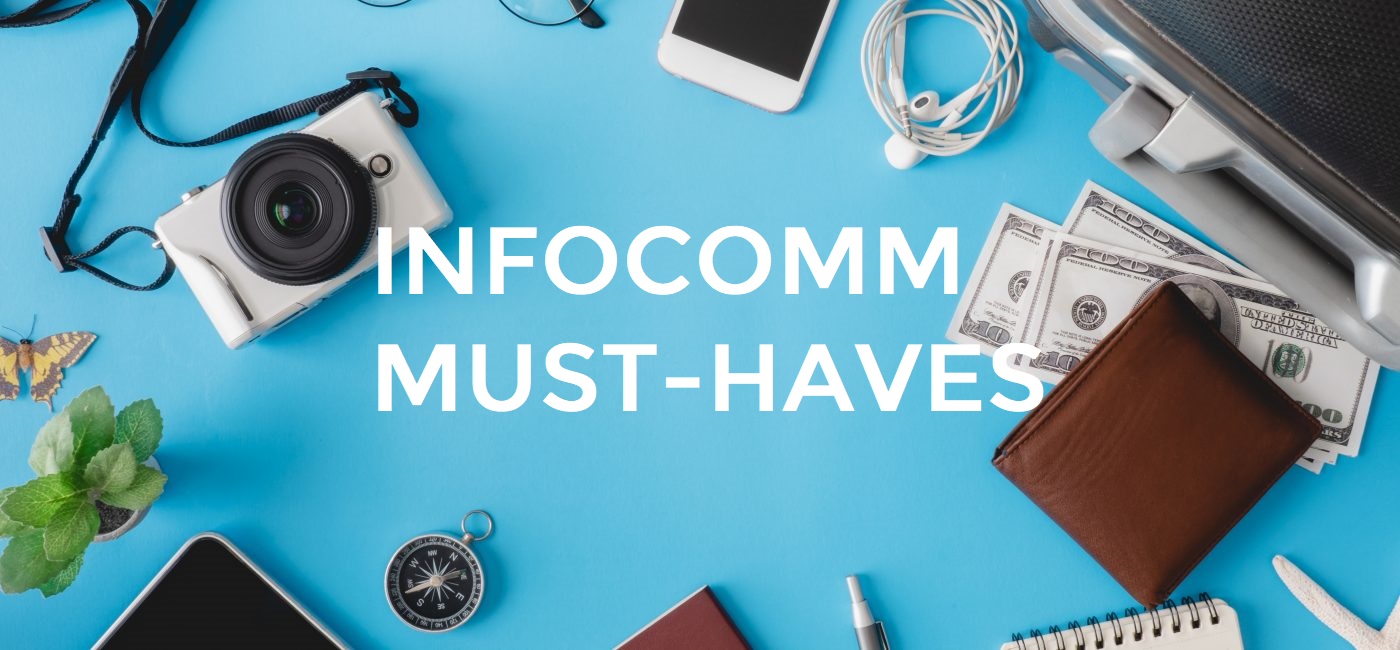 We've already told you about the 10 biggest InfoComm 2019 booths, the best restaurants to visit in Orlando to impress your key clients and some of the fun things you can do at night to blow off steam after a day of racking up the miles on your shoes inside the Orange County Convention Center.
But what are the essentials you should make sure you pack in your suitcase before heading to Orlando for InfoComm 2019, whether it's your first time at the show or your 21st?
As a veteran of InfoComm and other large industry trade shows, I've put together a list [call it "Craig's list," if you like] of what you absolutely shouldn't leave home without, whether you're spending a week or a day roaming the floor and checking out all of this year's top new AV and IT innovations.
In no particular order, here are my InfoComm essentials:
Comfortable Shoes
This is a lesson I learned the hard way after my first trade show experience in 2011 and my pain is your gain.
To be clear, I'm not advocating for wearing sneakers [too casual for my taste] or flip-flops or sandals of any kind [why would you ever do that?] but there's a way to wear nice shoes that don't also destroy your feet. Ask me what brand I wear when you see me at the show.
Lip Balm
I'm sort of cheating by including this one on the list, since you won't catch me anywhere at any time without lip balm in my pocket.
It's especially important to pack some or pick some up at one of the InfoComm booths in Vegas, but if you're walking a lot in Orlando, even inside the climate-controlled convention center, you'll get dehydrated quickly, including your lips.
Water
Speaking of getting dehydrated, I've advocated for years that manufacturers ditch the pens, fidget spinners, T-shirts, drones and other brand-splashed swag in their InfoComm booths and stock up on as much water as possible to hand me and other weary travelers when we come calling.
I know a bottle of water goes in the recycle bin after you finish drinking it, but it's a nice pick-me-up as your fitness tracker goes into overdrive. I also don't mind being offered a place to sit during my visits.
Pens
This is another lesson I learned the hard way years ago when I was working for a local newspaper and had to go out to write about a big fire in the area. My pen ran out as I was taking notes, forcing me to commit a lot of things to memory I should have been writing down.
Never again have I gone anywhere—whether on assignment or not—without a couple of pens in my pocket. If you must have non-hydrating InfoComm 2019 swag, pens are my preferred souvenir from our encounters. A simple entry, but it belongs on any list of InfoComm essentials!
Business Cards
I know we're in an ever-more-digital age these days, but I still prefer a business card to any other exchange of contact information. That way, I've got your name, title, company, email address, phone number and more all in one place. Bring a lot of them because you're going to meet a lot of people if you do InfoComm 2019 right.
Gum or Mints
I know there's a bit of division over whether you're a mint person or a gum person—or somehow neither one—but you better make sure to pack something that'll keep your breath from smelling like you drank a gallon of coffee—or something worse when you're trying to make a good first impression on someone who could be your next big client or partner. I'm a gum guy, but I know mints make for better swag.
Hand Sanitizer
Speaking of putting your best foot forward at InfoComm 2019, you need to also make sure to put your best hand forward. You're going to meet a lot of people and shake a lot of hands on the trade show floor and at the event before and after the trade show closes.
Do you really want to be worrying if the person whose hand you just shook washed before leaving the bathroom? The last thing you want to bring home from any trade show is a cold—or worse—and this is one way to prevent that.
Portable Charger
If you've been to an AV trade show, you know how quickly your phone batter can go from fully charged to "I really wish Microsoft was exhibiting this year so I could charge my phone in their booth for a few minutes."
One way to take some of that worry away is bringing your own power with you, whether with a phone case that doubles as a charger or some other way of getting more juice. This is probably the most paramount of the InfoComm essentials, so don't forget it!