E4 Experience Chicago Offers Glimpses of Exertis Almo's Future
Merging organizational strengths as Exertis Almo, the value-added distributor has big plans to serve reseller partners.
Leave a Comment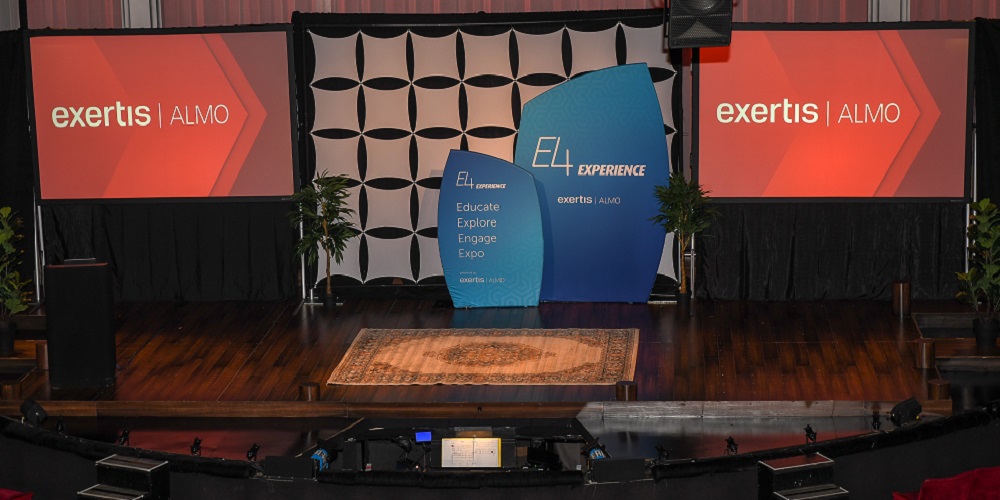 Photos & Slideshow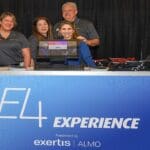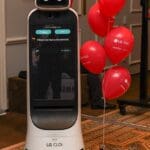 ---
The first E4 Experience staged under the Exertis Almo flag was everything we've come to expect from the E4 event brand — just more and better. With people starting to move past the COVID-19 pandemic and embrace in-person events again, the most recent E4 Experience, held in Chicago on May 3, had a decidedly celebratory vibe. The hundreds of people in attendance — a mix of integrators, end users, vendor personnel and Exertis Almo team members — were clearly excited not only to see the incredible technology on display (did somebody say robots?) but also to see each other.
And all those attendees had plenty to experience! The Chicago exhibit hall was larger than at any previous E4. The 40 vendor partners in attendance included Absen, AtlasIED, Listen Technologies, NETGEAR, Sharp NEC Display Solutions and Sony Electronics, representing a balanced cross-section of audio and video technologies. The additional square footage allowed exhibitors to showcase larger-footprint technologies like LED walls and projected images, wowing end users walking the exhibit hall. The education sessions were equally illuminating, covering timely topics like the myths of AV-over-IP, successful project management, best practices for power and grounding, and conducting a needs analysis. All in all, it's hard to imagine a better-spent day.
Organizations Coming Together
While in Chicago for the E4 event, I chatted with Sam Taylor, executive vice president and COO, as well as Melody Craigmyle, vice president of marketing, about how Exertis and Almo Professional AV came together to form Exertis Almo. Taylor describes it with some mathematical poetic license, saying that, in this union, "one plus one equals three" because of the organizations' near-perfect complementarity. For example, Exertis had always been stronger on the west coast, whereas Almo Professional AV had had a robust east coast presence. The newly born Exertis Almo is prepared to serve reseller partners from shore to shore. Taylor remarks that there was very little overlap between the organizations' customer bases, meaning the union will be additive to Exertis Almo's overall customer count.
The bringing together of Almo and Exertis will also be additive to the organization itself, as Taylor makes clear. Initial trepidations about team members' job security have diminished as the size and scope of Exertis Almo have become clear. "We want to double the size of our sales force," says Taylor, who is now responsible for a team larger than 250 people (up from 180). "This investment was made to really increase our sales and our coverage across the U.S."
When you break down the numbers, the veracity of that statement bears out. Exertis Almo boasts a 100-person outbound sales force; it has 34 inside salespeople; and it sports a 25-person team of business development managers spread among different vendors and technologies. "To have all these seasoned, qualified people all of a sudden being part of our team has been just amazing," Craigmyle adds, noting that it belies the tight labor market.
Leveraging Synergies
Craigmyle makes clear that Exertis Almo isn't merely a larger company; more importantly, it's an organization even better able to serve resellers. She notes that Almo Professional AV had been growing its audio portfolio in recent years, and, now, another audio expert has joined the business development team. What's more, the union has resulted in additional key lines (e.g., Bose) becoming part of the catalog. "There's been some great synergies with the new product lines, the people and the new experts," Craigmyle says with evident pride.
She adds that other Exertis initiatives, such as Exertis University, an online platform for reseller classes, will be part of the merged organization. And that's just a sampling of the newfound benefits that reseller partners will enjoy. Reiterating the power of a nationwide salesforce, Taylor notes that perhaps the most persuasive value proposition is "having all those sales folks out in the field…to visit our customers [so they can] learn about what's important to them and their business."
Also Read: Top Five Highlights of Exertis Almo E4 Experience Chicago
Cory Allen, director of services with Exertis Almo, sat down with me and made clear that the merged organization's service offering will be a game-changer for reseller partners. Allen says that, whereas, at one time, many integrators had a go-it-alone approach and ignored outsource capabilities, the pandemic altered that dynamic entirely. "Those conversations are happening way more than they have in the past — way more," he stresses. Allen frames integrators partnering with a value-added distributor like Exertis Almo as a means of empowering them to focus on areas (e.g., design and engineering) that they know to be their core strengths. Thus, an ever-larger percentage of reseller partners are talking to the distributor about its service offerings: installation and labor support, digital signage and content-creation services, CAD design engineering services and programming.
Partnership with Spectrio
Among all those services, the greatest leap forward lies in Exertis Almo's new partnership with Spectrio. The customer-engagement-solution specialist has propelled the distributor's content-creation offering into the stratosphere. "We knew there was much more out there that we needed to do to serve the customer," Allen acknowledges of Exertis Almo's content-related services. It's especially important, he says, because high-quality content unlocks integrated AV system sales. "That screen is black unless there's something on it," Allen concedes. "Which means it's meaningless unless content is being driven." Technology managers know that all too well; historically, however, many integrators have been reluctant to broach the topic.
Leveraging its partnership with Spectrio, Exertis Almo presents resellers with a service offering that runs the gamut from content creation and CMSes to dynamic digital signage and video shoots. Now, therefore, integrators can not only talk about the client's vision but, in fact, bring it to vivid, spectacular life.
It's just another day in the life of Exertis Almo, whose purpose, Taylor and Craigmyle say, is to help integrators do their jobs better and more profitably. These days, that includes help with product allocation and, when necessary, guidance on product substitutions. "We are very well stocked on just about everything," Taylor declares, but he adds that, when outages do occur, the Exertis Almo team is ready not only with substitute products but also — and equally importantly — with systems experts like Rob Ziv and Tom Kehr, who look at technology holistically and with the customer experience in mind. "It's kind of the extra mile that, as a value-added distributor, we can take it to that next level for them," Craigmyle states.
That expertise complements the fundamental logistical support that Exertis Almo offers…support that liberates integrator personnel from the tedious task of seeking product allocation and status updates from a dozen separate vendors.
A Promising Future
Already, Exertis Almo's reseller partners are witnessing the synergies of the merged organization, and the rest of the world will see them later this year at the upcoming E4 Experiences in Washington, D.C. on September 23 and Boston on October 20. Although those shows are still months away, it seems safe to predict that they'll be among the largest yet, given the convergence of the two organizations' reseller partners and vendor networks. "We intend to grow the E4 program," Craigmyle confirms. "Not necessarily with more frequency, but just in the scope: the number of exhibitors [and] the number of attendees." She adds that E4 attendees should expect new curriculum, as well, and that it will reflect hot-button topics in the integration community — for example, cybersecurity.
If last week's E4 Experience is any indication, the #avtweeps community is raring for in-person events and face-to-face networking. When you add in a few dozen leading vendors; plenty of new products; topical, CTS-accredited education sessions; and access to Exertis Almo's business development and services teams, you have quite a persuasive value proposition.
"People are ready…they're ready to get back," Craigmyle declares. And now, maybe more than ever, they'll be impressed by what they find.
For images of the Exertis Almo E4 Experience in Chicago, click on "View Slideshow" on upper-right corner.
If you enjoyed this article and want to receive more valuable industry content like this, click here to sign up for our digital newsletters!