QSC/Q-SYS's Charmaine Torruella: AV Living Legends #26
Charmaine Torruella of QSC shares her perspective in the latest iteration of Commercial Integrator's #AVLivingLegends series.
Leave a Comment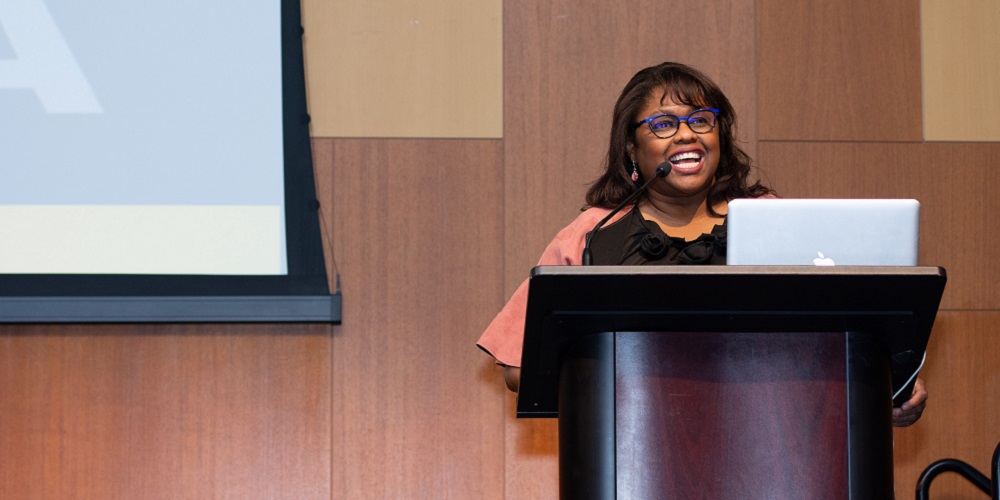 Commercial Integrator proudly continues its ongoing #AVLivingLegends series! This week, we spotlight Charmaine Torruella, business development manager at QSC/Q-SYS. This series exists to celebrate the individuals who have shaped today's commercial AV industry, and Torruella brings not only a wealth of industry knowledge but also universal respect among her peers.
Torruella is an accomplished and highly analytical professional who provides exceptional service to customers. As the founding member of the AVIXA Diversity Council, she also has gone above and beyond in mentoring the minority workforce in the AV industry.
In this conversation, Torruella reflects on her achievements. She also underlines how important it is to let our authentic self shine through in order to truly succeed.
Commercial Integrator: What motivated you to join the commercial AV industry? What has kept you motivated and engaged in the decades that followed?
Charmaine Torruella: I joined the commercial AV industry based on a few factors. The IT industry was stiffening and tight, and I wanted something new and interesting. My customers at the time wanted more conferencing rooms in lieu of conferencing through Webex, MS Live Meeting and Adobe Connect. So, when a major client asked me to sell them some Tandberg Edge 95s and help them "integrate" them in their spaces, I thought, "Let me investigate that."
What has kept me engaged and motivated with AV for the last 12-plus years is the constant and consistent innovation as well as the connections with very innovative, unique and authentic people. I have never felt more myself than in this career: It's a place where my persona just fits, and relationship building is so organic.
CI: Reflect on your role as both a mentee early in your career and as a mentor later in your career. Who helped shape the trajectory of your professional life, and how have you tried to help shape others' careers?
Charmaine Torruella: In AV, Steve Seidenfrau helped me understand that there were a million and one ways to design an AV space. That advice allowed me to not conform to static performance, but to exercise fluidity in my approach to solving business problems. It does not have to be one set way in AV. AV is bespoke, and I am a tailor who takes my clients' measurements and preferences and outfits their systems.
When people come to me for advice, I tell them to bring their authentic selves to the table and not to assimilate. Experiment outside of comfort because being comfortable stunts growth. I do not run away from conflict to show others that no matter how contentious a situation, there is always a way through — a common denominator that you can develop into an understanding, possibly a bond.
CI: What's the most memorable story/anecdote of your career in commercial AV?
Charmaine Torruella: The most memorable story I experienced in commercial AV is when I shared an office with a colleague who used to curse profusely. It was almost every other word in a sentence. He couldn't help himself, and, after a while, it became annoying to sit next to someone with absolutely no filter for the things that came out of his mouth.
He always got annoyed that my phone constantly rang. (This is usually considered a good thing when you're a sales rep.)  One day he yelled, "Turn the volume down on your f***ing phone. I'm tired of it always ringing."
In a raised voice, I basically told him off, saying, "I'm tired of you cursing and using the c-word and every other word in a sentence every day. It's disrespectful, and I'm tired of it!"
He was so stunned! For the next five weeks that followed, he would always greet me with warm hellos and ask me how my day was in a subdued voice. My other colleagues would laugh because they couldn't believe the sudden change. I suppose he was embarrassed that I called him out on his belligerent and immature behavior in front of the entire office and concerned that I would make a bigger issue about it. The funny thing is in a matter of time he went back to his old ways — he just couldn't help himself.  However, the cursing was toned down more than usual.
I unleashed my lion and drew a hard line of no tolerance for bad behavior. It does not matter if "so-and-so is always like that" or "you know how he/she is" justifications are given. It should never be accepted because acceptance sets the standard.
CI: What has been your greatest professional accomplishment to date? What has been your biggest professional regret to date?
Charmaine Torruella: I believe my biggest professional accomplishment to date was becoming the founding chairperson of the AVIXA Diversity Council. I took all my professional and life lessons, and parlayed that into a rally of acceptance and placement for minority AV workers. It's an influence a lot of people to break through barriers with determination or just reposition themselves in their careers seek what they truly want and grab that opportunity. It's been amazing to see the spirit that continue to influence a lot of minority AV employees to challenge themselves and others and to carve their place in the industry.
My biggest professional regret was not taking a stronger stance against biases that I encountered earlier on in my AV career. I swallowed a lot and powered through it. In hindsight, I realize now that it was enabling those biases.
CI: What's the best advice or pearl of wisdom you either received during your career or came to realize on your own?
Charmaine Torruella: In IT, my manager, Rick Hampson, influenced my daring nature by guiding me to always "Ask for what you want, Charms." With that advice, I pushed myself to never be roundabout in my asks. I realized that each side, in business and in life, has a mutual interest that needs to be met. Authenticity and directness are much easier and more productive than spinning and evasiveness.
---
Would you like to nominate a peer or colleague — or perhaps yourself! — to be featured in this #AVLivingLegends series, just like Charmaine Torruella was? If so, just email Dan Ferrisi, editor-in-chief of Commercial Integrator, at dan.ferrisi@emeraldx.com.
If you enjoyed this article and want to receive more valuable industry content like this, click here to sign up for our digital newsletters!