You Could Learn a Lot from How IVCi Sells Managed Services
IVCi built a successful AV business around the concept of proving that its solutions improve customers' businesses. They do this with managed services.
Leave a Comment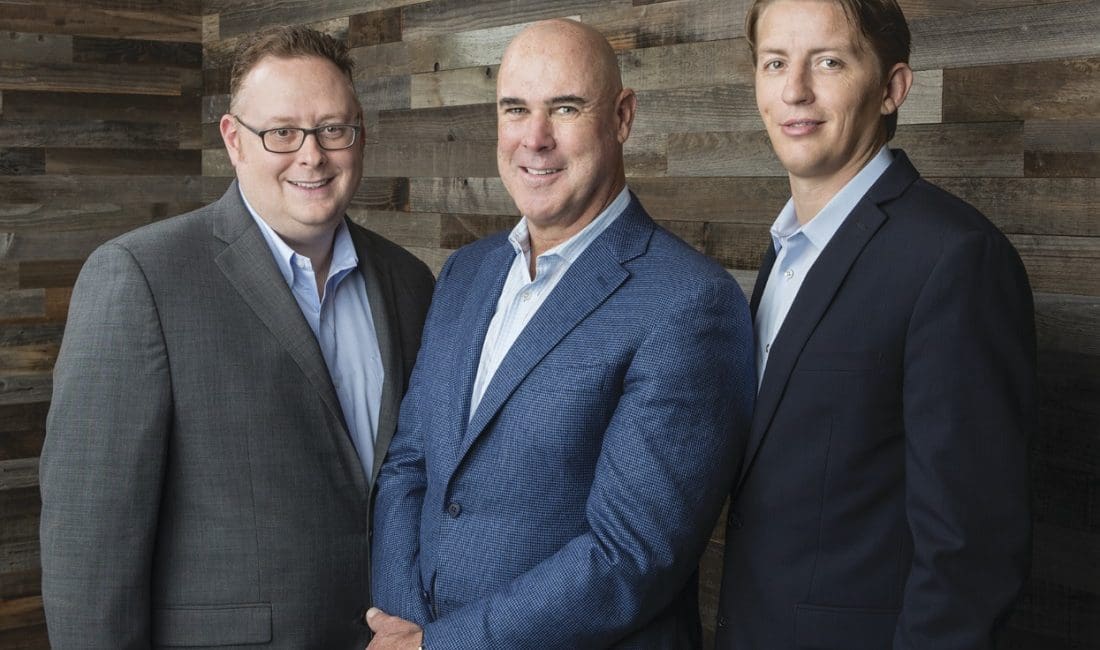 Robert Swing, CEO of Hauppauge, N.Y.-based integration firm IVCi, is probably pretty efficient, the type of guy who prefers to maximize the output of his efforts. After all, if you're going to devote resources to a particular task, it would be nice if it results in multiple benefits.
A good example is the IVCi Collaboration Assurance Program (IVCi CAP). 
Video collaboration is a tricky category for integrators and their customers. On the surface it makes a lot of sense.
Incorporating more visual multimedia elements and the ability to use video technology to efficiently collaborate during meetings is extremely appealing.
However, if integrators and their customers are honest, they'll acknowledge that most deployed collaboration solutions are under-utilized. Maybe the system isn't intuitive enough. Maybe the integrator didn't provide adequate training. Maybe the customer doesn't have the ongoing support they need.
Whatever the reason, in this scenario, the investment in a process-improving collaboration solution seems to fizzle. So does the opportunity for repeat business.
IVCi CAP changes everything about that scenario in a way that benefits both customer and integration firm.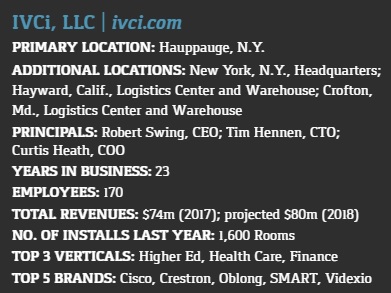 The managed services offering presents collaboration customers with what IVCi calls "a portfolio of Day 2 services," preemptively thwarting any tendency toward under-utilization.
IVCi CAP includes:
"adoption services" or training
helpdesk support
metrics and analytics delivery
system maintenance
general consultative support to ensure success of a rollout
So the resources and effort put toward IVCi CAP results in assurance of happy customers, likelihood of return business and — because it's a managed services package — recurring revenue for the integration firm. Multiple benefits.
"That's exactly why we came up with it," Swing says. "It was frustrating that companies would spend millions of dollars on these systems and they had 30 percent utilization."
Frustration seems to fuel innovation for Swing and his team. As such, IVCi CAP is just one example of the company facing an otherwise market-flummoxing challenge and grinding out a unique solution.
Mutually Beneficial Managed Services
There were really two big impacts of IVCi CAP, says Tim Hennen, president, sales & engineering.
It solidifies IVCi's collaboration offerings
"Dedicated to maximizing ROI, IVCi CAP focuses on increasing usage and strengthening adoption, establishing benchmarks and capturing metrics for measuring effectiveness, and ensuring the ongoing health of an investment," Hennen says.
"Driven by market demands for building workplaces of the future with new collaboration platforms and room solutions, it offers a full suite of services to overcome post-deployment issues before they negatively affect business outcomes."
It encourages more recurring revenue
"The release of IVCi CAP has further strengthened our position as a full-service provider. Our customers really appreciate being able to leverage these critical, Day 2 services from a single, proven expert," Hennen says.
About $18 million of IVCi's roughly $74 million in annual revenue stem from service or managed services contracts, according to Curtis Heath, chief operating officer.
Perhaps even more importantly, "Our service renewal rate consistently achieves approximately 75 percent," he says, adding that "our approximately 85 percent customer retention rate is a testament to IVCi's success in leveraging our managed services to enhance the overall effectiveness of our cutting-edge solutions."
Investing in managed services "was a no-brainer," Curtis Heath says. "It made sense mathematically. Having the talent to start the idea, a lot of managers pulled a lot of late nights and took that first hit, if you will."
Not to belabor a point that has been relentlessly made throughout the commercial integration market, but integration firms tend to struggle shifting to a service-based revenue model.
IVCI's success in this area can be credited to its "really talented management team," says Heath.
About five years ago, Heath says, IVCi leaders acknowledged that the company needed to evolve with industry demands.
"We started to review alternative options and different opportunities of which direction the business could hit and looking at the market and looking at what our customers are saying and pulling in as many data points as possible," he explains.
"We knew the industry was changing. We know that desktop and the desktop video applications or collaboration tools are expanding dramatically. We know someone will always have to be in the conference room to service it on some level, so that means really investing in our Day 2 and our recurring revenue service around what that looks like."
The investing part — again, if integration firms are honest with themselves — is where many managed services business plans falter.
"Investing in the idea was a no-brainer," Heath says. "It made sense mathematically. Having the talent to start the idea, a lot of managers pulled a lot of late nights and took that first hit, if you will."
Using Key Performance Indicators Uniquely
Launching managed services, for IVCi, was similar to starting a business, according to Heath, whose role includes justification of risk and expense.
"When I lay out these models, I'll consider five help desk technicians that we're going to pay for X period of time until we generate enough revenue to cover that and then they would fall off. Often my startup cost to introducing the departments will have a half-baked salary that will eventually be covered through the revenues associated to what it performs."
The beginning is the "nervous time," he acknowledges, "because the longer it takes to sell the longer you have to fund those costs."
Related: Managed Services: What Are You Waiting For?
For IVCi, however, the "nervous time" subsided thanks to a good business plan and commitment through investment.
The nervousness is mitigated with data. The company, in general, places more value in key performance indicators (KPIs) than most integration firms probably do. IVCi embraced KPIs, but not in a completely traditional sense.
"Traditionally, what we've sold for KPIs was around their enhanced video managed services," Hennen says. "It was end-point-based rooms where customers defined mission-critical video quality inside of those spaces. We've done that for large enterprises for over a decade now."
The concept hasn't been without hiccups.
IVCi has found that customers "aren't taking that methodology and putting it campus-wide or corporate-wide. I think that's where some of the challenge is," Hennen says.
"We still have customers who need that mission-critical video and support and that effort. We still find new customers for it today, but it's not growing as much because people haven't identified that as mission-critical enough or they've got OK-enough video conferencing for their solutions."
This market recognition was one of the drivers for IVCi CAP as well as other managed services programs. IVCi saw an opportunity to have conversations with customers about how knowing more about how meetings are conducted can contribute to overall success.
According to Hennen, IVCi has listened to customers about what collaboration solutions they embrace and understood their priorities. That information provides a platform for new conversations.
"We've gone back and said, 'OK. Do you have a lead or a product that you want your team to use? Do you have a strategy to throw them to go out there and leverage that?'" he says.
"If customers have invested in a technology and they only have one or two, we'll say, 'Are you being successful and how do you know? Are you truly looking at those metrics? Are you analyzing them properly?'"
This allows IVCi to present what it calls Platform Adoption Services (PAS), which Hennen says allows the team to help a customer establish its brand of collaboration and work with IVCi to build a plan "to hit their objectives from the strategy standpoint."
Expanding Without Frequent Flying
A lot of those customers' strategies involve being able to collaborate with offices that are increasingly sprawling across the country. Outside of a couple of warehouse and logistics locations in Maryland and California, IVCi is New York-based. That, however, hasn't hindered its ability to support customers' projects across the country.
The key, according to Heath, is a remote labor approach that he says is completely unique in the commercial integration market.
"Traditionally in this industry work is undersold in an effort to increase margins and to win business. IVCi recognizes this as a problem that impacts customer deployments and standards," he says.
"As a result, we have developed key partnerships with a robust outsource model that allows consistency and a seamless approach. Our national partnerships ensure customer standards and deployments are met up-front per the original statement of work (SOW) and proposed timeline."
The completely unique part isn't that IVCi embraces outsourced labor. It's more about the processes IVCi has in place to ensure success of these remote projects.
For instance, "IVCi created a new job in the industry, a project supervisor who reports directly to the project manager," Heath says.
"This position requires the utmost certifications including a CTS, CTS-I or CTS-D and multiple manufacturer certifications. As a highly-qualified technical liaison, the project supervisor is solely responsible for onsite commissioning and vendor management.
This approach allows IVCi to provide consistent standards and quality on a national level across all deployments leading to solid long-term partnerships that improve both client retention and adoption."
As for what the project supervisor does, well, they take responsibility for the project.
Read Next: At Cenero, the Data Is In: Managed Services Model Works
"They makes sure everything is done," Heath says. "You have a person who's technically sound who shores up the project manager and who communicates well with the customer and the technicians. We've seen tremendous success from this model — tremendous success.
It's enabled us to make more money, provide quality that we believe in and be very competitive on the quoting side because we can use local labor."
IVCi's approach to remote labor and its unique project supervisor position is another example of the company facing a common industry problem —competing with large footprint integration firms — and solving it with an efficient, effective and previously unseen solution.
For Swing, that approach to investing in a challenge and yielding multiple benefits is in line with IVCi's modus operandi.