5 Tips For Succession Planning from GenComm, A Company That's Done It Right
GenComm is now in its third generation of leadership and owner, CEO and president Ingolf de Jong is grooming his successor—eight years before he's planning to retire.
Leave a Comment
We've written enough articles in the past eight-plus years on the convergence of AV and IT that we're at the point where it's officially happened. And we're starting to see more companies filling their open positions with some of the young talent out their rather than relying on recycled names of yesteryear.
So, let's try to tackle one of those hidden problems that's percolating in every corner office of every company in the AV industry: succession planning. In many ways, it's related to the idea of incorporating and nurturing young talent. It's about letting go of the present and embracing the future.
GenComm is among the companies in this industry that's seemingly unlocked the mystery of succession planning, with owner, CEO and president Ingolf de Jong unofficially grooming his hand-picked successor at least eight years before he plans to retire himself.
In 2006, de Jong took over leadership of the company under Harold Haugen, the second-generation owner who had bought the company from his father, Per, in the early 1980s. Per Haugen was a founder of NSCA and now has a lifetime achievement award in his name.
It's that careful and thorough approach that's helped GenComm retain the Church of Jesus Christ of Latter-Day Saints as a client for the entirety of its 61-plus-year history. That kind of loyalty is impossible to buy and invaluable for any business to have in its back pocket.
Here's a look at some of the lessons de Jong learned from Harold Haugen and his father that are shaping the way he passes the GenComm baton to VP of engineering and operations Brandon Gramse.
Think about how many of these things you're doing to get your company ready for life after you're gone.
Start Your Succession Planning Early
de Jong has worked closely with Gramse for years to ensure a smooth transition to the next leader to of the company, even though de Jong says he's planning to stick around for another eight or nine years.
"I look at where we are today and the opportunities that were given to me," says de Jong. "We want this company to be successful well into the future. I've taken Brandon to lots of events around the world for the purpose of coaching."
Be Proud of Your Succession Plan
While there's been no official announcement of Gramse as de Jong's successor, neither of them has made any secret about it, either inside the walls of the company or in public with clients and industry colleagues.
"My management style is you have to have open conversations," says de Jong. "At some point in time, I'm going to want to retire."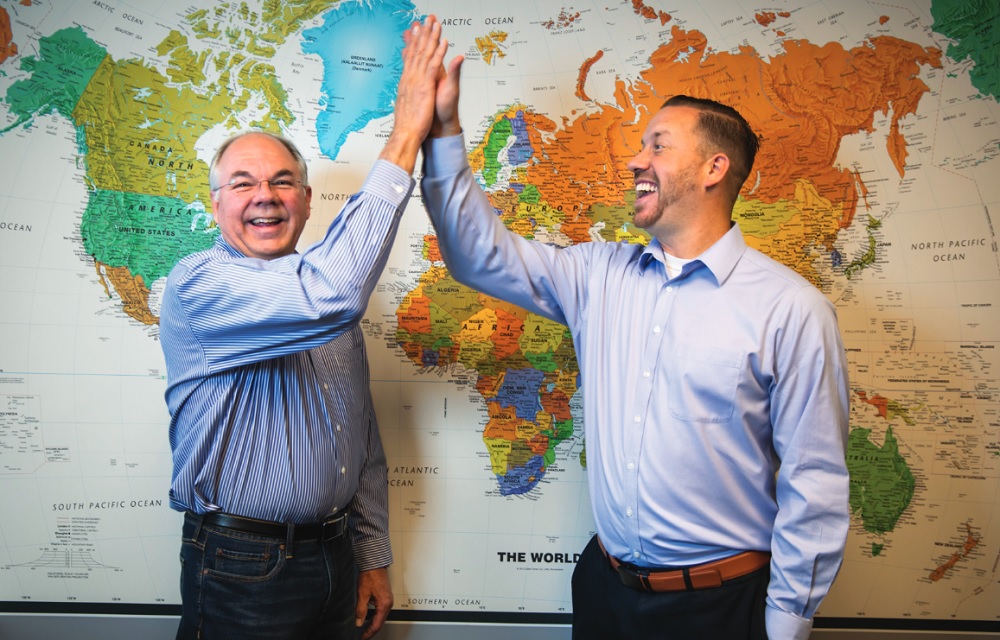 Identify and Nurture Important Traits
Gramse developed the acronym PIE — passion, integrity and excellence — as the backbone of the GenComm's approach to everything it does, both among its workforce and clients.
"Brandon has that same passion to find ways to make things better," says de Jong.
Gramse feels "blessed to have Ingolf mentor me," he says.
Be Thorough in Your Succession Plan

"He's taken me all over the world," says Gramse of de Jong's approach to grooming him to be the next leader of GenComm. "We've had a lot of windshield time to discuss everything within the business and a number of things outside of it. I've been very blessed to be where I am. Without that, I'd be years behind where I am now.
"It makes me excited — and very nervous. There's a lot to carry on. Anything we approach, it's always with the long term in mind," he says.
Think Several Steps Ahead
In many ways, succession planning and overall business success is a lot like chess, a game de Jong has played since he was a child with his father and grandfather.
"The pieces are constantly moving," he says. "You've got to look beyond where you are today. If you don't prepare for the future, how does that affect your business? If you're not thinking about it, it's going to have a negative effect. Is there a longevity in doing business with the company?
"There's lots of people who don't prepare and they wake up one day and think 'what now?' If you don't have a strategy in place, you're not preparing your company for sustained growth. It's my responsibility to prepare our organization for the next generation. It's a mindset and a process you have to develop, but it's important to me," he says.