The Biggest Challenges AV Integrators Will Face in 2019
Shift to service-based model remains one of the biggest obstacles AV integrators have to boosting bottom lines. But that's not the only hurdle out there.
Leave a Comment
The challenges AV integrators face in 2019 might look fairly similar to the ones they faced in 2018—and could even be a preview of the challenges they'll face in 2020, and perhaps beyond.
Total Tech Summit attendees heard about new ways for them to introduce a service-based revenue model to their customers, including repackaging what you're already doing for them in a way that makes them pay for it every month rather than all at once.
But far too many AV integrators haven't yet given a thought to how to launch a service offering at their AV firms, according to the findings from our State of the Industry research. Could it be they don't realize they're already doing it or could they think service is just a passing fad?
While AVIXA and NSCA both offer grant-based programs that are helping to bring the AV industry some high school and college-aged talent and initiatives like Maverick Technical Institute in New Hampshire, Columbia College in Chicago, Full Sail University in Florida and EnventU in the Washington, D.C., area are among the educational institutions that are training young people on the joys of a career in AV integration, much more can and should be done here.
After all, wouldn't you rather we solve these two major challenges and move on to figuring out different ones? Or would you rather read the same article year after year and see the industry face the same issues every year?
For an industry that prides itself on coming up with creative solutions for the biggest challenges, you have to think someone will unlock the key on these two at some point soon.
Two Trusted AV Integrators Share Their Fears
Chris Henry of Cenero is among those who says "finding quality labor" will be the biggest challenge he'll face in 2019. Henry will focus on "strategic talent acquisition and a training initiative" to address that challenge
Tom Murray of Backman Vidcom has a couple of challenges he expects to provide him with the most sleepless nights in 2019 and you might recognize them if you've read this far.
"The biggest challenge our firm will continue to face in 2019 is the search to find the talent we need to keep up with increasing customer demand and our potential to grow. Good technicians, programmers and project managers with specialized skills are both hard to find and in high demand"
"There's also been a move away from hardware-based applications in the systems we deploy. A project we're working on right now is completely software-based and we're going to see more and more of that. We have to get on board with that, get up to speed and get our minds around how it's going to change our industry going forward," says Murray.
Issues with Legal, Financial Ramifications
While the shift to a service model and the seemingly never-ending search for talent are the top two challenges AV integrators are facing in 2019, 2020 and probably beyond, that doesn't mean they're the only two.
David Riberi of LightWerks Communication Systems offered another idea of what might be most troublesome:
"The biggest challenge we face as an integrator and an industry as a whole is dealing with the large seasonality of the business. We're working to diversify our customer base more (e.g. more corporate and medical)and transition our business from project-based to more of an RMR-based model"
Felix Robinson didn't focus as much on the two biggest challenges most AV integrators see:
"Budgeting for safe legal protection and ongoing advisement when negotiating complex contractual requirements on large publicly financed projects is the greatest challenge for system integrators nowadays," he says
"The costs to an integrator for those services cannot (generally) be billed to the client so the only way to maintain the services is to have a competent attorney familiar with contract law as well as integration and, most importantly, construction law on staff or retainer, and include a portion of those costs into every G&A billable into every project, no matter the size.
"Smaller AV integrators are often disadvantaged and poorly protected unless they have access to proper advice when navigating bids that include loss and damage requirements or fees for delays," he continues.
"A properly worded qualifications and exclusions document, customized for each bid and conforming to the prime contractor agreements is absolutely necessary, considering the increasing risks encountered when growing a company."
Ability to Stand Out in Crowd
Bruce Kaufmann of Human Circuit is most worried about dealing with:
"further commoditization" and "differentiation of the services and verticals addressed," which is another major concern for many AV integrators as so many firms become either extremely large or focused on a specific niche
Kevin McKay of Genesis Integration says:
"the company is mulling the best way to move the organization forward" and retain all the talent it's assembled under its roof
"We have reached a point in our organization (and perhaps in our industry as a whole) where we need to revitalize with next generation of talent," he says.
"For example, the average age of our sales team is over 51 years old. When they graduated college, public Internet access wasn't even available yet here we are selling the latest and greatest solutions, some of which don't even require dedicated hardware to operate.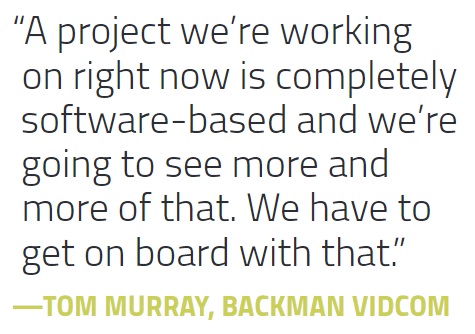 "Don't get me wrong: there are a lot of very smart and savvy people who have been doing this a long time,but we are in a digital industry and it is time we started bringing more 'digital natives'into our companies. With that in mind, we are definitely focusing our recruiting efforts on the younger demographic," says McKay.
Jeffrey Stansfield, president of Advantage Video Systems of Burbank, Calif., is focused on "finding resources to grow my business," whether that means from a talent standpoint or the approach to doing business
That means thinking differently than the competition and finding something that keeps customers coming back and attracts new customers to work with you.
"There's more competition out there and products are becoming cheaper," he says. "Clients are looking on the Internet, so we need to find new products that make our company shine and offer new workflow solutions as total packages that allow us to brand our business as the only source for that solution."
Patrick Whipkey of IMS Technology Services knows the company needs to think about the AV integration world in new ways in 2019 and beyond:
he expects to see more people finally realize and understand why the successful AV integrators already adopted a service-based model
"The buzzwords today are AV as a service and managed services," he says. "People are slowly developing it and deciding what to offer and how to offer it."