D-Tools' Randy Stearns on Boosting Profitability and Efficiency for Your Integration Business
D-Tool's CEO Randy Stearns shares how you can boost your integration firm's efficiency and profitability with D-Tools' SI and Cloud software.
Sponsored Content
Leave a Comment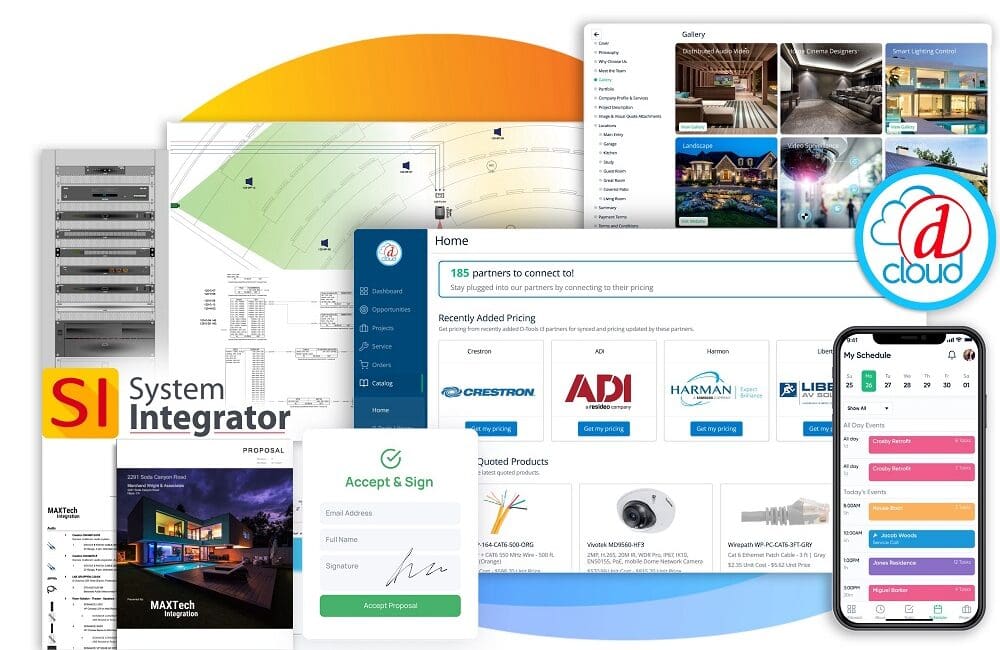 In this exclusive Q&A with Commercial Integrator, Randy Stearns, CEO of D-Tools, explains how D-Tools' System Integrator (SI) and D-Tools Cloud software programs can help drive profitability and efficiency for your integration firm. D-Tools' SI and D-Tools Cloud are more than just proposal creation — its offers a suite of features such as a customer relationship management tool, estimation, project management, service contracts, invoicing and much more. In addition, it seamlessly integrates with third-party accounting solutions for a streamlined experience.
D-Tools' SI and D-Tools Cloud are constantly updated to meet the evolving needs of businesses. Stearns touches upon upcoming features like enhanced scheduling, inventory management and drawing solutions. Whether you're in commercial AV integration, residential system integration or security integration, D-Tools has got you covered.
Download: 2023 Business Resources Deep Dive
Commercial Integrator: These days, many integrators are so busy working in their businesses that they hardly seem to have any time to work on their businesses and optimize their processes. Share insights into D-Tools' mission to help integrators run better, more profitable businesses.
Randy Stearns: Most integration companies are entrepreneurial in nature, which typically implies that the business leaders wear many hats and are often "running around with their heads cut off," leaving little time to work on their businesses. D-Tools' goal is to help these entrepreneurs to streamline workflows, standardize processes, create a centralized repository for all project-related data, and improve team communications. In short, D-Tools software – System Integrator (SI) and D-Tools Cloud – enables integration companies to work faster, better and smarter, leading to greater profits, more satisfied employees, and happier clients.
As an example, the software utilizes D-Tools' impressive product library, templates, packages, accessories, and other time-saving features to generate proposals incredibly quickly (faster), while at the same time ensures that system designs are complete and pricing is accurate (smarter), and produces gorgeous, visually appealing proposals that boost the chances of closing the sale (better). This is but one example, but the same could be said about a variety of other aspects of an integrator's business such as change orders, project management, service agreements, field communications, business reporting (i.e., job costing, backlog reporting, labor utilization assessment) and more.
The end result is system integration businesses that are well-organized, better run, more efficient and financially stable. Combined, these benefits cultivate a positive company culture, which reduces employee turnover and leads to better work-life balance for those overworked entrepreneurs.
CI: D-Tools offers two robustly featured solutions: D-Tools System Integrator (SI) and D-Tools Cloud. These solutions are much more than design/proposal software, though. Describe why the term "integrator's operating system" is actually a more apt characterization of both.
Stearns: Both D-Tools System Integrator (SI) and D-Tools Cloud are designed to assist integrators in every aspect of their business. At the initial customer relationship management (CRM) stage, the software accelerates the sales process by visually managing leads, tracking activity and guiding the sales process. For estimating and proposal creation, D-Tools helps craft polished, personalized and accurate proposals using dealer-specific pricing from a vast product library with more than a million SKUs.
In the field, the software allows integrators to manage project workflows from start to finish including scheduling, purchasing, task assignments, field communication, change orders, timekeeping and more. Once a project is complete, D-Tools manages service contracts and service calls. Finally, D-Tools helps optimize invoicing and the collection of payments, while integrating directly with third-party accounting solutions.
Built-in business intelligence dashboards and reporting allow integrators to track all major KPIs including sales forecasts and results, project performance, backlog, revenues earned, labor utilization and more. All in all, using an all-in-one, end-to-end software solution, like D-Tools, keeps team members all on the same page and strengthens the bottom line.
CI: Help disambiguate SI from Cloud, detailing what makes them different from each other, why one might better suit a particular type of integration business, and how SI and Cloud have evolved over the years in response to client feedback.
Stearns: In a nutshell, D-Tools SI, the company's flagship product, is a Windows-based on-premises desktop solution that was introduced 25 years ago, while D-Tools Cloud is web-based, mobile-friendly, multi-OS solution that debuted in 2018. Both solutions share many of the same capabilities – basic CRM, estimating, proposal generation, change orders, scheduling, purchasing and item tracking, timekeeping, project management, service contracts, service call management, embedded payments, integrations with accounting solutions and business analytics.
Currently, one of the main differences is that SI produces advanced engineering drawings via tight integrations with Visio and AutoCAD. Today, D-Tools Cloud offers only browser-based drawing mark-ups and a Visual Quoting feature that allows system integrators to place symbols on floorplans or images.
From a usage and reporting perspective, D-Tools Cloud is more prescriptive, while SI is far more customizable. SI incorporates a vast array of custom fields and has a powerful business intelligence engine that enables detailed and customized reporting on virtually any aspect of the business, which accommodates the more intricate workflows and reporting requirements of highly sophisticated companies.
CI: Continuous improvement and development of next-gen capabilities are classic hallmarks of D-Tools. Can you provide a glimpse into what the team and you have planned to make SI and Cloud even more valuable to integration businesses in the coming years?
Stearns: By its nature, software development is a dynamic, never-ending process. D-Tools Cloud and SI are constantly updated with new features and upgrades being pushed out monthly. New modules and product improvements, large and small, are constantly in the works.
SI is a fairly robust solution already, but improvements are always in development. Specifically, a product submittals feature is planned for the next release. We are also working on significant improvements to the service module and the ability to better support customers with multiple locations.
The D-Tools Cloud product team has an impressive roadmap of features under development or planned. Work underway currently includes SMS messaging, improved scheduling and timekeeping functionality, inventory management, drawings solutions and the ability to better support companies with multiple locations. That team is also working on a wide variety of software integrations that include multiple CRM solutions, Microsoft Outlook, and Google apps and embedded fintech offerings.
Lastly, the D-Tools team is actively exploring new technologies such as AI to identify intelligent ways to incorporate them into the current offering.
CI: Is there anything else you'd like to add that I've not already asked?
Stearns: D-Tools is deeply embedded in the commercial AV integration world, while also catering to residential system integrators and commercial security contractors. Most notable commercial suppliers have partnered with D-Tools to ensure their products are incorporated into our comprehensive Product Library. As such, integrators can quickly build proposals and manage projects in every key vertical, including corporate, education, retail, hospitality, house of worship, government and more.
If you enjoyed this article and want to receive more valuable industry content like this, click here to sign up for our digital newsletters!