NSCA Excellence in Business Award Winners Share (Most) Secrets of Their Success
From customer experience and talent development to employee engagement and business performance, there are many ways to do things better.
Leave a Comment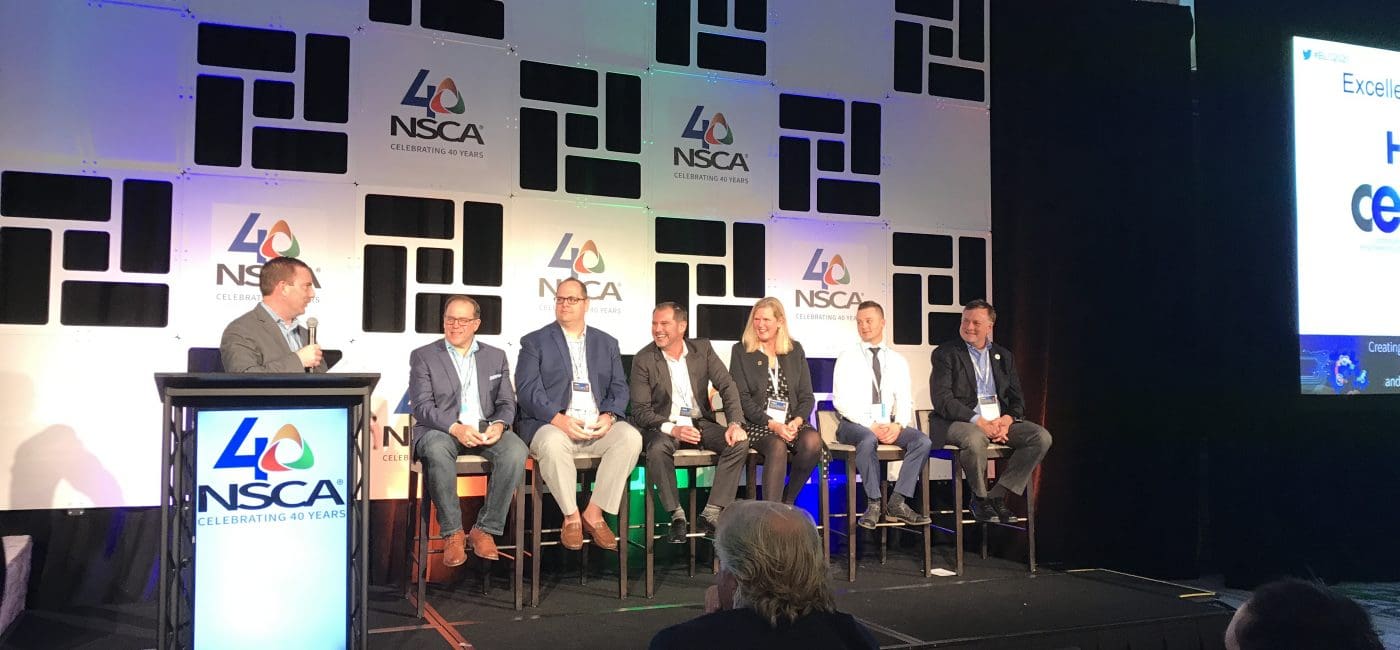 The NSCA Business & Leadership Conference is a unique environment where company leaders share some of the biggest secrets to their success and nowhere is that more evident than during the annual panel discussion featuring the year's Excellence in Business award winners in six categories.
This year was no exception, with the panelists sharing how they were able to deal with challenges in a variety of areas that have no doubt plagued most of the 400 or so attendees in the room at some point—or, if it hasn't affected them yet, probably will at some point soon.
AV Solutions has made customers feel more comfortable about how the staff will deal with problems when they arise—and make sure they're never disappointed with the service their getting, says founder Matt Slack. That's why they won the Excellence in Business award for customer experience.
"When something starts going wrong, you can't wait for your best people to be available to resolve it," he says. AV Solutions staffers use what they call a customer thrill list and are notoriously hard on themselves, even when customers say they're satisfied the problem has been resolved, says Slack.
Hillman AV earned the Excellence in Business award for talent development because of an innovative employee training program that project manager Jesse Wintonyk says "gives people the confidence to do their jobs.
"We want to give people the opportunity to make this a career," he says.
Communications Engineering Company is this year's Excellence in Business award winner for differentiating strategies because it's resisting the temptation to follow a traditional route of staff promotion of people into positions they might not qualify for or even want to do.
CEO Kim Lehrman says the decision to no longer shift its most successful technical staff members into sales roles has been "a transformational change" for the company that wasn't easy to implement since it's done by most others in the industry.
CEC also developed an as-a-service offering with Great America Finance built around several vertical markets that gives customers services along with the traditional AV engineering and installation.
More Excellence in Business Award Insight
Corbett Technology Solutions, Inc. is this year's NSCA Excellence in Business award winner because of its experience-as-a-service offering that makes CTSI's customers "sticky with us for a long time," says president and CEO Gino Ruta.
"We didn't like the pay-as-you-go model and they didn't want a long contract," he says.
HB Communications overhauled its employee engagement to win an NSCA Excellence in Business award by creating 12 techniques that COO are a lot more than lip service.
"It's not just a touchy-feely HR thing," says COO Joel Harris, noting HB has reduced its employee turnover by 14 percent since enacting it a bit more than a year ago. "It's very quantifiable. It's a palpable sense in the office and on social media of being proud to be part of HB."
Constant Technologies has changed the definition of "mission critical" to earn the Excellence in Business award for strategic transformation.
"We've evolved from what people think of as mission-critical to what it means for all of our customers," says president Brad Righi. The company also eliminated territories and developed what Righi calls "wider and deeper relationships with our existing client base."
If you enjoyed this article and want to receive more valuable industry content like this, click here to sign up for our digital newsletters!