Reflecting on the Good Things in My Work Life
Thanksgiving is always a time to count your blessings and appreciate the people and things in your life who make it better. Here's my AV industry version.
Leave a Comment
Last week, senior web editor Adam Forziati rounded up some thoughts from around the industry that highlighted what people in the AV industry are thankful for heading into the official kickoff of the holiday season—and my favorite holiday: Thanksgiving.
It's my favorite holiday not only because it's encouraged that you stuff your face with all of your favorite foods from the time you wake up in the morning to watch the Macy's parade until you go to bed after the last football game is over, but also because it's not about giving presents.
Thanksgiving is a day about spending time with your family, friends and loved ones—the people who make your lives better every day, whether you realize it or not. Trust me, there are times when I don't think that way and am far less reflective and I always regret it when something happens to them.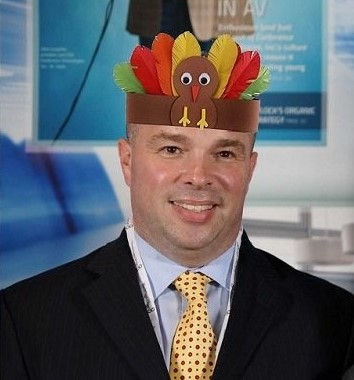 I know everyone is already in a rush to skip right by Thanksgiving this year and jump right into the December holidays, whether you celebrate Christmas, Hanukkah, Festivus or something else.
The focus on those holidays seems especially pronounced to me since Thanksgiving is so late this year.
But I'm in no rush to let Thanksgiving get ignored.
Like I said, it's my favorite holiday. I'll talk to you next week about what's on my Christmas list, but for now, let's talk turkey—and stuffing and mashed potatoes and gravy and corn and beans and, of course, PIE!
Sorry, I got a bit sidetracked there. Let's regroup and talk again about some of the people and things that have made this year and the previous seven so rewarding when it comes to writing about and learning about the AV industry:
Whenever anyone in my family or people I meet asks me how I like my job, I always tell them the same thing—and I say this to people in the industry too: The very best part of writing about the AV integration industry is how things are constantly evolving and changing.
I love seeing what the people in this industry do next to top themselves or their competitor then seeing how the industry responds to that development.
Unlike my previous life as a local newspaper writer who was covering the same town and the same people doing the same things, AV is all about change.
That's not just restricted to new products and cool projects either. There's been enough breaking news—particularly on the acquisition front—to keep me excited too.
I didn't expect this when I started here in January 2011, but I truly never know what I'm going to be writing about from day to day—and to me that's a good thing because that unpredictability means people will be talking about my story.
While I'm not necessarily someone who embraces change in my everyday life—as you've probably come to recognize if you've read my blogs in the past—hearing about it and being able to share the stories about how you're making people's lives better through technology is particularly cool to me.
As frustrated as I sometimes get with the people and the companies in this industry who I don't feel are taking full advantage of the tools and resources available to them, I'm also thankful that I get to share those tools and resources with readers who wouldn't have otherwise known about them.
That can range from the NSCA Ignite workforce development program to the AVIXA Diversity Council to the shift to or addition of a recurring revenue model. These are three examples of things I've written about and talked to enough people about to know they are making inroads.
That doesn't mean every new initiative or idea is a perfect fit for every company, but there's often a surprising resistance to try new things until someone else proves why they shouldn't.
Maybe that's just the whole thing about early adopters as de facto beta testers, but I feel like there are plenty of industrywide efforts that haven't taken hold nearly as strongly as I figured they would by now.
One thing I've particularly enjoyed while writing about the AV industry is the unvarnished honesty some people in the space have about their companies and the industry as a whole, both the good and the bad.
I see that play out a lot more than I expected at events including the NSCA Business & Leadership Conference, our Total Tech Summit and AVIXA AV Executive Conference, but it also comes into play in some interviews I do.
Sure, there are still some companies and people who are a bit more tight-lipped about what they're doing and what the industry should be doing but there's a lot more transparency in AV than there ever was when I was writing about local government, so it was a nice change and it continues to be good.
There's a lot to be thankful for, whether you're working in or writing about the AV integration industry these days. Make sure you take a few minutes to appreciate how good we all have it.
Happy Thanksgiving!