Time Kid of the Year a Reminder to AVTweeps About Value of Young People, Mentorship
Gitanjali Rao, 15, has mentored more than 30,000 students following the mantra 'observe, brainstorm, research, build and communicate.'
Leave a Comment
I remember when I went to my first AV conference about 10 years ago, there was a session on the place for and future of Millennials in the workplace and the speaker spent much of the session blasting them for being lazy and wanting everything handed to them.
That mentality was prevalent across the AV integration industry and many others at the time, but most savvy business leaders have learned that, if their companies are going to outlast them when they retire, they need that young talent to replenish the pipeline.
I've heard from enough people in AV about how their careers started in this industry to know it's often something they "fall into" rather than choose, but that's not to say there aren't young people out there targeting a career in AV, even if they don't call it that.
Related: 40 CI Influencers Under 40 Class of 2020
You might say what do kids in high school or even middle school know about what they want to do when they grow up? At that age, I had two careers I was exploring: elevator operator and priest. I'd like to think I chose the right one by going with journalist.
My 11-year-old daughter told me this morning she's deciding between NASA engineer—a literal rocket scientist—and meteorologist, although she's hedging her bets and leaving lawyer as her backup choice if neither of those work out how she expects.
Sure, that sounds like a wild and far-fetched dream, but who am I to discourage her, especially after reading about the exploits of Time Magazine's first Kid of the Year, Gitanjali Rao, 15, of Lone Tree, Colo.?
The young scientist and inventor has followed the mantra "observe, brainstorm, research, build and communicate" to use technology to eliminate contaminated drinking water, opioid addiction and cyberbullying and mentored thousands of young innovators like herself.
How Young People Can Change AV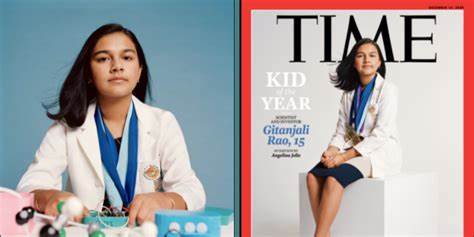 Rao invented a service called Kindly, targeted at finding cyberbullying in its early stages using artificial intelligence—anyone in AV heard of that?—and eliminating it before it goes too far.
"I started to hard-code in some words that could be considered bullying, and then my engine took those words and identified words that are similar," said Rao in her interview. "You type in a word or phrase, and it's able to pick it up if it's bullying, and it gives you the option to edit it or send it the way it is.
"The goal is not to punish. As a teenager, I know teenagers tend to lash out sometimes. Instead, it gives you the chance to rethink what you're saying so that you know what to do next time around," she said.
Rao also hosts "innovation sessions" with fellow teens, sharing what she's learned and letting them decide if it's something that fits them and their lifestyles. She follows four steps: observe, brainstorm, research, build, communicate.
"It started with a simple presentation and lesson plans, and then I started adding labs and contests that students could do," Rao told Angelina Jolie in the Time interview.
"Now I've partnered with rural schools, girls in STEM organizations, museums all across the world, and bigger organizations like Shanghai International Youth Science and Technology group and the Royal Academy of Engineering in London to run innovation workshops," she said.
Rao says she has mentored more than 30,000 students, which she calls "super-exciting."
"The students that I work with, they just don't know where to start," she said. "I think that if you give them that spark that they can then build off of, then that changes everything. That means one more person in this world wants to come up with ideas to solve problems.
"At the end of every workshop, everyone has something that they can start working on. If you can do this in 45 minutes to an hour, imagine what you can do if you spend months and months working on it," said Rao. Oh, so you're telling me mentorship works, huh?
"It's like creating a community of innovators," she said. "I really hope the work that all of these kids are doing identifies innovation as a necessity and not something that's a choice anymore. I hope I can be a small part of that.
"I think more than anything right now, we just need to find that one thing we're passionate about and solve it. Even if it's something as small as, I want to find an easy way to pick up litter. Everything makes a difference. Don't feel pressured to come up with something big," said Rao.
Do you still think young people have nothing of value to your company?