Vistacom: An Enduring Legacy
The woman-led firm has grown into a formidable business, renowned for its expertise in the control room and healthcare verticals as well as for its commitment to employees and clients.
Leave a Comment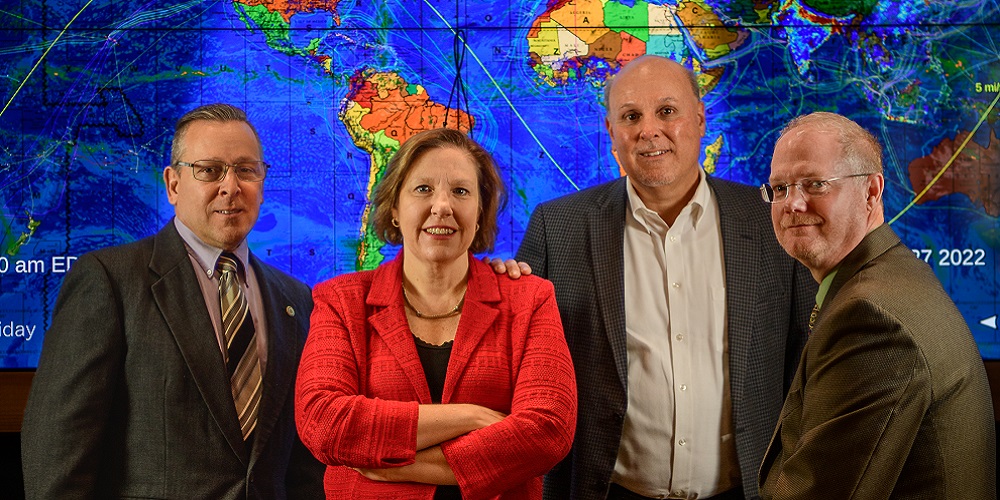 The AV industry thrives on connections and networking among people — of that, there is no doubt. However, it's extremely rare for an integration firm to be as united and generation bound as a family. Vistacom happens to be one such firm.
Founded in 1954 by Jack Ferlino, the Allentown, Penn.-based integration leader presently has sibling duo Angela Nolan and Jim Ferlino leading the company, which specializes in healthcare, control rooms, conferencing and other vertical markets. But the company is more than just its products and services; Vistacom has flourished in the last 65-plus years as a result of its commitment to its people and its core values. Not only that, but, as a woman-led firm, Vistacom has persisted in its efforts to support diversity, equity and inclusion throughout the organization.
For those reasons and plenty more, Commercial Integrator is proud to select Vistacom as our 2022 Integrator of the Year!
Leading the Control-Room Vertical
The evolution of Vistacom from being an audio-only company to being a full-fledged audiovisual integration business has been a long, but extremely rewarding, journey. Nolan, CEO of Vistacom, reminisces, "My father, Jack Ferlino, started Vistacom when he decided to pursue audio as a career avenue after returning from World War II as a communications officer." The company stayed small for a long time, working on sound systems for churches and auditoriums, as well as paging systems, to ensure emergency preparedness.
It then entered the next phase by working as part of the installation team at Veterans Stadium (now demolished) in Philadelphia. "That was one of the key projects that propelled us in the '80s, and Jim really got to sink his teeth in the project," Nolan adds. "We became an official AV company then and worked on our first large control room project for the Global AT&T Network in New Jersey."
Noting the company's success since then, Nolan attributes it to the company's mantra, which her father established: Get things right at the drawing board stage. She expands further, saying, "As an engineering-driven company with a focus on technical education for employees, we value education and expertise growth within the organization." Living up to those values, Vistacom in 2014 launched a dedicated department for its control-room business, with its own set of staff and resources.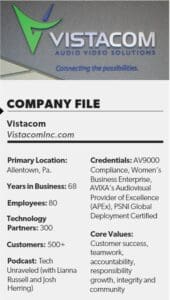 Diving further, Tom Iasiello, director of control room operations, states, "We realized early on that we needed a laser focus on the control room — from engineering to sales and services, [to] even installations. We also realized that, in these mission-critical spaces, security is taken very seriously." Vistacom leadership collaborated with several team members. "Over time, we've become experts in the field, and that's really helped us," he remarks. "We understand the inside of the control rooms and the exact workflows required for smooth functioning."
Owing to its success with control rooms, Vistacom soon entered the national and even global marketplace. "At that point, we really had to up our game in the services section and figure out how we were going to support customers on the other side of the country and the planet," Iasiello reveals. "It led us to develop 24/7/365 response times, along with remote-monitoring services, which increased our customer-service satisfaction tremendously."
Rising Prominence in Healthcare
Matt Boyer, director of technology, turns the conversation to Vistacom's healthcare division and the company's rise in the sector. He explains, "Like the control-room sector, we're really driving the healthcare initiative forward." In Boyer's opinion, the team's ability to find niche areas and capitalize on them accordingly has been key. "We have to [constantly] learn the technology, how to work with clients and the changing environment," he explains. "In doing so, we recognize the needs of the marketplace and fulfill them rapidly."
Boyer reveals that Vistacom's involvement in the healthcare vertical began with a client that required remote monitoring in intensive care units (ICUs). "Since then, we've developed 'V Cares,' where we have new capabilities that allow [clients] to deploy it faster and in a more adaptable manner," he adds.
Paris Orrison, engineering manager, expands on Vistacom's technical achievements in healthcare system deployments. "We have moved on from the monolithic analog system with [extensive] cabling and a lot of products spread across many locations," he notes, saying that Vistacom has embraced "…agile systems that can be deployed out of one room to any location." This transformation, in Orrison's opinion, has enhanced the level of care that patients receive. "It's really something special when you can say that you [in the AV field] are truly contributing to help save lives," he enthuses. "And this is something that is not often spoken or looked at, but AV can be a mechanism to actually help others."
---
Jim Ferlino's Perspective: The Story of Vistacom
As president of Vistacom, I share ownership of the business with Angela Nolan. My key role at Vistacom is to provide strategic direction for the company to ensure growth, profitability and relevance to our clients.
My journey has provided me with an opportunity to work in many different areas within the business and gain appreciation for the importance and needs of different roles. Although my formal schooling is in engineering, I began my career in a sales role. In my early years, we were a relatively small company, so I spent time doing engineering, technical installs, service and support, project estimating and project management. Not any one of those roles was my full-time focus; however, I spent enough time there to understand the value to both Vistacom and our clients.
A Large, Unserved Market
Within the first four years at Vistacom (Daveland Company at that time), I spent time meeting and developing clients. It became obvious that there was a large market that we weren't serving. At that time, we only provided audio and acoustic solutions for clients, and I knew we could be doing more with audiovisual and videoconferencing solutions. I started attending InfoComm every year to learn about products and develop manufacturer business partners to get us started. I remember walking down the aisles in amazement, seeing all the products that we could use to engineer and sell client solutions. We picked up close to 50 new product lines, and this became a milestone that changed the future of our company as we dove headfirst into the audiovisual and videoconferencing markets.
Our reputation in the '90s as a top-tier control-room integrator positioned us to win a very high-profile control-room project: The AT&T Global Network Operations Center. At the time, this was one of the largest control centers in the world, and it included complex hardware and software solutions. My overall experience of being onsite for almost six months and interfacing with the client and their design/construction team was invaluable.
Success in Healthcare
Like our success in other vertical markets, Vistacom's success in healthcare grew from our intentional efforts to better understand the needs of this industry through discussions with industry professionals. I knew that our technical staff (engineering, software programming and technicians) could provide valuable solutions, and our close alignment with doctors, nurses and healthcare IT professionals allowed us to gain the knowledge and insight needed to develop impactful solutions. Our role, therefore, is to provide traditional AV, conferencing and clinical solutions that improve patient care while reducing hospital costs. We supplement this with a managed-services package that often includes 24/7 coverage and onsite staffing. Our solutions not only facilitate good hospital communications but also have saved lives, as our clients attest.
Through the years, Vistacom grew at a controlled rate to balance quality and quantity of work.
Values Worth Passing Down
Indeed, our culture, including that of family members, is one where "we do what we say we will do," and where profit does not always supersede humanity. If we make a commitment, we are accountable. And when someone makes a mistake, we do our best to turn that into a teaching moment instead of a moment of failure. Even when we release a staff member, we try to treat them in a way where they can learn and grow. As a more experienced member of Vistacom, I especially enjoy sharing whatever wisdom I can to help others avoid the mistakes that I made throughout my career.
I would finally like to mention our founder, my father Jack Ferlino, whose work ethic was like no one I have ever met. He had the foresight, wherewithal and determination to start this business, but, more importantly, it is his values that have been passed down to shape and mold our culture into what it is today. As a strong businessperson, he understood the need for processes, quality and profits, but he never let those overshadow his concern for humanity.
---
For Mark Ripley, software development manager, the integrator's work in this vertical all traces back to Vistacom's roots. "Back in the day, Jack Ferlino focused on emergency paging and other applications that take care of the community," he says. "In essence, our job is to provide solutions for the community." Ripley emphasizes that the Vistacom team partners with doctors, nurses, software providers and other stakeholders to enrich the solutions further. "We don't think of it as 'our one system,'" he stresses. "Instead, we approach it from a holistic standpoint, making sure the system works for the patients and improves their healthcare access."
It's no wonder, then, that, during the pandemic, Vistacom stepped up and provided top-of-the-line remote-monitoring solutions for various healthcare-related clients. Being a firefighter himself, Ripley acknowledges that one of his passions lies in ensuring people's safety. "You want to make sure you're taking care of everyone by having the systems in place and providing top-notch software [and] hardware," he adds.
Another coalition-based element that continues to contribute to the growth of Vistacom in all of the company's primary vertical markets—nation-wide and beyond—has been the integrator's involvement with PSNI Global Alliance, the Tulsa, Okla.-based network of premier technology integrators and service providers. "We've been a member [for] the last 9 years, and it's been really important as part of our growth strategy and business development," Nolan proclaims.
Emphasizing Community and Growth
The theme of community is apparent in Vistacom's mission to deliver enriching solutions to clients. However, the theme also extends to its workforce. At Vistacom, everyone is treated like family. In fact, every company representative interviewed has worked with Vistacom for 20-plus years.
For Iasiello, the company provided a new trajectory from his past life in government service. He worked as part of the White House communications team and accompanied former Presidents Reagan and George H.W. Bush. "After my term completed, I was hired as a full-service technician at Vistacom," he recalls. "When the control room team started taking off, I asked Angela if I could step in." This, Iasiello says, allowed him to really connect with the team and grow the entire department. "I've been here for 32 years now, and each day has been wonderful," he enthuses.
---
Lianna Russell's Perspective: A Deeper Dive into Vistacom's Culture and Annual Tech Expo
At Vistacom, our values are based on teamwork, accountability, responsible growth and community. Thus, we refer to all Vistacom employees as our family, and it's the foundation of our culture and everything we do at the organization. Part of our success comes from having a culture like that. Essentially, it comes down to our closeness and the spirit that "we're all in this together" and we all have each other's back.
As a result, we do have a high retention rate of employees. The years of experience that we have among all our teams also attracts a lot of new talent. From another woman's perspective, it's also inspiring to see my role model, Angela Nolan, putting herself out there and bringing recognition to our industry. Being a young woman myself, it gives me great confidence about the trajectory for young women and those from marginalized backgrounds in this industry.
I'd also like to touch on Vistacom's annual Tech Expo, which is now in its 14th year. It originally came from an idea by one of our customers who just wanted to bring all manufacturers into one place and share the latest innovations happening with other colleges and universities in that area. It went from this really small event to something very grand and successful. When I took over five years ago, it had already built this momentum; our clients love it and look forward to it every year. It is now a regular part of their annual technology planning. So, we are bigger than ever, and we continue to grow every year.
One of the greatest things about the annual Tech Expo is that it provides more of an intimate setting for our clients. They are able to have good, quality conversations with our manufacturers, business partners and the Vistacom team. In other words, our main goal is to really provide that event where our manufacturers and our clients can collaborate on a deeper level.
---
Orrison recounts an anecdote, sharing that he had, in fact, left Vistacom only to return years later. "After I left, I would see Angela every year at InfoComm," he narrates. "And, every time, she would joke about having me come back to work with Vistacom. But, over five years ago, she said, 'No, I'm serious. I have a management job available, and I think you're a perfect fit.'" With that, Orrison found himself coming full circle by rejoining the company.
Chiming in, Nolan reveals that one major driver for bringing back Orrison was Boyer. "Matt was the engineering manager at that time, and we decided that we wanted to promote him to a role solely focused on directing our technology path," she recounts. "Paris was the obvious choice to fill Matt's place — no doubt about it!"
Encouraging Employee Growth
Boyer reflects on his own journey at Vistacom and having become a beloved member of the company. "I have always felt that my growth has been encouraged here at Vistacom," he comments.
In his opinion, the integrator allows employees to expand their knowledge and bring that back to the office, thus strengthening education opportunities for everyone. "We've always tried to improve not just our technology but also our own skill set," Boyer continues. "We've also tried to maintain our standards and stand by Jack Ferlino's motto."
The now 102-year-old founder has been a real source of inspiration for him. Boyer recalls, "I have a passion for education, and [aligning] that with Jack's passion of always learning has been a huge factor for me. We're extremely family oriented and compassionate and passionate about our business."
Ripley personally attests to growth and learning opportunities within Vistacom. Like most others, he stumbled upon the AV industry by accident, joining the integrator's installation department. "However," he recounts, "one day, I was playing around with touchpanels and discovered my fascination with the different aspects of controlling the technology."
With his newfound interest in software development, Ripley began studying more about it; soon after, a position became available. "The whole team really pushed me and supported me in going to college, attending classes and identifying my path," he says. In Ripley's opinion, that not only testifies to Vistacom's commitment to cutting-edge technology but also underscores Vistacom's desire to chart a better future for its employees—and, by extension, the business.
Inspiring the Next Generation
Vistacom's list of achievements is impressive, but there's another to add to the list. Recently, the company acquired another successful feather in its cap: It earned its certification as a Women's Business Enterprise (WBE) from the Women's Business Enterprise Center — East, a regional certifying partner of the Women's Business Enterprise National Council (WBENC).
When this achievement was mentioned, Nolan instantly received praise for her dedication and service to the company. "Angela has been a very important person in my life, and she has been a great leader for Vistacom, where's she guided me for my whole trajectory here," Orrison enthuses. He agrees that, with two daughters at home, it is indeed empowering to see a woman at the helm at Vistacom.
Boyer echoes that sentiment, adding, "As a father of two daughters, too, it is really inspiring to see the success of Angela. She's an absolute role model for them." Boyer also reveals that, as a Girl Scout leader, he strives to inspire the group of young girls to be as successful as they possibly can be.
For Iasiello, it has been rewarding to watch Nolan grow side by side with him. He expands on that, saying, "We started off young in this industry, and it makes me immensely proud to watch her step into this role, build her leadership skills and take on challenges with confidence." He adds that everyone at Vistacom has immense trust in Nolan as "the captain of the ship." Indeed, he declares, "She's the best person for the job, no matter what!"
Seeding the Future
Ripley reveals that one of his daughters now works for Vistacom's service department. "It's another success story for us because not only is she working for a great leader, but it also ties it back to our notion of family," he says. Ripley underscores the importance of inspiring younger generations through education, framing this as part of Vistacom's legacy. He adds, "We partner with local universities and teach the students about our products and services. Right now, I have a team of eight student developers, out of which five are women." Initiatives like those, he says, have truly helped Vistacom to promote DEI within the AV integration industry.
Nolan ties everything together, attesting to the many challenges that women in our industry face. "As a woman in the '80s, it took me a long time to establish myself and feel comfortable in my role," she reveals. "My team makes me look awesome," Nolan acknowledges, "but, sometimes, it takes women a long time to find their voice and their strength."
This was one reason that taking on the role of leader was really important to Nolan. For her, it's all about giving it back to other women so they find their paths earlier in life. "It really all goes back to my father, who never made his only daughter feel any less," she emphasizes. "So, I feel it is critical to pay that forward and provide opportunities to all young, aspiring women in this industry."
Nolan highlights another demographic to whose members Vistacom strives to provide opportunities: veterans. Presently, Vistacom has around 10% veterans as a proportion of the team. "Going back to our own roots, it's very important for us to hire veterans, especially when there isn't an actual, centralized agency to help them with job placements after their tours," she reflects.

Clearly, Vistacom has emerged as a champion not only in the markets that it serves but also as an advocate for a tight-knit community that values education and progress above anything else. The company only hopes to grow from here, soaring to new heights.
And Commercial Integrator expects nothing less from our very deserving 2022 Integrator of the Year.
If you enjoyed this article and want to receive more valuable industry content like this, click here to sign up for our digital newsletters!