POP Media Votes for Jupiter Technology
The respected Mexican integrator partners with Jupiter, a videowall processor and advanced display technology leader, to boost resolution and go ultra-wide at Instituto Nacional Electoral (INE).
Sponsored Content
Leave a Comment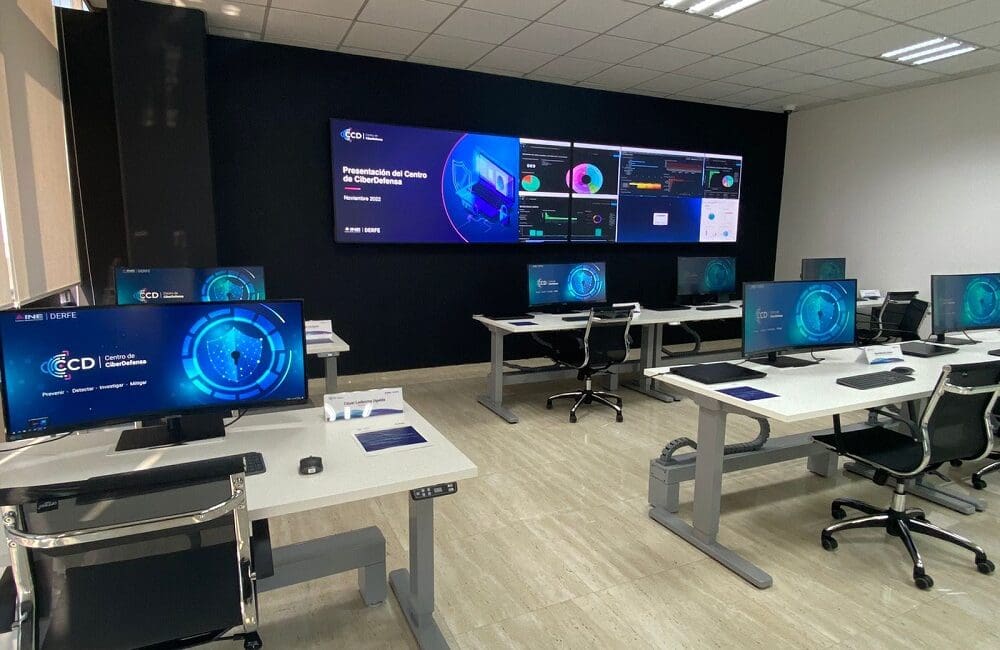 Consultation and close collaboration lie at the heart of POP Media Technology's ongoing relationship with Jupiter. The renowned Mexico City, Mexico-based integrator, which boasts a nearly 20-year history, focuses its business on designing and integrating information display solutions — most of them leveraging large-format displays. Naturally, when POP Media outfits control rooms, boardrooms, experience centers and training rooms, it seeks technologies that deliver outstanding resolution, unfailing reliability, impenetrable security and ease of use. When POP Media's relationship with Jupiter developed back in 2018, the integrator found all those things, but it also found a genuine partner.
Here, we'll examine the contours of the organizations' strong relationship — indeed, they've collaborated on something like 70 projects already — and then dive into a particularly powerful example of POP Media and Jupiter combining strengths to deliver a truly outstanding outcome.
A Mutually Beneficial Relationship
Gabriel López, sales director with POP Media and a 15-year company veteran, says he had his eye on Jupiter for quite a while. "Several years ago, we found that they were growing [and] they were developing great solutions," he explains. "That's why we started working with them." But ultimately, relationships, even more than technology, sealed the deal. Daniel LeCour, Jupiter's senior director of international sales, was a tremendous asset in cementing the alliance. "Daniel is always supporting us," López enthuses. Thus, Jupiter has now become POP Media's main brand for control-room applications, as well as for any meeting rooms that might require extensive information display.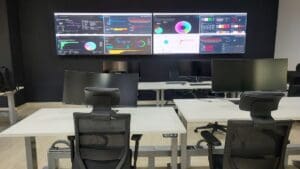 In fact, the companies have become so tightly aligned that, sometimes, other resellers call in POP Media to help them design their own Jupiter projects and ensure their solution is correct. "We train them," López explains. "Maybe the first time, we do everything: the design, the installation, the configuration. What we are looking for is, the next time, all those resellers can do it by themselves." In this way, POP Media sets itself apart from mere product resellers. López and his team instead offer professional advice for the design of projects; thus, they sell their knowledge first and foremost. And that knowledge is very considerable, given that professionals with more than 30 years' experience in the AV industry founded POP Media.
López highlighted two additional factors that bolster his confidence in Jupiter — namely, the company's short lead times and its support for the 21:9 aspect ratio. With integration businesses still having to contend with extended delays to receive some manufacturers' products, POP Media loves the fact that Jupiter gear is actually available. "Most of the time, we have everything in stock," López says happily. "And, if we don't have the screens or the wall controllers in stock, they are delivered in four to six weeks." Speaking of the screens, López is enthusiastic about Jupiter driving widespread industry acceptance of 21:9 ultra-wide displays. As an information display solutions specialist, POP Media must be able to deliver abundant data regardless of a room's ceiling height. Praising 21:9's capabilities, López declares, "You can have a lot of information, and [you] don't have any problem with the ceiling."
Inside the INE Project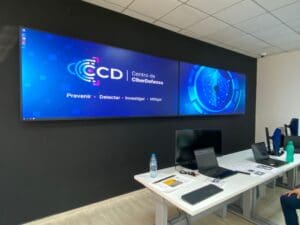 One recent project beautifully showcases how POP Media leverages Jupiter technology to delight clients. That project involves Instituto Nacional Electoral (INE), an independent public agency that works with the Mexican government to organize federal elections in Mexico. Indeed, López describes INE as "…one of the most important citizen groups that works with the government." Its cybersecurity division needed a new solution to support a security operations center (SOC). With digital transformation racing forward, information security is more important than ever before — particularly with Mexican federal elections on the horizon in July 2024. Accordingly, INE's decision-makers connected with POP Media and offered the team a chance to review the project's requirements. "We always work as an advisor for the customer," López declares. After a thorough review, POP Media recommended two Jupiter Pana 105D displays and a Catalyst V wall controller as the ideal solution.
Among many reasons POP Media suggested switching to Jupiter was to decrease the quantity of display units (and, thus, the number of bezel divisions) while retaining just as much display space and boosting resolution. Previously, INE had a four-by-two videowall, which naturally meant multiple dividing lines separating the eight individual displays. This, of course, marred the overall image. "Instead," López suggested to the client, "you can use two Pana 105Ds and avoid those divisions between the images." What's more, the Pana 105D displays set themselves apart with their ultra-HD 5K resolution, a key positive differentiator for any data-heavy SOC that requires up-close viewing. "You can put more information without the problem of distortion of the image or the information," López confirms. After consulting with POP Media, INE finalized its system plans over about three months and then put the project out to bid.
Rising to the Occasion
Happily, POP Media won the bid, and the integrator began work soon after. Key team members included Guillermo Moreno, government sales specialist; Juan Manuel Palafox, AV technology specialist; Oscar Alonso, AV technology specialist; and Adán Biciego, AV installation specialist. Given POP Media's longstanding history with Jupiter, the project went off very smoothly; as with any project, though, the team had to overcome a few challenges. According to Palafox, "We only knew the place with blueprints. And, when you get to the real place, some things change a little bit." In this instance, it turned out that cable lengths were not exactly what POP Media had been expecting. But the blueprint/real-world mismatch didn't slow down project progress or diminish the excellent result. "In almost every installation, we find things like this," Palafox notes. "No major problems."
Of course, any SOC must handle highly sensitive information; that's especially true for INE, which plays such a critical role in helping administer Mexico's federal elections. Thus, information security was foremost on POP Media's mind. "They wanted to connect [the controller] to their network and connect it to their active directory," Palafox recalls. He adds that his team ensured proper configuration, thus protecting information security. Jupiter's Catalyst V wall controller greatly enables POP Media's efforts to eliminate security risks by facilitating simple, webpage-based videowall management. "You don't need to connect directly to the wall controller or install something in the workstation of the customer," López states. Indeed, the webpage-based interface altogether eliminates any local workstation installation and removes the requirement to navigate the wall controller's operating system.
Another Happy Client
With about 70 projects already in the books, POP Media and Jupiter have another great collaboration on their hands with INE's SOC. The client is particularly excited to have streamlined its system to one pair of ultra-wide displays. "They are very happy because they only have two monitors and just one line in between them," Palafox says. And, referring to the LCD technology that underpins the Pana 105D product, he adds, "This monitor has a lot more resolution than an LED monitor. So, they're happy because it looks very good, [and] they can have a lot of webpages without losing resolution."
López, Palafox and the POP Media team can celebrate a long string of successes working with Jupiter. And that underscores why the relationship will continue far into the future. But POP Media also circles back to the manufacturer's bold embrace of the 21:9 aspect ratio as further proof of Jupiter's market leadership. "Jupiter is in front in terms of 21:9, and the other manufacturers are following them," López declares. In that way, POP Media and Jupiter are just alike: Showing a promising way forward to peers, competitors and industry observers alike.
If you enjoyed this article and want to receive more valuable industry content like this, click here to sign up for our digital newsletters!