CEC: Staying Ahead One Step Ahead
CEC is looking forward to another 75 years of business by embracing managed services and staying on the cutting edge of technology.
Leave a Comment
Communications Engineering Company, now 75 years old, continues to innovate by embracing a new managed services program, supporting its workforce and staying in tune with emerging technology.
In a rarity for a company in any business – let alone the pro AV industry – Randy Montelius has been with Communications Engineering Company for nearly 40 years.
He has held various roles including service, sales, and engineering, but he's now the vice president of technology at the company, which itself boasts similar longevity. In fact, the company turned 75 years old this year.
"We listen to our people," says Montelius. "I've always felt like I've had a voice in the organization. I didn't always get my way, but I felt like I was heard. What more can you ask for than that?"
Montelius' voice was well-heard, helping to elevate him to his current position. He and many other employees never felt the need to leave a company that has continued to innovate and stay relevant in a very fast-paced industry.
Related: NSCA Excellence in Business Award Winners Share (Most) Secrets of Their Success
The company was founded in Cedar Rapids, Iowa, as a Motorola two-way radio shop, and there it remains today as a jack-of-all trades when it comes to commercial technology.
The company specializes in AV systems, IT, fire, security, healthcare communication and two-way communications and has established business in corporate, education, government, healthcare, manufacturing, and construction markets.
With a new CEO eager to affect change, innovative leadership unafraid of taking the first step, and a long history of doing right by its employees, CEC is poised to enter a new digital age with a strong foundation and on the leading edge of its industry.
Embracing managed services
As the company has done for three-quarters of a century, CEC is continuing to innovate and stay ahead of industry trends with a managed services program that was rolled out at the beginning of last year.
The company's program provides businesses with flexible financing options and helps eliminate the large up front capital costs often associated with large technology installations or upgrades.
The program is a microcosm of the much larger subscription economy trend which has taken hold in tech industries as well.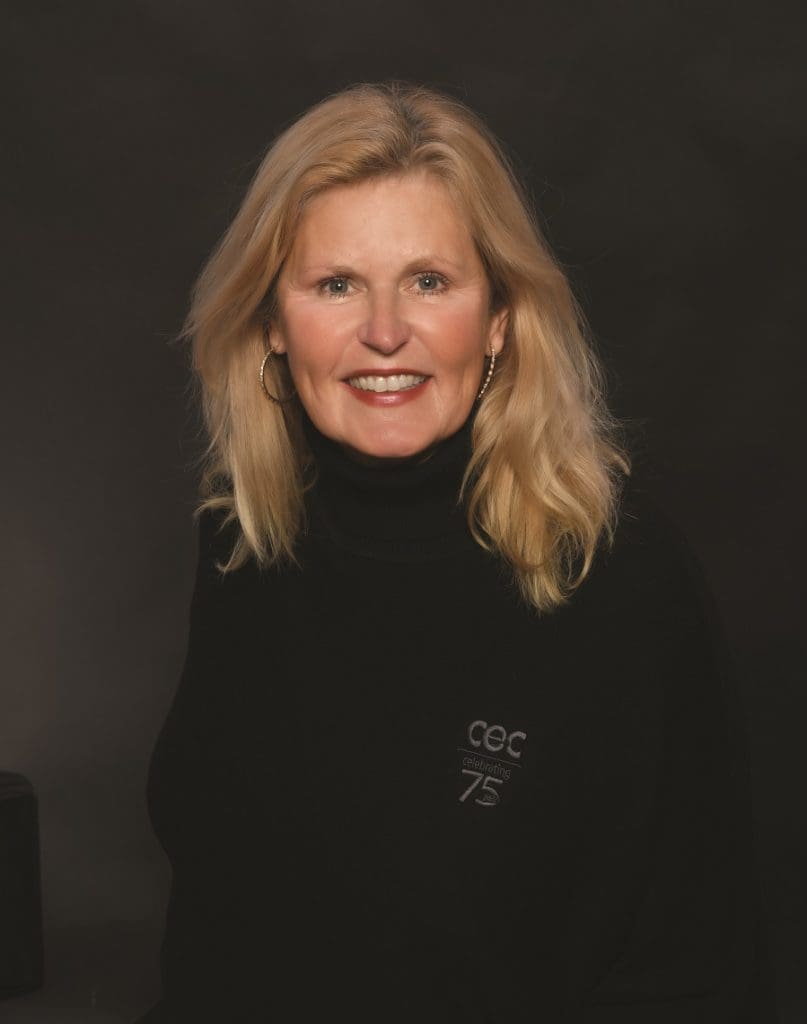 More than just helping customers afford the technology they need, CEC's program sets them up with a technology roadmap that can help organizations stay on the cutting edge of technology and avoid missing necessary upgrades, says CEO Kim Lehrman, who joined the company in October 2019 after being a longtime board member.
Technology changes rapidly and organizations must pivot to new solutions every three or five years. Managed services programs with a company as comprehensive as CEC can help take the guesswork out of planning for the future and bake those upgrades into the customer roadmap.
"They know what the budget is going to be, they know what the infrastructure is going to feel like, and they know that we'll be there to help them integrate and manage that system," Lehrman says.
In addition to flexible payments and technology upgrades, the company's program includes network readiness assessments and security management, end user training for the life of the system and preventative maintenance to ensure systems are compliant with codes and regulations.
That program and commitment to managed services helped the company earn recognition from NSCA, earning the system integration trade group's 2020 Excellence in Business award.
Technology like audiovisual systems, fire systems, IT and access control are increasingly complicated and sophisticated, and trying to staff those positions internally can be nearly impossible, says Lehrman.
"Do you build that talent internally," says Lehrman, "or do you partner with a company like CEC and rely on our expertise?"
The program not only helps customers budget and forecast, but also provides CEC with a solid financial posture with revenues coming in each month.
The program was rolled out in January 2020, just in time to start securing some contracts before the pandemic threw a wrench into the global economy, says Tyler Ebnet, vice president of sales.
"It couldn't have come at a better time," he says.
Several key customers have switched over to the managed services program, but convincing both customers and internal salespeople to think differently about how technology is purchased took some time.
The company had been successful for more than 70 years before this shift, so getting the company's salespeople, service group and customers to buy-in to this new approach took some work on the front end, says Ebnet.
"There was a lot of work internally and a lot of processes that had to be changed," he says. "If you're delivering a premium product like managed services, customers have premium expectations."
According to Ebnet, selling managed services means selling predictability, uptime, and a quick response, so the service group had to get up to speed on those things.
For sales, the issue was changing the mindset altogether and making sure salespeople are delivering the value proposition of managed services.
However, changing the customer's mindset is, of course, the most important hurdle to selling managed services. Already, so many consumer services are on a monthly payment schedule.
Think of services like Netflix, Amazon and Hello Fresh, and some business services like Office 365, Zoom, cybersecurity solutions and even printers and copiers.
"They're already buying a lot of stuff this way already," says Ebnet. "Nobody's ever talked to them about buying an access control system on a monthly payment."
Experience and people come first
Effecting that kind of change and overhauling exactly how technology is delivered takes extraordinary buy-in from employees and customers. However, that is much easier to do when employees and customers feel that they're with a trustworthy organization.
According to Lehrman and Montelius, it is the company's people and culture that has kept the business alive for the better part of a century.
Lehrman, a former board member, came on as CEO in October 2019, and the employees – many of which have been there for an impressive amount of time – are her favorite part of the company.
"When you look at our mission, vision and values—do the right thing—that's core to CEC and we really want that to show up in our communities and add value," she says.
Rather than Crestron, Rauland or other brand names commonly associated with AV and integrated systems, CEC prides itself on instead selling the customer experience as its core product.
To that end, the company got through 2020 and the COVID-19 pandemic without having to reduce headcount, and the result was a "pretty good financial outcome," Lehrman says.
"But mostly, we had a good people outcome," she says. "In all that uncertainty, we kept the drumbeat going."
Much of that success in an otherwise disastrous year for global economies came because of a strong foothold in the healthcare market, helping customers transition to remote work with improvements in videoconferencing solutions and providing vaccine administrators with cold storage solutions.
However, it's clear that the company's foundation is its people and culture, which bleeds into how the company interacts with its customers.
CEC provides a career path that affords employees the opportunity for growth and to decide for themselves what technology interests them the most, says Lehrman.
Encouraging employees to seek out new opportunities within the company and hone their skills to the point where they become technical masters in that subset of technology only helps the company establish deep relationships with its customers.
"We really try to make that experience positive from setting expectation s of what the customer wants, through management of the systems and that system's lifecycle," says Lehrman.
"Our continual improvement of work is, 'How do we make that experience better for our customers, and how do we make it better for our employees?' That's really what sets us apart," she says.
That creates a much happier workforce that comes to work to do something they are passionate about, Montelius says.
"To be able to match up somebody so they wake up engaged to do what they love to do every day – how powerful is that? When we can do that, that messaging is kind of contagious," he says.
To help find those people in the first place, the company has representatives that sit on technology boards of local community colleges, operates an internship programs at local higher education institutions and offers other programming to young adults who may not be seeking a college education.
"We've got some really talented people in our organization today because of that program," Montelius says.
That passion and natural curiosity for technology that CEC encourages even helped the company poach some top talent from one of its customers.
Jim Anderson, the company's general manager of network, infrastructure and audio visual, previously worked in IT at Loras College, a small private college in Dubuque, Iowa. However, his passion wasn't higher education.
Rather, it was the technology that he helped implement and maintain that truly drove him.
What he instead wanted was growing his technical mastery in IT at a company that prides itself on being in lock step with the tech industry.
"What I wanted was the growth that CEC could provide for me, which was really focusing on technology," Anderson says. "That's what excited me – it wasn't the higher ed space."
Staying on the cutting edge
Technology is constantly evolving and changing, and that is evident by the accelerated digital transformation the world witnessed as a result of pandemic-induced remote work.
Companies prioritized cloud-based communication, videoconferencing, unified communications, collaboration, and the like to make that shift feasible, and the chances of the world completely going back to the way things were before is slim to none.
CEC understands that, COVID-19 notwithstanding. The company operates a technology steering committee and an innovation lab dubbed a very science fiction-sounding "Lab 46" (named after the year the company was founded).
"We want to try to stay ahead of technology trends, or at the very least keep up with them," Anderson says, when asked about how to keep its wide range of technology installations secure.
The company's goal, he says, is to stand out from the crowd and not just deliver "cookie-cutter" systems.
"We want to go out and identify what we think makes a secure installation from the get go," Anderson says.
In that lab, the company is currently testing new technologies like augmented reality, new Wi-Fi technologies, hyper converged IT opportunities that can reduce the cost of licensing and security cameras armed with artificial intelligence that can detect the presence of a weapon or somebody vaping.
The committee essentially takes subject matter experts from within the organization and meets once a month to take a hard look at where its technology partners are headed and how the company can stay nimble to adapt with them.
The company uses the committee to forecast out two years to identify emerging technologies, but what really gets Montelius, the vice president of technology, excited is Lab 46.
Speaking with an undeniable passion for the subject matter at hand, Montelius calls the lab the company's "home base" of innovation.
The lab includes five equipment racks for the various disciplines the company covers. There, the company's development team attempts to integrate the various systems it provides its customers.
One example provided by Montelius is an intercom and emergency button for an incident like an active shooter that could trigger the access control system to lock all doors, send messages to video displays, initiate an announcement over the intercom and trigger a two-way radio message to first responders.
"As a bunch of technologists, when we can tie these things together and make them do things like that – that's where it gets really interesting for us," he says.
If you enjoyed this article and want to receive more valuable industry content like this, click here to sign up for our digital newsletters!