4 Consumer Technology Trends from CEDIA 2018 That Mean Something to Commercial, Too
CEDIA 2018 featured some consumer technology that we believe is poised to crossover into commercial tech, too. Here are the highlights.
Leave a Comment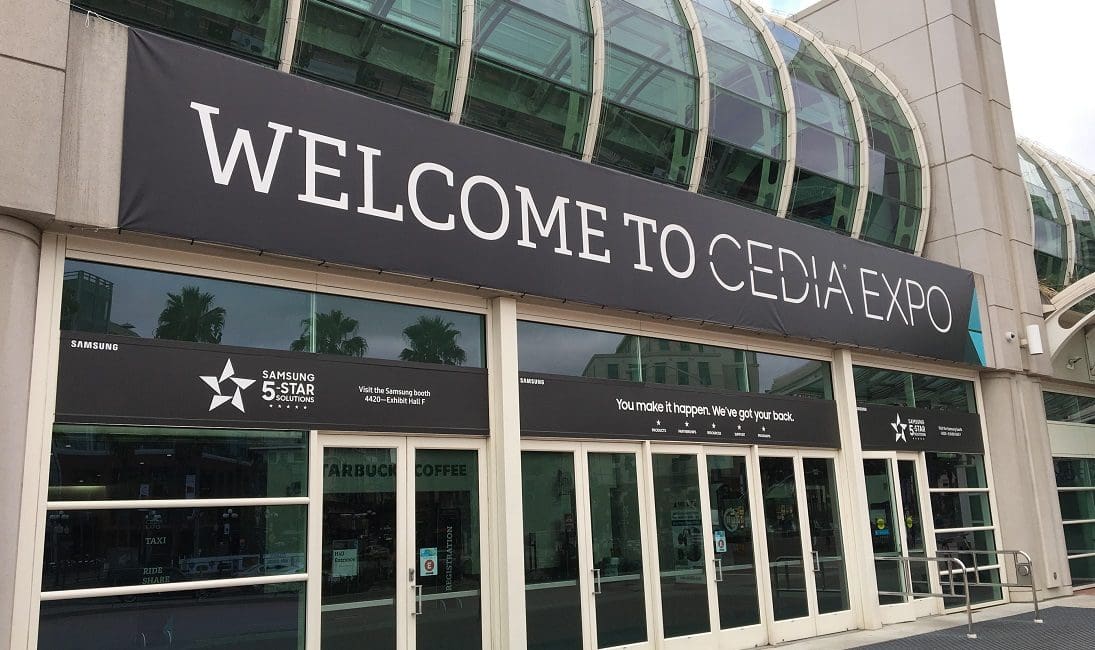 Brandon Breznick helped set up the Premier Mounts booth at CEDIA 2018 — and says he heard people from booths all around him uttering commands to Alexa devices. If this isn't telling of AI and other consumer technology making its way into commercial tech, we're not sure what is.
Any office & boardroom tech integrator knows that many executives want the same technology they use at home in their office. It only makes sense if they're already used to it.
AI devices aren't the only consumer tech that's meandered into professional spaces, though. How about iPads, or 4K UHD screens?
Some claim that it's usually commercial tech which influences consumer technology. But CEDIA 2018 — a residential-focused trade show — highlighted multiple technologies we think will (or at least, could) grow in the commercial technology space soon.
Consumer technology market trends impacting commercial spaces
Here's what we noticed at CEDIA 2018 that could impact the commercial market — or already does:
1) Water Management
Companies like Streamlabs and Leaksmart have turned water management into its own category apart from smart home and smart building control. As natural resources costs continue to rise, a general trend of water conservation may very well sweep across economies.
These respective devices monitor usage or leaks and alert homeowners/end users when there's an issue, while recording usage data over time.
Applications for water management technology are pretty obvious on the residential front. But spaces like hotels and hospitals are obvious candidates, too, and the ease of installation involved (especially with Leaksmart's 5-minute install time) make this a value-add for integrators in hospitality and healthcare.
2) Tunable Lighting
LED lighting has already been a major commercial trend, but companies like Savant have led the way into tunable lighting — the concept of letting end users have full and easy control over color temperature, brightness, etc.
At home, dim, warm and relaxed lighting is obviously preferable. As Tim McInerney of Savant said at the show, harsher blue lighting is associated with keeping people awake.
…Which is exactly the desired effect in commercial office settings, where the expectation (or at least, the hope) is that employees are awake and energetic.
But as the end of the workday approaches, lighting should change, McInerney says. Blue, bright lighting should start to shift to warmer temperatures so employees can make a peaceful transition between work and home environments.
Integrators in office settings may not even have to pitch tunable lighting if the technology goes the same way as the iPad: executives might already want the same lighting control they have at home in their offices.
3) Virtual Reality (VR)
Look, we know many of you group VR in with empty fad tech like 3D TV. Modus VR knows that, too, and they're seeking to change your mind.
Yeah, it's hard when one of the pitch-points you have to make is "Our technology won't make you sick!", but that's exactly what Modus VR did at the show.
The company had some more considerable points to make, too. Like how their virtual sales tool puts customers inside the very space they're seeking to design, letting them approve — or disapprove — of certain elements before construction even begins.
Related: 2018 BEST Awards: The 44 Winning AV Products in Every Category
Traditional workflows involve the client asking for a change and then waiting at least a week to see it. But VR allows clients to understand the value of these changes instantly by seeing it in a virtual representation of the work space.
"You solve problems right away, you up-sell immediately, and [your clients] see the results and tell all their friends," says Ken Brueck, Modus VR.
"When you bring someone into VR, you're leveling the playing field. There's no more 'trust me on this, your idea isn't going to work' — you just show them and can cash in on 'trust credits' down the line."
4) Artificial Intelligence (AI)
Another controversial acronym in the commercial space, AI, is also one of the clearest examples of consumer technology impacting commercial (whether integrators appreciate that or not).
Josh.AI's gambit is making AI smarter and smoother. We've seen that kind of approach in commercial control space tech before, with products like Teem's "frictionless" meeting room.
Frankly, it seems like Alexa is going to have to become even smarter for it to really take off in corporate spaces. It's going to have to collect valuable business data, control more complicated systems, and maybe even eliminate the need for voice commands.
Josh.AI currently focuses only on residential, but says they've received multiple requests for commercial jobs. We think this is telling of where the control and automation market is going.
Honorable Mentions
We think the following consumer technology featured at CEDIA 2018 will also play an important role in commercial in the near future:
fine pixel pitch LED walls
energy management
8K (but not quite yet)
If you enjoyed this article and want to receive more valuable industry content like this, click here to sign up for our digital newsletters!