AV News to Know March 5, 2021: New Products, Cool Projects and People in New Places
In this week's edition: XTEN-AV launches referral program, Epson gets colorful with Crayola exhibit and AV companies find new partners.
Leave a Comment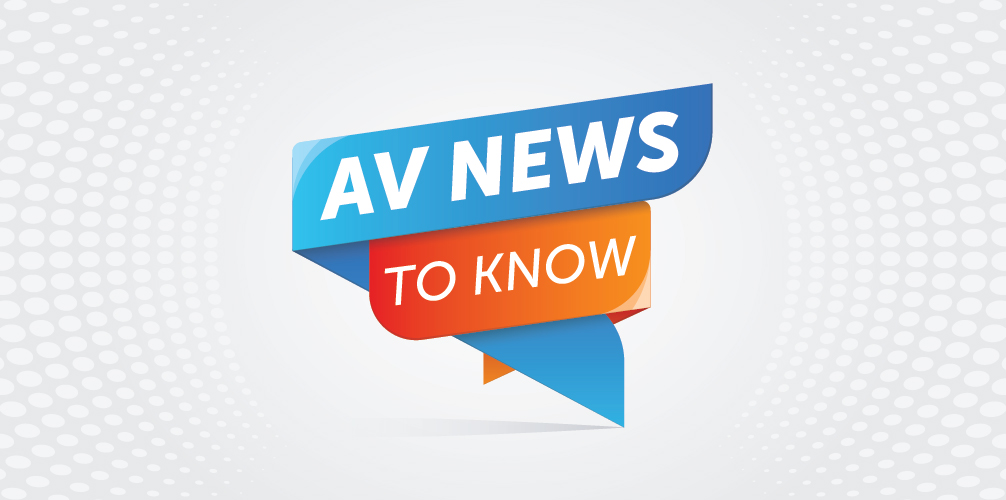 Here's a closer look at some of the AV news, products and projects you might have missed this week. We call it AV News to Know:
New AV Products
MAXHUB Launches UC P20 4K 60fps PTZ Camera with 12x Optical Zoom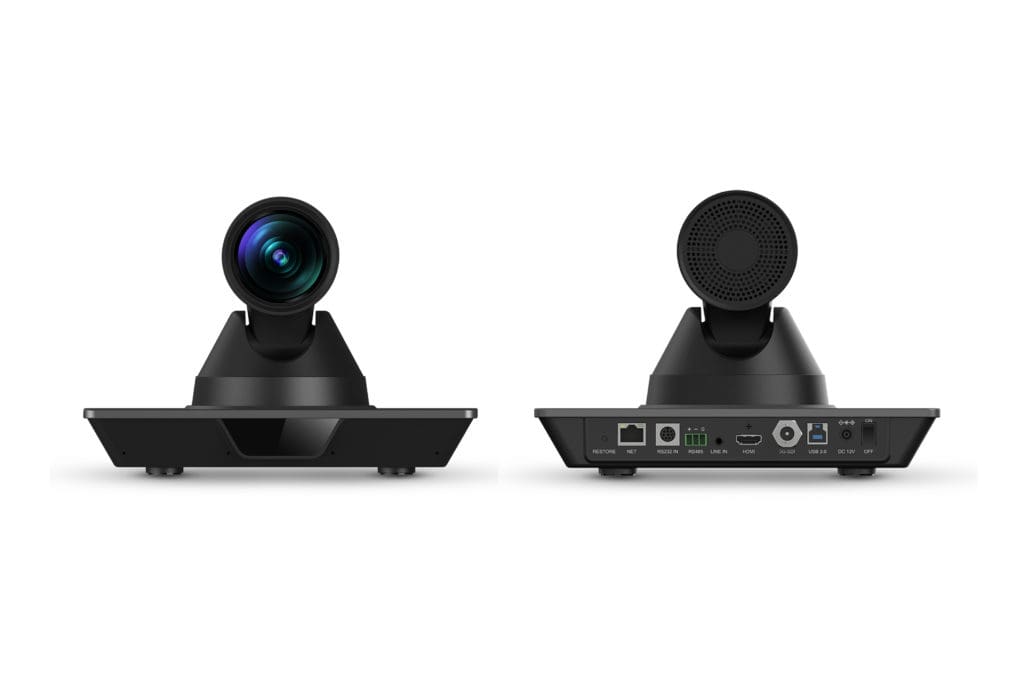 MAXHUB this week announced the availability of its UC P20 4K 60fps PTZ Camera with 12x optical zoom. Featuring next generation clarity and a wealth of features, this premium 4K UHD camera ensures crystal-clear video in any environment.
The UC P20's 12x optical plus 16x digital zoom capability guarantees sensational clarity with smooth and ultra-silent PTZ capability, making this camera the new 'must have' solution for a wide range of video conferencing applications.
Carousel Digital Signage Launches Express Players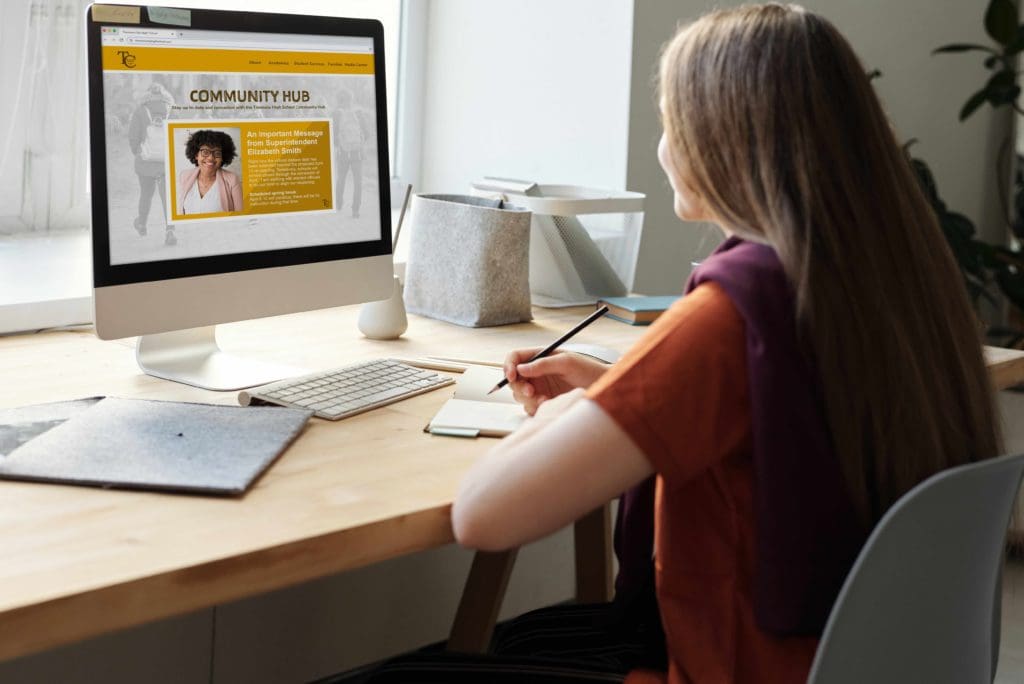 Carousel Digital Signage announces the immediate availability of Carousel Express Players, a new cloud-based software media player solution designed for keeping remote workers and students informed and up to date.
The players help organizations extend their digital signage beyond location-based end points.
XTEN-AV Introduces Referral Program
XTEN-AV now offers its users a Refer & Redeem Program, amounting to free monthly usage on the platform.
The XTEN-AV Referral Program allows users to invite people to register on the platform and in turn,
collect points redeemable as a free monthly subscription. Every XTEN-AV user gets an unlimited number of referrals that can be accessed in the Referral Tab.
Key Digital Introduces Single-Gang Wall Plate Transmitter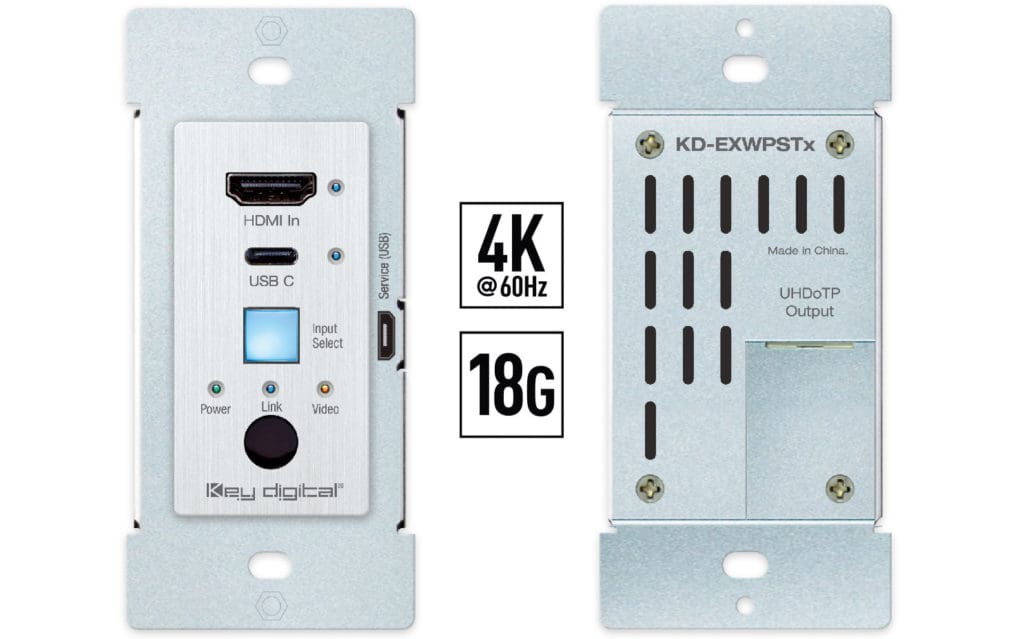 Key Digital, the leaders of digital video and control systems, introduces the new KD-EXWPSTx single-gang wall plate transmitter and presentation switcher. KD-EXWPSTx features one HDMI and one USB-C input, making it ideal for conference rooms, huddle spaces, classrooms, and more.
KD-EXWPSTx utilizes Key Digital's proprietary UHDoTP extension technology and is natively received by KD-EX18GRx black box receiver (sold separately).
Future Key Digital product releases will include built-in UHDoTP Rx for integration with KD-EXWPSTx. The wall plate Tx unit features Power over CAT and is powered by the KD-EX18GRx.
Bose Expands Availability of Videobar VB1
Bose Professional has announced the availability of the Videobar VB1 all-in-one USB conferencing device through its collaboration with HP. Certified for Microsoft Teams, the Videobar VB1 can be combined with the HP Elite Slice G2 – Audio Ready for Microsoft Teams Rooms or Zoom Rooms.
Extron Collaborates with HP for Enhanced Meeting Solutions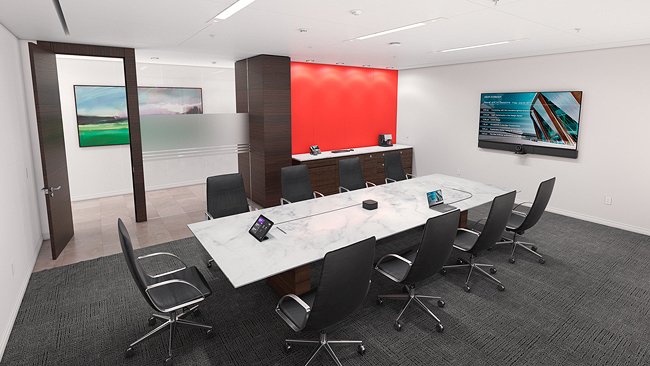 Extron this week announced that it is working with HP to create scalable meeting solutions for modern workspaces.
With these solutions, Extron is integrating room automation, audio, and signal extension capabilities with the HP Elite Slice G2, Microsoft Teams Rooms and Zoom Rooms solutions. A tap on the HP Center of Room Control screen can control call volume for the room as well as send commands that trigger automation events for display control, shades, lighting and more.
Audio Visual Projects
Epson Announces Sponsorship of Crayola IDEAworks: The Creativity Exhibition
Color is at the forefront of the imagination – it has the ability to breathe life into drawings and stories, inspire creativity, encourage future dreams, as well as enhance learning both inside and outside the traditional classroom.
To underscore its passion for innovation and color, Epson today announced it is sponsoring Crayola IDEAworks: The Creativity Exhibition. For over a century, Crayola has sparked imagination and ignited creativity all over the world.
Best known for their iconic box of crayons, the spectrum of Crayola products is rooted in innovation and invention. To support the Crayola IDEAworks exhibition, Epson printers and projectors will be leveraged throughout to provide attendees with an immersive experience that promotes creativity.
The exhibition, produced by Agency 808, opened at The Franklin Institute in Philadelphia in mid-February.
"The Crayola IDEAworks exhibition is a creative way to engage audiences and encourage families to use their imagination through immersive activities and colorful experiences," said Mike Isgrig, VP of North American consumer sales and marketing for Epson America.
"Our technology is designed to bring visionary experiences to life and we are thrilled to be working with Crayola and Agency 808 to enhance their state-of-the-art exhibition and further encourage kids and families to express creativity through color, whether that be through expressive art or everyday problem solving," he said.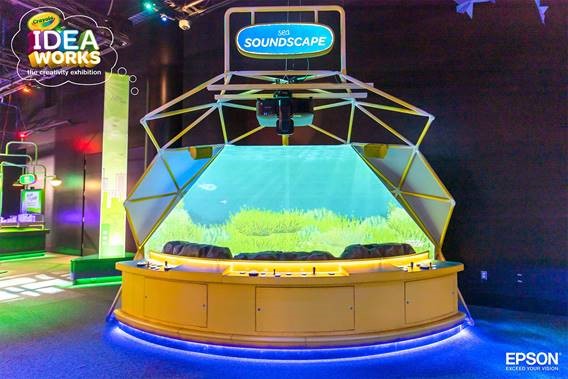 In its exclusive, limited run in Philadelphia, the exhibition will inspire visitors to develop and expand their problem-solving skills through a variety of activities that will promote design thinking, while empowering creativity.
Guests at Crayola IDEAworks will immerse themselves in state-of-the-art digital interactives and exhibits that will provide a personalized adventure guided by RFID wristbands.
During the exhibition, guests will encounter three distinct areas—the IDEA Workshop, Colorverse and the Grand Finale. Crayola IDEAworks: The Creativity Exhibition is currently open at The Franklin Institute for a limited time, before embarking on a multi-city, U.S. tour. The exhibition is produced by Agency 808 in collaboration with The Franklin Institute, and tickets are on sale now.
"Crayola IDEAworks: The Creativity Exhibition pushes the boundaries on every industry norm," said Clayton Ferguson, Agency808 principal and executive producer. "We've pulled together a team of the brightest and most experienced minds in the business to design an exhibition that fosters creative problem-solving skills through interactive challenges in a way that has never been done before."
"Crayola believes that everyone has creativity innately inside of them, and we continue to look for new ways to ignite it," said Warren Schorr, VP of business development and global licensing at Crayola. "Creativity can be awakened through a multitude of avenues, and we are thrilled to have Epson as an inaugural sponsor to align with our support of color, education, and creativity."
Crayola IDEAworks will feature Epson Pro L1075UNL premium compact large venue projectors with 4K Enhancement Technology1 in the Introductory Theater welcoming guests to the experience, and in the Grand Finale, displaying immersive celebratory projections.
In addition, PowerLite 700U ultra short-throw laser projectors will be showcased for interactive activities. Traveling to Mars, visitors tackle the challenges of living an active lifestyle in space. In the Space Sportsplex, guests design a ball to try to hit a target in Mars' low gravity atmosphere.
Traveling to the depths of the ocean, guests can problem solve like marine biologists and use their creativity to play sounds to regenerate a coral reef ecosystem through a reactive projection. The Grand Finale will also include multiple in touchscreen kiosks that incorporate ColorWorks C3500 label printers.
Guests tap RFID wristbands one last time to reveal their creative style, showing individual strengths through a character profile. Featuring a fusion of cutting-edge technology with unique hands-on exhibits, Crayola IDEAworks is for families of all ages.
For more information, and to purchase tickets for the world premiere of Crayola IDEAworks: The Creativity Exhibition, visit www.fi.edu/crayola-ideaworks.
Christie Projector Brings "Kinetic Wall" at Kogakuin University to Life
Kogakuin University has deployed a Christie D4K40-RGB 3DLP pure laser projector for large-scale and 3D projection mapping on a large surface (mapping area) comprising a "kinetic wall" set up in its atrium as part of the renewal process of its Shinjuku campus.
Jointly delivered and installed in Shinjuku Atrium by Ushio Lighting Inc. and CIMA Co., Ltd., with planning and direction accomplished by P.I.C.S. Co., Ltd., the Christie D4K40-RGB delivers big, bright and bold images on the mapping area that includes a "kinetic wall" measuring 16 meters wide and 8.5 meters high.
This "kinetic wall" features 180 modular cubes, each measuring 40 cm, that can be programmed to move back and forth individually. Creative expressions ranging from a highly dynamic wall surface, large-scale and 3D projection mapping, as well as data visualization can be achieved using a combination of video, audio and lighting effects.
A spokesperson from Kogakuin University commented, "There is a characteristic open ceiling space up to the 4th floor of the atrium and it is a place that reflects the ideas of Kogakuin University, which allows members of each faculty to express themselves experimentally, as well as generate new ideas and concepts.
"This 'kinetic wall' is an extension of this creative process, and through the combination of various technologies such as 3D projection mapping, new life and energy can be injected into our renewed campus," the spokesperson said.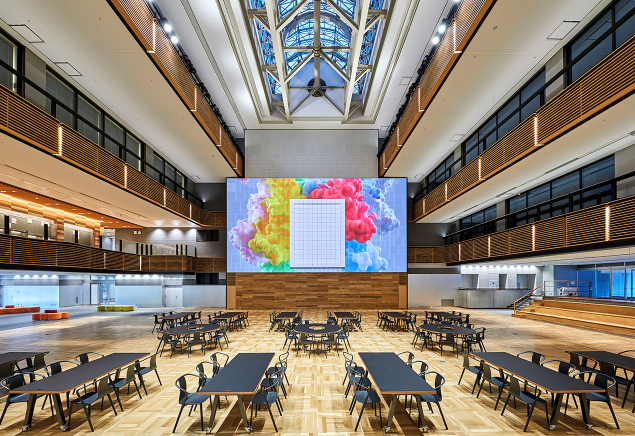 The spokesperson noted that while the Shinjuku Atrium is designated as an ideal location for people to get together, the "kinetic wall" at this venue is not just meant for the permanent installation of projection mapping equipment, but also aimed at enhancing creativity and potential for further development.
"We are using this atrium to stage live streaming events by famous artists and campus-wide digital art competitions. So far, it has surprised, impressed and uplifted the spirits of audiences," said the spokesperson.
"We are currently exploring various ideas, such as using the 'kinetic wall' to co-host events with other universities."
Akikazu Dempoya, executive director for Enterprise Japan at Christie, commented, "We are delighted that Kogakuin University has become the first educational institution in Japan to invest in our award-winning D4K40-RGB projector, which has taken large-scale projection to new heights.
"By introducing 3D projections to augment the moving cubes for this highly innovative 'kinetic wall', the various stakeholders involved in this project have demonstrated how high-quality projections can create a highly engaging visual experience," said Dempoya.
People and Places
Starin, BirdDog to Expand Distribution Across the U.S.
Starin this week announced a distribution partnership with BirdDog Australia Pty Ltd to make all BirdDog products available to Starin channel partners across the U.S. BirdDog is an Australian-based manufacturer of PTZ cameras, world-leading video encoders decoders, and software applications.
BirdDog developed embedded NDI hardware and implemented into a range of high definition and 4K broadcast video converters, robotic pan-tilt-zoom cameras, and a suite of software products to tie end to end workflows together.
Starin provides value-added distribution services such as design, finance, assurance, and installation for its pro-AV business as well as supporting Zoom Certified Integrators with a complete eco-system of Zoom optimized components.
Audio Associates Partners with Renkus-Heinz
Renkus-Heinz is partnering with Audio Associates to bring premium sound solutions to integrators in the Mid-Atlantic region of the United States, including Washington D.C., Maryland, Eastern Pennsylvania, southern New Jersey and Virginia.
Audio Associates, headquartered in Ellicott City, Md., has 40 years of experience in the business of commercial AV. The partnership with Renkus-Heinz aligns with both company's key markets for pro audio integration: houses of worship, stadiums and arenas, corporate, government, higher education, theaters, transportation, and hospitality.
CP Communications Expands Marketing Efforts with Local Partnership
CP Communications and Red House Streaming, a CP Communications subsidiary offering broadcast-quality streaming services, this week announced their partnership with Sarina Fazan Media and Sky Strategic Marketing for local marketing and public relations services.
Dimension PR will continue to serve as CP Communications' global PR firm for the broadcast and professional AV markets, and collaborate with the Sky Strategic Marketing team on Red House Streaming initiatives.
As part of the new local marketing alliance, the Red House Streaming studios in St. Petersburg will be the home to "On the Record With Sarina Fazan," a weekly live streamed podcast hosted by four-time Emmy Award-winning broadcast journalist and producer Sarina Fazan.
Fazan also will serve as a spokesperson for CP Communications.
Cree Completes Sale of LED Business to SMART Global Holdings, Inc.
Cree, Inc. this week announced that it has completed the previously announced sale of its LED Products business unit to SMART Global Holdings, Inc.
SMART will now license and incorporate the Cree LED brand name into the SMART portfolio of businesses, and Cree will change its corporate name to Wolfspeed later this year. Under the transaction terms Cree will receive up to $300 million.
If you enjoyed this article and want to receive more valuable industry content like this, click here to sign up for our digital newsletters!