Turn Your Customers into Advocates By Giving Them Innovative AV Experiences
PSNI Supersummit keynote speaker Chip Bell says customers will remember AV experiences long after they pick out the AV gear and pay the bills for it.
Leave a Comment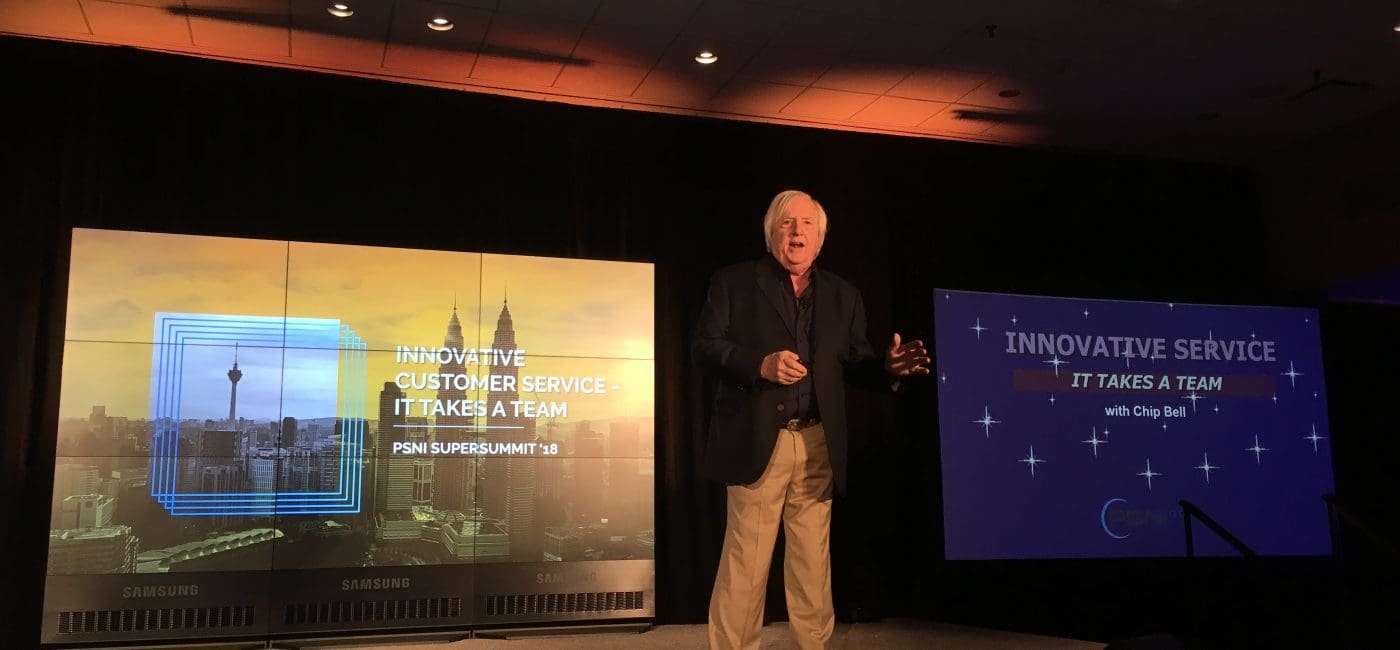 Would you pay $10 for a cup of coffee when you could make one at home for about 8 cents? Chip Bell did when he stayed with his wife at a ritzy New York hotel for the couple's anniversary, and, although his credit card was crying, it's one of the experiences he'll never forget.
There's that word "experience" again. Clearly, InfoComm International was on to something last year when it changed its name to the Audiovisual and Integrated Experience Association. At the PSNI Supersummit in Houston, Bell told attendees it's no longer good enough to satisfy customers. You have to wow them.
"I want to blow their socks off," says Bell, a best-selling author and perhaps the world's biggest Jack Daniel's fan, in no small part because of the innovative and unique ways the company has rewarded his years of loyalty to the brand.
Would Your Customers Tattoo Your Logo on Their Bodies?
Bell wonders if any PSNI affiliates are doing enough for their customers that they'd be willing to put their company logo somewhere on their bodies permanently, like so many Harley-Davidson fans do. He calls that undying loyalty "irrational customer behavior," but says integrators need to strive to achieve it.
"Your solutions and your price are becoming a given," says Bell. "We differentiate with experience. Today's customers are highly stimulated and entertained every day. They want a unique experience."
Bell advocates for integrators to provide unique value, not just additional value.
About three-quarters of customers who say they're satisfied or completely satisfied with a company's service will switch to that company's competitors if the experience they get isn't what they want, says Bell.
Only 45 percent of those who say they're satisfied with a company's service will advocate for that company, while a company that enhances the services with a unique experience gets about 65 percent of customers to advocate on their behalf, he says.
"There's a limit to generosity, but there's no limit to ingenuity," says Bell. "The pinnacle of customer advocacy is a 'you're not going to believe this' story." That comes through innovative service, he says, which comes through unexpected, simple and appropriate behaviors. Bell calls it the Cracker Jack effect.
"It's not about champagne, red carpets and roses," he says. "It's not about the caramel corn, the peanuts or the red, white and blue box. It's about the prize inside the box. It's financially worthless, but it's emotionally priceless."
AV experiences Overcome Customers' Mind Patterns
Surprise, 4D experiences, mentoring, effortlessness and partnering comprise what Bell calls five innovative strategies to overcome mind patterns.
The surprise strategies includes something simple unexpected and personalized, while 4D is right in the wheelhouse of Disney theme parks, where they create AV experiences through the senses.
Read Next: Netherlands Open Air Museum Uses Interactive Technology to Capture Dutch History
Through customer learning and open questions, integrators can use the mentoring strategy, said Bell at the PSNI Supersummit.
Effortlessness comes when integrators create a high-tech experience without making it overly complicated, while integrators can create a sense of devotion by involving their customers as partners.
"Sometimes the most wonderful words customers hear are 'I need your help.' Innovative service with AV experiences requires customer insight," says Bell.
Learn more about the PSNI Supersummit here.