Shure To Discontinue Microflex Complete Wired Conference System, Looks Instead to Wireless
Integrators still working with the wired system can still order the solution up to Nov. 30, and support will continue through May 2024.
Leave a Comment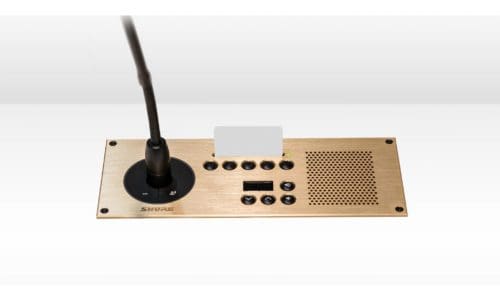 Shure is discontinuing the popular Microflex Complete Wired Digital Conference System, a wired audio solution designed for legislative bodies, international conference rooms and executive boardrooms due to what the company says is market demand.
The decision to discontinue the product line was made after an evaluation of the market and a long-term prioritization of the conferencing and collaboration market, according to a company statement.
Integrators still working with the wired system to clients still have some time, as the last order cut-off date for the wired solution is Nov. 30, 2021. Standard service and warranty support are expected to continue for just over three years, ending in May 2024.
Instead of the wired solution, Shure is promoting its Microflex Complete Wireless and Audio Ecosystem solution for what it says are evolving customer demands. This is also an indication of the AV industry's increasing faith in wireless solutions.
According to the company, the wireless solution represents a "significant growth opportunity" as demand rises for flexible, wireless conferencing equipment and a lasting remote communication trend that most experts say has staying power long after the pandemic subsides.
Read Next: Shure, Huddly Collaborate On Networked System Product Bundles
MXCW has allowed many government customers to be flexible with in-person meetings, especially in the age of social distancing where temporary meeting rooms can be set up with individuals spaced out appropriately. This wireless solution keeps up with the constantly-changing demands of conferences without invasive installs and cable limitations.
According to Shure, 2020 was an important year for the company's conferencing product line, which it expanded to include a full ecosystem of products like microphones, DSPs and loudspeakers, including:
Microphones: Ceiling Array, Table Array, and Linear Array Microphones
Loudspeaker: Networked Ceiling Loudspeaker
DSP: Audio Conferencing Processor and Audio Processing Software
Software: System Configuration Software and Remote Management Software
Accessories: Network Mute Button and Audio Network Interfaces
And, the company formed new partnerships and integrations, including the recent acquisition of Stem Audio.
Since the rest of the world is also moving to wireless solutions, consider taking this que from an AV industry leader and begin pitching wireless if you aren't already.