XTEN-AV Announces X-DRAW, an Audio Visual Design Drawing & Editing Tool
XTEN-AV XDraw is an audio visual design tool that houses all the blocks of products added in the BOM & allows the users to make connections between devices.
Leave a Comment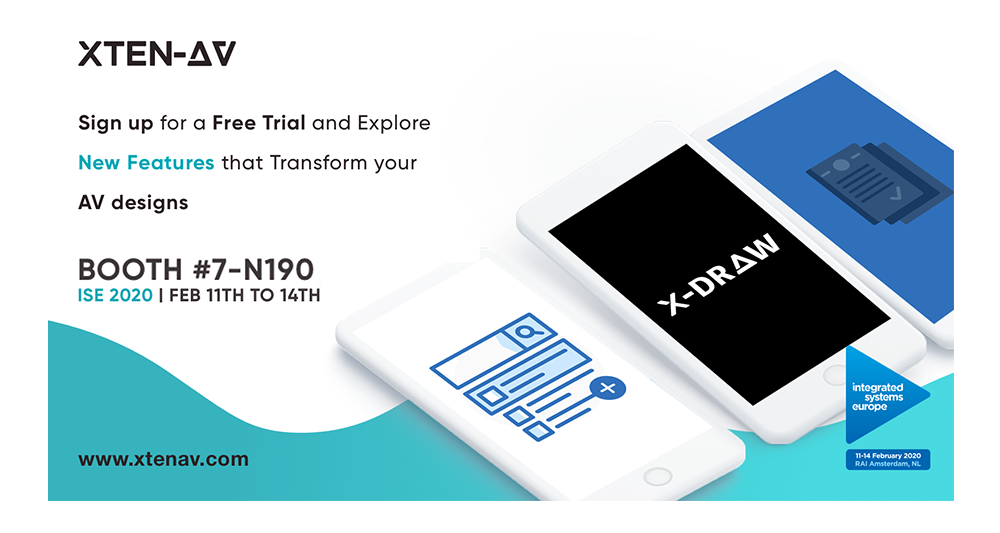 XTEN-AV has launched a new feature for its audio visual design platform called X-DRAW, a drawing & editing tool.
The next generation drawing tool, X-DRAW, allows users to create their own customized product blocks on the spot, bypassing the standard product blocks created by the platform for them.
Users can also search and add products from the XTEN-AV database. X-DRAW facilitates addition of port information to existing products in the XTENAV database, especially those that do not have port information, according to the company.
The drawing & editing tool showcases My Library, where the blocks created by the users can be saved in and accessed from.
The X-DRAW editor houses all the blocks of the products added in the BOM and allows the users to make connections between the devices, using the drawing tools available in X-DRAW such as:
Easy connectivity between ports and devices
Add cable ID
Using different connectivity lines
Adding AV symbols or searching and adding generic symbols
Adding Layers
Text and block properties
Adding images to your drawings
"X-DRAW was built as a solution offering customizable designs to the users on the XTEN-AV platform. The next generation drawing Tool, developed as a trifold solution, empowers users to be able to personalise blocks in the X-DRAW drawing tool, save & access them through My Library and edit them as and when required, using the X-DRAW editor", said Vibhav Singh and Sahil Dhingra, co-founders of XTEN-AV.
"X-DRAW will be a part of the XTEN-AV's cloud-based software as a service platform and will be available for free to all subscribers of the XTEN-AV service".
Read Next: What to See at ISE 2020: AV Installer Tools & Software to Make Your Lives Easier
Singh and Dhingra continued, "Since our launch in June '19, we have been attentive to the requirements and feedback of our users. We have been working on making our platform more powerful and adding new features to provide a seamless, automated audio visual design experience."
XTEN-AV will demonstrate X-DRAW at ISE 2020 show in Amsterdam, from Feb 11th -14 th, at Booth #7-N190. To learn more about XTEN-AV, visit https://xtenav.com/.