Government Sector Remains Viable Chunk of Global Pro AV Market
Restrained spending on AV has led to lethargic growth, but government remains 12 percent of the global professional AV market.
Photos & Slideshow
---
Despite projections that the government market will be the slowest-growing professional AV customer sector from now until 2015, it's not all bad news.
Government remains "an important and influential part of the pro AV industry with 12 percent market share," writes InfoComm International and Acclaro Growth Partners in their bi-annual Global Market Definition and Segmentation Study.
Now that stimulus funds stemming from the recession have dried up, many government clients are reluctant to spend on AV technology. Meanwhile, correctional facilities — a significant portion of the government market — are quickly becoming privatized, according to NSCA. Integration firms not already embedded with government customers might struggle to break into the somewhat contracted market.
certain characteristics. "It takes years of experience, patience and perseverance to succeed in the government market," says Kevin McKay, national sales manager for Edmonton, Alberta-based Genesis Integration.
With experience integration firms seem to hone a specific type of government "fanatical customer service," says Michael Hester, chairman and CEO of Englewood, Colo.-based Beacon Communications. Just as important, adds Samantha Osowski, VP of marketing for Eatontown, N.J.-based Yorktel, is "having the appropriate approach to procurement strategies and processes."
Breaking into government market isn't about to get easier. The government segment is projected to drop another point to 11 percent of the global professional AV market by 2016, but InfoComm/Acclaro adds that it will continue to be a key segment of the market linked to education, health care, large venues, transportation and more.
Not all integration firms have what it takes to be successful in the government market, so what does it take?
Michael Hester, Beacon Communications chairman and CEO: "It takes relationships to succeed in the government vertical market. Fanatical customer service has made for very loyal and long-standing relationships. We ask for our money up front. When dealing directly with the end user, we ask for 20 percent with receipt of purchase order, 60 percent when the equipment arrives at our warehouse and the final 20 percent upon completion."
Kevin McKay, Genesis Integration national sales manager: "It takes years of experience, patience and perseverance to succeed in the government market. You must be very well-versed in all government contractual rules and regulations for the purchase of hardware and/or services in this market."
"We no longer view service calls as an inconvenience, but an opportunity. We have also focused on engineering and planning with the thought that if we do our jobs with excellence before the project begins, the actual installation will go smoothly."
Doug Hall, Whitlock CEO: "The three main characteristics of Whitlock that make us successful are our great culture, our focus on the customer and our agility to shift with the market. Our Government Services team is comprised of experts with extensive knowledge of the intricate procedures and protocols of supporting this industry.
"We are a U.S.-owned small business, with GSA, VITA, VASCUPP and MAC contract holder certifications, and we have long-standing relationships with government agencies, contractors and related entities like Boeing, General Dynamics and Lockheed Martin."
Samantha Osowski, Yorktel VP of marketing: "It takes creative use of technology to succeed in the government vertical market. With increased pressure and mandates to cut costs but maintain the same level of service, the public sector organizations who take advantage of cost-saving measures and technologies that foster efficiency/productivity are the ones who will thrive. Also, having the appropriate approach to procurement strategies and processes is key to doing business with the government."
View 8 key takeaways from the InfoComm study.
If you enjoyed this article and want to receive more valuable industry content like this, click here to sign up for our digital newsletters!
Take Our Latest Quiz
Recommended For You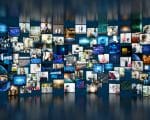 Organizations are seeing a boon when implementing AV over IP technology, and integrators are finding happy customers when installing AV over IP. In this webinar, you'll learn exactly why you need AV over IP.
After attending this free webinar from Commercial Integrator and TechDecisions you'll understand what you need – and everything you can do – to ensure you get the best UC services for your organization working together.