Sennheiser TeamConnect Ceiling 2 Demo to Take Place at InfoComm 2018
Sennheiser's TeamConnect Ceiling 2 ceiling microphone array will be part of the company's demonstrations at InfoComm 2018 in Las Vegas.
Leave a Comment
Exhibiting in booth #N1427, Sennheiser will debut its new TeamConnect Ceiling 2 ceiling microphone at InfoComm 2018.
Sennheiser says beamforming technology focuses on the voice of a speaker regardless of their position within the room.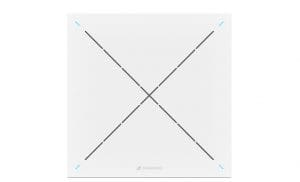 "Ensuring optimum connectivity has been key in the development of TeamConnect Ceiling 2," states Jens Werner, portfolio manager, business communication, Sennheiser.
"The groundbreaking ceiling array microphone comes with Dante and PoE network integration and is enabled for remote control via the Sennheiser Control Cockpit app; or, it can easily be integrated into other media control systems using the open media control protocol."
Designed for use in medium- and large-size rooms, the TeamConnect Ceiling 2 installs as an almost invisible solution on ceilings to provide integrators and office staff members with an unobtrusive collaboration tool.
More from the company:
29 individual, omnidirectional microphone capsules guarantee the best speech intelligibility for audio or video conferencing. TeamConnect Ceiling is ready to use after a single installation and fits almost invisibly into the space architecture and infrastructure.
TeamConnect Ceiling 2 Adapts to a Range of Office Environments
Through its inclusion of technologies such as Audinate's Dante digital audio platform and Power over Ethernet (PoE), the TeamConnect Ceiling 2 can be installed in a variety of office locations.
Sennheiser says the product is compatible with its Control Cockpit software, providing efficient remote management, and offers remote configuration and monitoring through a open media control protocol (API) to enable its installation into nearly any media system.
Read Next: The P!nk Super Bowl Performance Used a Sennheiser Digital 6000 Series System
Internally, the TeamConnect Ceiling 2 incorporates 28 omni-directional microphone capsules within a discrete ceiling array.
According to the company, TeamConnect Ceiling 2 provides users with high levels of sound quality that is free from distracting ambient noise. Sennheiser says remote users benefit from clear sound during collaboration sessions.
The company says its ceiling microphone solution will be available in the fall. Learn more here.