Collaborating Your Way Through a Complex AV Project
Collaboration must be how we, as project professionals, choose to work together to meet clients' increasingly complex needs.
Leave a Comment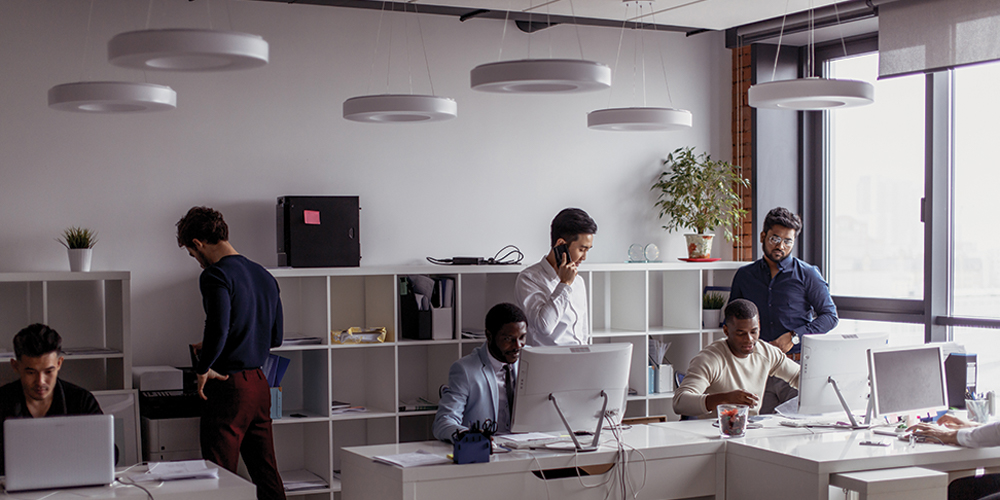 Editors note: Commercial Integrator has teamed up with the IMCCA, the New York-based non-profit industry association for unified communication and workplace collaboration, to produce a quarterly supplement, titled Collaboration Today and Tomorrow, that focuses on all things collaboration from multiple perspectives. 
Most of us working in the AV and UC industries champion collaboration and collaboration technology every day. We design, manufacture, sell, install and support solutions that people around the globe use to minimize distance and the impact of geographic location; to foster close collaboration and teamwork; and to accomplish more in less time. 
When I think about collaboration, the first things that come to mind are end users and manufacturers. Stepping back from that, I thought it would be interesting to look at something closer to home and explore what it means to collaborate with clients, integrators, consultants and the other trades. This is essential as a complex integration project takes shape. 
AV integration is hard work. It is construction. The best-laid plans hit snags in the field, and the path to completion is often winding. You must go into it knowing there will be challenges. In addition, the number of projects is increasing, the timelines for projects are shrinking, and there are equipment, materials and labor shortages. 
Mission: Impossible?
The opportunities and kick-off meetings can sometimes sound like an introduction to Mission: Impossible. I began my career working for an integrator, then a manufacturer and, now, a design and consulting firm. Some days, I find that I am arguing with myself. 
When I began my career as an integrator, there were often solid lines or swim lanes between the integrator, consultant, architect and client. We did as the consultant said. We didn't question, challenge or openly offer suggestions. We carried out instructions, and we were careful not to deviate from our swim lane. I suppose a bit of that still exists today; however, people work differently nowadays.
There is a more cooperative and collaborative spirit between integrators and consultants. Like anything else in life, people tend to treat others the way they are treated, and the project kick-off meeting can set the tone for the entire project. 
I am fortunate to work regularly with a handful of enterprise clients. These companies continually build, renovate, and upgrade their technology and space. They understand the value of a cohesive project team, including the architect, consultant, builder and AV integrator. Consistency affords the different team members the ability to develop relationships and trust, which then leads to an open, collaborative environment. 
I regularly work with a Boston-based integrator Red Thread for one of my New England clients. I was recently talking to John Mitton, vice president of the Audio Visual Group and CTO, about what it means to him to collaborate with consultants, clients and the rest of the project team. He gave me a one-word response: trust. It's hard to collaborate across a multi-disciplinary team if there is a lack of trust and if people don't have an equal voice. 
Mitton described his project engineer's relationship with me and how it opened the door to comfortably exchange ideas and perspectives throughout the project. It's hard for one person to have all the answers. Therefore, the client and the project team have the greatest opportunity for success when they embrace a collaborative approach. 
A Collaborative Approach to Projects
For years, my company has taken a very collaborative approach to projects. We welcome input and suggestions from integrators. We recognize that there is more than one way to accomplish a task, and we understand that our success is linked to the integrator's success (and vice versa). Together, we will succeed or fail, and the client will not be happy or satisfied if one of us fails. 
Creating a collaborative environment with the team allows us to resolve issues and make decisions more quickly. Adding in today's collaboration technology, we can identify potential problems in advance, and, thus, we have a greater chance to deliver on time and on budget to have a satisfied client. 
I keep using the word "collaborate." To me, collaboration means key project team members being able to gather around a topic or issue and share their ideas and perspectives, with everyone having an equal voice. Over the years, I have learned the best answer or path forward is usually a combination of ideas from experienced people who see things through different lenses. For example, the builder and integrator typically have useful opinions about constructing and wiring specialty furniture that will receive technology because they spend a lot of time performing these tasks. 
Before the pandemic, the norm had been in-person meetings with two-dimensional drawings plotted on large sheets. Of course, that's not to say people didn't use videoconferencing, three-dimensional drawings and BIM, and other collaboration tools before the pandemic. However, the pandemic accelerated the evolution of how we work and collaborate across distributed teams. 
At this point, all our projects are done in Revit, and we include renderings in our documentation package. Looking at spaces and objects in three dimensions over videoconferencing, along with other vital members of the project team, has enabled us to reduce conflicts, identify and solve challenges before they become problems, and reach agreement on design concepts during coordination meetings. 
Reaching Consensus
During a recent coordination call with a project team, we needed to develop a plan to locate and install an LCD touchscreen control panel and Bluetooth interface in an outdoor area. Using a combination of information available on the web, SketchUp and a conversation over a video call in real time, the team could visualize the equipment and how it would be installed in each of the potential locations.
P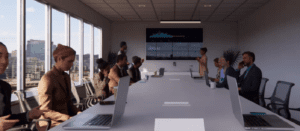 eople could quickly understand the ergonomics and see the impact on the landscape architecture. Most importantly, we had a consensus about the final location and installation method by the end of the call. This might have taken many conversations over several days if we had done it the old-fashioned way. 
Let me give you an even more detailed example of AV-integration collaboration. I recently worked on a complex, high-profile project for a technology-savvy client looking for a cutting-edge solution that required us to collectively solve new challenges, break barriers and deliver on a tight timeline. There was no room for slippage, despite a pandemic and global supply-chain snarls. 
The client told me that they wanted to handle the project in a very collaborative way. They chose their integrator and my firm to design and consult on the project on day one. Time was not on our side. We had fewer than 90 days to develop the program and get through CDs. The approach to the project was far from typical. We worked hand in hand with the client and integrator. We collaborated with collaboration tools with a regular cadence. We discussed all the details. We challenged each other. We supported each other. Everyone had an equal voice. 
The AV architectural drawings included renderings of the complex details like table microphones and monitors with integrated video cameras. Everyone on the team could visualize what the room and its architectural and AV elements would look like before they were built. They could visualize sightlines to displays and the camera views from the far end of a video call. 
Hit the Ground Running
Because the integrator was involved in the design process, there were no RFIs. And, when installation began, they were able to hit the ground running. When the project was at risk due to supply-chain issues, we all worked hand in hand to find and agree upon short-term solutions. 
With a month to go, the client needed to regularly report installation progress and status to their leadership. They set up daily calls with us and the integrator to discuss possible friction points, identify potential risks and collectively work to resolve challenges. 
This project was one of the most complex systems I have ever been involved with. Four weeks before our go-live date, I remember thinking we might not have all the needed equipment — let alone have all of it installed and operational. I remember being nervous the night before I flew to the project site to check out the system. But when my associate and I arrived onsite, we were blown away. The integrator hit a grand slam! 
Based on the tight timeframe, the high level of finish, the global supply-chain snarls and the unique capabilities, I don't think we could have delivered had we approached this project the traditional way. To me, collaborating our way through complex projects with a team of dedicated and trusted professionals, as well as the right collaboration technology and tools, means the following: 
We break silos.

We challenge each other.

 

We support each other.

 

We deal with adversity together.

 

We deliver success together.

 
Collaboration can't just be what we design, sell and install. Instead, collaboration must be how we, as project professionals, choose to work together to meet clients' increasingly complex needs. 
If you enjoyed this article and want to receive more valuable industry content like this, click here to sign up for our digital newsletters!