Hall Technologies Optimizes for Solutions-Minded Future
The end-to-end collaboration solutions specialist is leaning into AI and automation, USB connectivity, and modular, building-block product offerings.
Sponsored Content
Leave a Comment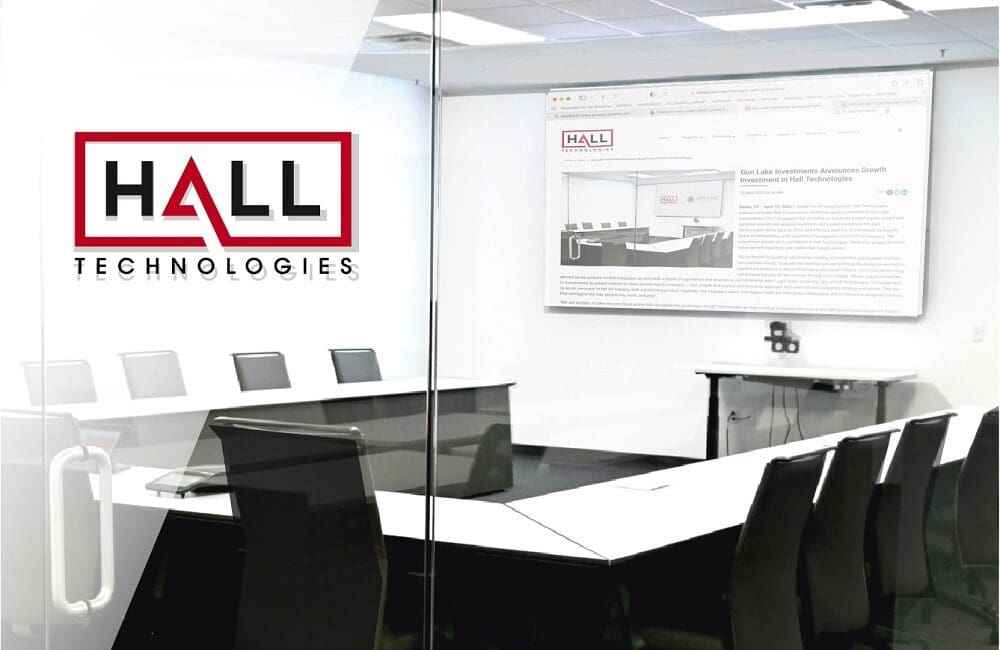 In the commercial AV world, we routinely speak of technologies advancing. It's even more notable, however, when companies evolve to new, more optimized forms. That's certainly the case with Hall Technologies, the Coppell, Texas-based collaboration solutions provider that emerged from Hall Research.
Debuting its new moniker in January 2021, Hall Technologies articulated a bold new vision. Whereas Hall Research was primarily an engineering company that made lots of AV products, Hall Technologies embraces a more contemporary approach. "Our vision was to take those great products, expand upon them and turn them into bigger solutions," says Ken Eagle, vice president of technology, a two-year company veteran. Pointing to the education vertical, which this piece focuses primarily on, he adds, "We actually want to be able to provide the whole classroom solution: the switcher, the cameras, the amp, the speakers, the control system…." It is, as Eagle puts it, Hall Technologies' way of adding more value to the client relationship.
Dramatically Increased Expectations
It's also very reflective of the present moment. The pandemic both transformed how we collaborate and increased expectations for integrated, equitable experiences. "No longer can you really just have a component in a room," Eagle observes. "You've got to have a network of components that all communicate with each other to create a good experience for everyone involved." And Hall Technologies, recognizing how challenging it can be to make disparate systems talk with one another, reached an inescapable conclusion: If it can provide the whole solution, it can guarantee all those pieces will communicate and operate properly, thus ensuring an excellent user experience.
Higher-education environments present arguably the tallest hurdle for technology solutions to clear. Think about K-12 settings: Many teachers occupy a single room all day and, thus, can become quite familiar with its integrated technology. By contrast, college professors travel to a different room every hour and face unyielding time pressures. "You've got, at most, about five minutes to get your laptop out of your bag, plug it in and begin delivering your message before you lose that audience," Eagle warns. And neither an AV integrator nor an in-house helpdesk is going to relish ongoing, time-sensitive support calls. "The person who walks into the room to use the AV is likely not an AV specialist," Eagle acknowledges. Thus, he reasons, classroom systems must be reliable, easily understood and, quite simply, just work.
Hall Technologies' Indispensable Classroom Solutions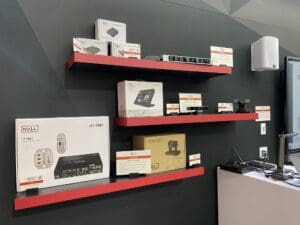 Reliability and usability concerns aside, classroom technology is indispensable in contemporary learning environments. According to Eagle, today's professors must consider three discrete groups when delivering their lessons: in-classroom students, real-time remote students and asynchronous students viewing on demand. "And audio is going to be the most important piece for all three of those audiences," he declares. For in-classroom students, Eagle recommends teacher mic'ing and basic voice lift for any classroom with 35 seats or more. It's a necessity, he says, "…just to communicate properly with those people in the room," without having to shout. Equally critical, however, is to capture the instructor's voice and deliver it to the collaboration platform (e.g., Zoom, Microsoft Teams) that remote students utilize. Just as important is for both the professor and the in-person classmates to hear remote students' comments. Finally, lecture capture is increasingly essential, thus ensuring asynchronous, on-demand access.
One element of Hall Technologies' vision, as articulated by Eagle, is greater automation and utilization of AI technologies. While acknowledging a place for touchpanels and buttons, he asks a provocative question: In the same way that sensor-based lighting works, can college professors enjoy a seamless, automated, just-walk-into-the-room experience? He envisages the professor's arrival triggering automatic initial activation. Eagle describes it this way: "To get started, [it tells them to] connect to this Wi-Fi network or plug in this HDMI or USB-C cable. When they do that — boom! — the rest of the stuff all activates, and they don't need to do anything." Moreover, he says, the AI could reset everything for the next professor, thus leaving the room technologically pristine.
USB as Connective Tissue
Eagle acknowledges the transformation in recent years not only of classrooms but also of collaborative environments of all kinds. In today's digital age, device numbers have increased exponentially. Microphones, Bluetooth devices, tablets, smartphones and more suffuse nearly every collaboration space. "Not just items that are installed in the room but also things people bring into the room," he observes. "Now, we have to be able to ingest those and communicate and talk with them." And although Bluetooth and Wi-Fi aren't going anywhere, Eagle strongly believes in USB as a standard platform to allow communication among those devices. "USB is used pretty heavily because we can use USB cables ubiquitously among all brands," he states. "And we can connect things pretty reliably and allow them to talk with each other."
From Eagle's perspective, thinking along these lines has become table stakes to be a player in the end-to-end solutions market. And that's why Hall Technologies' product line is leaning so heavily in this direction. "You've got that AI and software to make things easy to run," he explains. "And then you've got USB connectivity built into every product, which allows for switching between all of the participants, wired or wireless. So, they all have access to not only the audio/video but also the USB technology that rounds out that room." And everything, Eagle adds, ties together with Hall Technologies' HIVE Control platform, which the company designed and built in house.
Compatible and Modular
Arguably, Hall Technologies' most powerful differentiator is its product line's compatibility and modularity, which Eagle analogizes to Legos or building blocks. Rather than having an enormous list of narrowly tailored products, Hall Technologies boasts a small, easy-to-learn, flexible product line. "Those products can be added or subtracted from each other to make different solutions to cover all those applications that are out there," he remarks. "They're built such that we'll configure several different blocks of solutions to cover a number of education applications, and we'll use those same [components] as building blocks for our corporate solution."
This correlation makes integrators' lives easier, sparing them from having to learn separate product lines. And the products' scalability makes integrators' client relationships more profitable. As Eagle puts it, "We've built it in a way that our solutions can grow with the customers as their needs change. And that makes it easy for the integrator to upsell to those customers and stay relevant and important to what they're doing."
Exciting InfoComm Plans
Hall Technologies has huge plans for InfoComm, including launching a range of solutions that, Eagle says, will "fill holes" not only in the company's line but also in the overall market. Those include two new 70-meter and 100-meter 4K HDBaseT extenders (AIM 70 and AIM 100), an expansion of the Astro USB-extension product line, a new line of USB-C fiberoptic cables (five-meter and 10-meter extension) and a new eight-button keypad for the HIVE Control line.
Initially targeting education and public-safety environments, Hall Technologies will release a series of wireless microphones with an inbuilt panic button. (It's a regrettable reality that, these days, people are concerned about their safety on campuses.) The handheld/wearable mics will be usable for voice lift and will have USB connectivity for easy use with conference platforms. The panic button, meanwhile, Eagle says, "…can be customized by the institution to trigger whatever kind of response or event they want." For example, the principal's office can receive notification of an SOS call from Room 302, and there might be a follow-on command string to notify authorities and activate flashing lights outside that room.
Eagle also offers tantalizing hints about yet another huge announcement the company is planning for InfoComm — namely, a way for schools to put affordable video into their rooms, thus augmenting the solutions that education institutions are already buying from Hall Technologies. "We'll be announcing something really cool around that at InfoComm, and we'll be showing the product there, as well," he promises.
Clearly, Hall Technologies is aggressively optimizing itself to seize opportunities in a bright, technology-infused future. To learn more, check out HallTechAV.com, which, Eagle notes, will imminently undergo a complete revamp. Soon to feature a refreshed look, a new search engine and a solutions-focused layout, the website will be a prime starting point for integrators to leverage Hall Technologies' solutions.
If you enjoyed this article and want to receive more valuable industry content like this, click here to sign up for our digital newsletters!