Q-SYS' Jason Moss on Collaboration in High-Impact Spaces
CI chats with Q-SYS about how office environments continue to transform, and how Q-SYS technology can power increasingly sought-after high-impact spaces.
Sponsored Content
Leave a Comment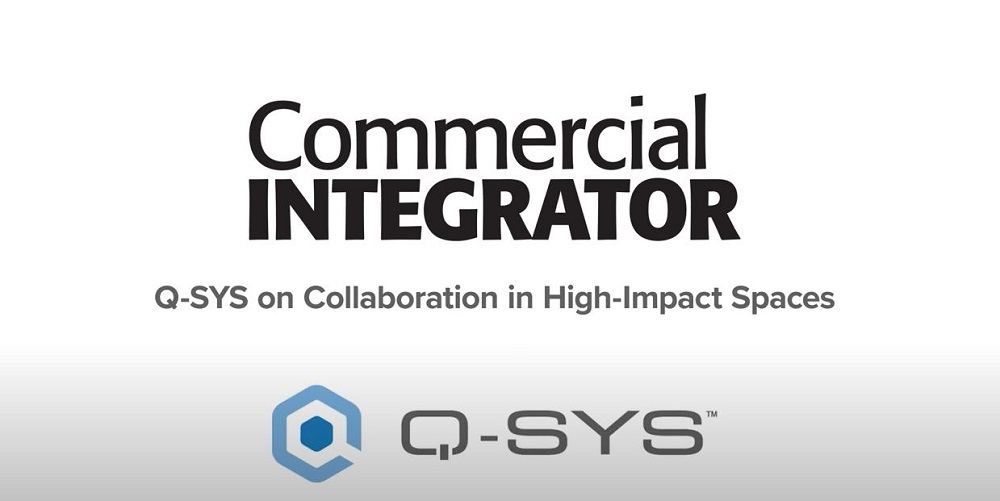 Editor's Note: As part of the much-anticipated second edition of Collaboration Today and Tomorrow, Dan Ferrisi, editor-in-chief of Commercial Integrator, recently chatted with Q-SYS' Jason Moss, vice president, corporate development and alliances, about high-impact spaces. As office environments continue to transform, the AV community will be hearing a lot more about high-impact spaces in the months ahead. In the conversation that follows, Moss offers insights into what these spaces are and how Q-SYS technology can power them.
And don't forget to check out the companion video interview, below, which offers further insights beyond the Q&A presented here.
Collaboration Today and Tomorrow: As companies continue to focus on hybrid work and reevaluate their meeting spaces, what can they do to entice employees back into the office?
Jason Moss: Companies need to make collaboration spaces that function as well as their employee's own home. When they are at home now, they are efficient…. So, when they come into the office, they are expecting the bar to raise. They need to have a comfort level, enjoy being there, and know how to use all the tools and technology. Some of these spaces that can draw people in are what we call high-impact spaces. The key is to attract employees with modern technology that is easy to use and that removes any friction, as well as a space where everyone can participate so new views and opinions can be heard.
CT&T: What is a high-impact space, and how does this room type facilitate productivity and engagement?
Moss: A high-impact space is a room that enables something beyond just simple audio, video and maybe content-sharing. It's a space where users must achieve substantial, well-defined outcomes and that is highly visible, such as executive spaces, boardrooms, training rooms, all-hands rooms and auditoriums, as well as divisible spaces. They give you the flexibility to do all different types of activities. For example, you can easily accommodate a customer meeting one day; the next day, you might film an all-hands session; then, you might bring in a collaboration session to automate an elevated experience. High-impact spaces combine all those different elements of flexible workflows with an impressive set of technology that is easy to use and that enables you to be productive.
Essential Technologies for High-Impact Spaces
CT&T: What type of technologies are essential for a high-impact space and how does it differ from a legacy space?
Moss: I think one of the key terms is flexibility. Because these spaces are really important and are in high demand, they need to be able to work with multiple different scenarios — potentially, with different videoconferencing codecs. Because of the hybrid nature of these spaces, it's also key to ensure all team members can be heard and hear properly. To do that, these rooms need to be equipped with modern technologies, such as automatic camera switching and beamforming microphones. These can eliminate throwaway space at the far ends of meeting rooms and remove friction from human interaction to create equitable communication for all parties.
CT&T: What is the market potential to implement these types of collaboration experiences?
Moss: We see a rise in the market and demand for these types of spaces. There's a saying out there: "The office is the new offsite." Instead of dispersing a bunch of people who are working in an open-desk environment and a bunch of huddle rooms around the edge, companies will look to invest more in these impactful spaces that allow for seamless team collaboration and, in the end, entice their workforce back into the office.
Per Frost & Sullivan's recent research, approximately two-thirds of organizations plan to modify their use of office space to accommodate hybrid work and will look to deploy high-impact spaces. Specifically, when organization move offices, spaces in the new premises will be configured to a much higher standard. The same will be true when existing buildings are renovated, or as legacy spaces are converted on a rolling basis and equipment is upgraded.
The Q-SYS Value Proposition
CT&T: How is Q-SYS an ideal AV&C solution to enhance this type of collaboration experience?
Moss: These spaces are really tailor-made for the capabilities that Q-SYS brings. Because Q-SYS is an open-based platform built on standard IT protocols and includes audio, video and control all in one software-based foundation, it provides a lot of extensibility to be able to work with all different types of equipment and workflows people want to use. Simultaneously, we have maintained certification with Microsoft Teams, Zoom and Google; it can work in Cisco environments; and we have an extensive ecosystem of partners to help create effective collaboration. In addition, because of its open nature, you can easily augment and enhance the capabilities of these rooms as you go along and find different needs.
For additional content involving Q-SYS, check out Commercial Integrator's website archives.
To review the inaugural issue of Collaboration Today and Tomorrow, check out our interactive digital edition.
If you enjoyed this article and want to receive more valuable industry content like this, click here to sign up for our digital newsletters!