Nureva's Audioconferencing Systems Integrates with Extron to Enable Sound-Location Tracking
Nureva's audioconferencing systems now integrate with Extron control and automation solutions to deliver camera-tracking features that support hybrid working and learning.
Leave a Comment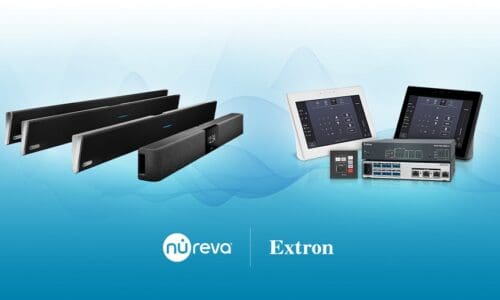 Nureva Inc., the Alberta, Canada-based innovator of IT-first audioconferencing solutions, announced its HDL300 and Dual HDL300 audioconferencing systems integrate with Extron control and automation solutions to deliver camera-tracking features that support hybrid working and learning.
Here, Extron used Nureva's sound-location device API to update the Extron Control Systems Driver. Per a statement, the API is available through Nureva Developer Toolkit. The Extron control processor receives sound-tracking data from the HDL300 and Dual HDL300 systems. It then sends a preset recall command to steer camera views to the location of the person speaking.
The supplied audio-location data leverages Nureva's patented Microphone Mist technology. This fills a room with thousands of virtual microphones so everyone can be heard everywhere in a space. Additionally, it reports sound direction, location and level several times per second. With this, it enables automatic camera adjustments based on the location of the active speakers. According to Nureva, this results in more refined camera positioning and switching and a better experience for remote participants.
Also Read: Nureva HDL310 to Offer Enhanced Audio for Mid-Size Spaces
Benefits of Nureva's Integration with Extron Control
With the launch of this integration, Nureva HDL300 and Dual HDL300 audio systems can supply voice-tracking data to any of those cameras with the simple installation of the Extron driver. Nureva created its sound-location device API as part of a program to work with companies like Extron on steering cameras with Nureva audio systems. With this, it aims to improve and simplify remote collaboration. Visitors got a chance to experience the new product at ISE 2023 held in Barcelona, Spain.
"It's exciting for Extron to combine our industry leading control and automation solutions with Nureva's audio conferencing capabilities," says Casey Hall, Extron's CMO. "By simplifying integration between products, our shared customers will benefit from better meetings aided by enhanced audio and control experiences."
Nancy Knowlton, Nureva's CEO, adds, "We are pleased to collaborate with Extron to deliver the simplicity and flexibility that our mutual customers demand for their hybrid spaces by combining Nureva's sound-location data for third-party cameras with Extron control systems. Using the intelligence built into Microphone Mist technology; our IT-friendly wall-mounted systems are delivering a level of camera-tracking sophistication that, until now, was only possible with traditional pro AV solutions."
---
Editor's note: This was originally published on January 10, 2023 and has been updated on April 20, 2023 with additional information.
If you enjoyed this article and want to receive more valuable industry content like this, click here to sign up for our digital newsletters!