Easy, Inexpensive and All-Inclusive: The Vaddio Worship Streaming Solution at Willow Hills Baptist Church
Worship streaming solution from Vaddio gave the Willow Hills Baptist Church in Prescott, Ariz. a simple, affordable and all-in-one product the parish loves.
Sponsored Content
Leave a Comment

Willow Hills Baptist Church in Prescott, Ariz., was seeking a way to capture and stream their weekly worship services. They needed an affordable worship streaming solution for video cameras and a production system in order to broadcast for its 500 members.
They also wanted something that would be easy for congregational volunteers to use without much training. Cost had been a limiting factor for several years, but they never gave up the search for solutions that would fit their needs and budget.
CCS Presentation Systems, an integrator based in Scottsdale, Ariz., was able to provide a strong family of Vaddio streaming products that worked well together.
A One-Vendor Solution
Vaddio streaming solutions included:
AV Bridge MatrixMIX switcher
PPC MatrixMIX camera controller
TeleTouch 27 touchscreen multiviewer
RoboSHOT 30 PTZ cameras
RoboSHOT 12 PTZ cameras
The system was easily integrated with the existing audio and projection system, routers and production room.
The PTZ (pan/tilt/zoom) cameras, two each of the RoboSHOT 30 and RoboSHOT 12, were chosen after seeing the results at another church near Phoenix.
David Smith, the church's lead tech, said the minimal latency in the Vaddio streaming cameras using HDBaseT cable was a deciding factor as well.
Easy Operation
By pairing the TeleTouch 27 Multiviewer and PPC MatrixMIX with the AV Bridge MatrixMIX, volunteer producers can now create a first-rate production without extensive training.
"Ease of use is a top priority for the products we develop," said Jay Kilby, Vaddio's product management director. "The AV Bridge MatrixMIX suite is a terrific solution for houses of worship streaming situations that need a simple-to-run system."
Related: 6 Features Church Customers Should Pay More For
The operator can preview all four cameras plus input from other devices such as PCs to put on the screen. The AV Bridge MatrixMIX also provides the capability of displaying different views on the front and back projection screens.
The PTZ cameras feature color and picture control, preset angle options and camera speed adjustments. This helped customize the system to the space, and Cat-6 cables ensure the ability to adapt to 4K capability in the future.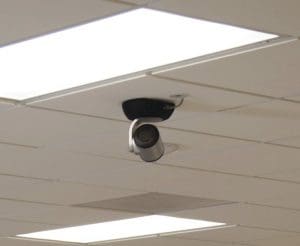 Worship Streaming Solution's Impact
Installation took place in less than a week between services for minimal impact.
Initial training showed the church staff how to use the system — starting with the basics such as using the joystick for pan, tilt and zoom functions, using camera presets, and how to add captions or graphics to the screen.
Work was finished in April, and the church didn't even wait a whole week to try it on a service. Instead they partially recorded a youth rally that night to practice working with the PPC MatrixMIX Live Production Controller.
Since then, capturing services has opened up the possibility of expanding the number of services. They can replay the pastor's 30-minute message during a new service later in the day.
Smith said all expectations were met fully with the installation.
Read Next: 15 Most Innovative Meeting Spaces Products: The Best in Room Scheduling, Huddle Room and Conference Room Technology