Avocor Launches Dedicated Google Meet Displays
Avocor's dedicated Google Meet devices are the Desk 27 for personal collaboration the larger Board 65 for collaboration spaces.
Leave a Comment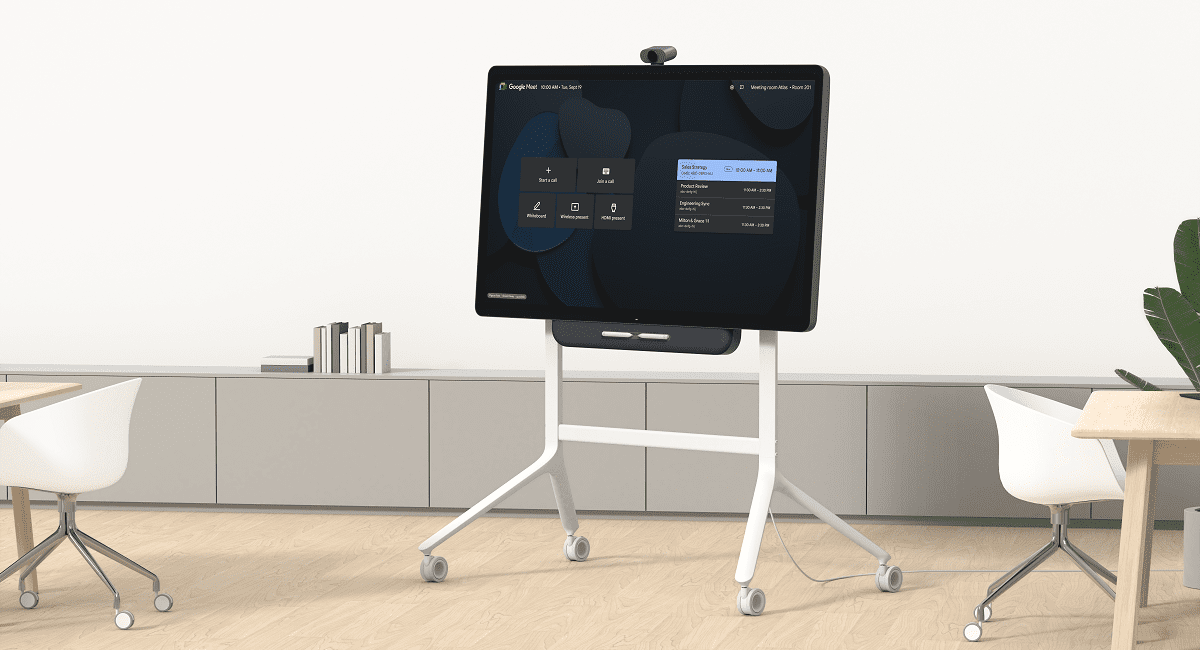 Dedicated videoconferencing displays for Zoom and Microsoft Teams have generated buzz over the last year and a half, but with Google Workspace quickly growing and the platform's videoconferencing app Google Meet becoming a major player in the workplace, it's no surprise that a manufacturer like Avocor partnered with Google on dedicated Google Meet devices.
The companies on Wednesday announced a new global partnership and the launch of two all-in-one conferencing and digital whiteboarding devices designed for organizations to create meeting equity on the desktop and in shared spaces.
The devices are the 27-inch Desk 27 for personal collaboration the larger 65-inch Board 65 for small-to-medium collaboration spaces.
This new category of touch-enabled devices for Google Meet expands the platform's Series One hardware portfolio for millions of Google Workspace users.
The Desk 27 is designed for personal collaboration via Google Meet, but can also be used as a desk monitor, laptop docking station and digital whiteboard that integrates with Google's popular Jamboard app.
According to Avocor, the device features an integrated soundbar and mic array with Google's multi-channel noise cancellation technology TrueVoice, an adjustable tabletop stand and wall mounting capabilities.
The Desk 27 requires just a power cord and Ethernet and a USB-C port for laptop connection, which helps improve cable management. When connected to a laptop, users can access all of their files and apps, including everything in Workspace.
The device is designed for Google Meet, but it can run any videoconferencing app while leveraging the audio and video capabilities with the touchscreen display, digital PTZ camera and soundbar, according to Avocor.
Starting a meeting requires the user to touch either their calendar or the room resource calendar, or they can say "Hey Google, join the meeting."
The wall-mountable Board 65 is designed for small-to-medium conferencing spaces and includes many features of the Desk 27, including laptop connection, noise cancellation, touch capabilities, integrated audio and video features, Jamboard integration and voice activation.
According to Avocor, both are available for pre-order and are expected to be generally available in the fourth quarter, with the Desk 27 selling for $1,999 and the Board 65 at $6,999. They will be available through the Google Workspace global network of authorized resellers.
The partnership comes as Google beings to gain ground on collaboration leaders Zoom and Microsoft, which also have partnerships with hardware providers on dedicated conferencing displays.
Dave Citron, director of product management for Google Meet and Meet hardware, said in a statement that Google Workspace users logged more than 1 trillion video minutes in 2020, and the number of users continues to grow.
"The best video and collaboration experiences bring together Google Meet and Meet hardware—accelerating overall productivity," Citron said. "We partnered with Avocor to give Google Workspace customers access to one of the best collaboration-first interactive touchscreen technologies on the market."
In a statement, Avocor CEO Scott Hix pushed the idea of creating meeting equity for hybrid teams, and citing the 6 million-plus users of Google Workspace that drove the decision to partner with Google.
"Working together to expand the Google Meet Series One family with Desk 27 and Board 65, we're now able to offer everyone meeting equity through shared devices for team meeting spaces and a personal device for your desktop–elevating the ability to see, hear, and participate from anywhere," Hix said. "By leveraging the power of Google Meet, combined with the sophistication and wide range of capabilities that Avocor has in interactive collaboration hardware, we are helping customers to connect and succeed in the evolved modern workplace."
If you enjoyed this article and want to receive more valuable industry content like this, click here to sign up for our digital newsletters!