KUDO Brings the World to Your Laptop and Mobile Phone in Many Languages
2nd version of KUDO simultaneous translation includes English, Spanish, French and Portuguese; allows users to share presentations with real-time results.
Leave a Comment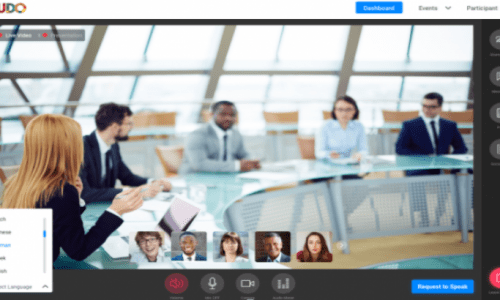 With more business canvassing the world today than ever before, you're sure to find yourself in a position where there's a language barrier preventing you from closing the deal as quickly as you'd hoped. The second generation of KUDO simultaneous translation hopes to prevent that complication.
KUDO's all-new cloud-based platform for live meetings and web conferences with built-in simultaneous interpretation represents "a revolution in technology for multi-lingual communication," says Fardad Zabetian, CEO of Media Vision, who's part of the team behind KUDO.
"I'm passionate about enabling people to communicate with each other in different languages," says Zabetian, who will be at InfoComm 2018 with Media Vision [booth C1146 at InfoComm 2018].
"KUDO was born to address very specific needs. There's a huge value for people to meet in person but we realize how many meetings today are in the cloud and using video collaboration."
Although global business is commonplace today, more than two-thirds of people in the U.S. meet only by videoconference, says Zabetian.
"There's a missing layer of language in the other platforms and we're assuming people we're talking to understand what we're saying," he says.
"Even the largest organization is facing problems with communication," says Annabelle Gazzo, marketing director at Media Vision.
"Clients have very high standards. KUDO isn't trying to replace any existing technology; it's more to supplement what's out there now. There's a synergy with existing technology."
KUDO Simultaneous Translation Brings the World Together
The release of KUDO means "there are no more geographic barriers to communication," says Katharine Allen of Interpret America.
Meetings of representatives of the United Nations "are already moving in this direction" of simultaneous translation, says Evandro Magalhaes, VP of communication for KUDO.
The new version of KUDO features real-time translations into English, French, Portuguese and Spanish, with other capabilities coming soon.
In addition to users having the ability to join meetings from their computers or smartphones with HD audio/video, KUDO allows attendees to share their screens, send messages to the group, launch polls and share documents they're discussing.
There's a live video and presentation tab within the software portal and among the new features are the ability to archive meetings and create Q&As. KUDO 2.0 is available either by subscription or on-demand.
Version 1 launched last September and was used at many large events, says Zabetian. The second version, he says, "adds new features based on market demands. It allows multiple speakers to connect globally without concern for misunderstanding or misinterpreted what the other person or people are saying, says Zabetian.
KUDO's interpreters work in specially built studios and work with their fellow interpreters to ensure a level of quality control that might not otherwise be available if the interpreters worked in their homes or used technology that made their translations tough to understand or hear.
Each KUDO translator goes through an online training course before working for the company.
"It's a tool for businesses to be able to communicate and get into new opportunities," says Zabetian.
KUDO has capacity for up to 3,000 attendees per language and is hoping to soon have plug-ins for YouTube, Facebook Live and other platforms where the number of attendees is limitless.
If you enjoyed this article and want to receive more valuable industry content like this, click here to sign up for our digital newsletters!