80% of Surveyed AV Integrators Report Having a Global Business Strategy
As the industry converges on ISE 2018 in Amsterdam, our survey of North American AV integrators say they have a global business strategy in place.
Leave a Comment
A whopping 80 percent of surveyed integrators say they have some sort of a global business strategy, according to a Commercial Integrator survey conducted as many in the AV integration industry converge on Amsterdam for ISE 2018.
More than half of the integrators — 55 percent — who answered our weekly CI survey say they utilize partnerships—whether it's another integrator or a consortium such as the PSNI Global Alliance—when it comes to their customer strategy outside North America.
Meanwhile, 15 percent of CI's hand-picked, small sample of integrators who responded to our survey say they already have a footprint outside of North America. Another 10 percent say they have a global strategy that isn't described in our survey.
Only 20 percent say they don't have a global business strategy. Perhaps these are the same respondents who said in the previous week's survey they weren't planning to be in Amsterdam for ISE 2018, despite managing director Mike Blackman saying he expects this year's show to break last year's attendance record of 73,000 people.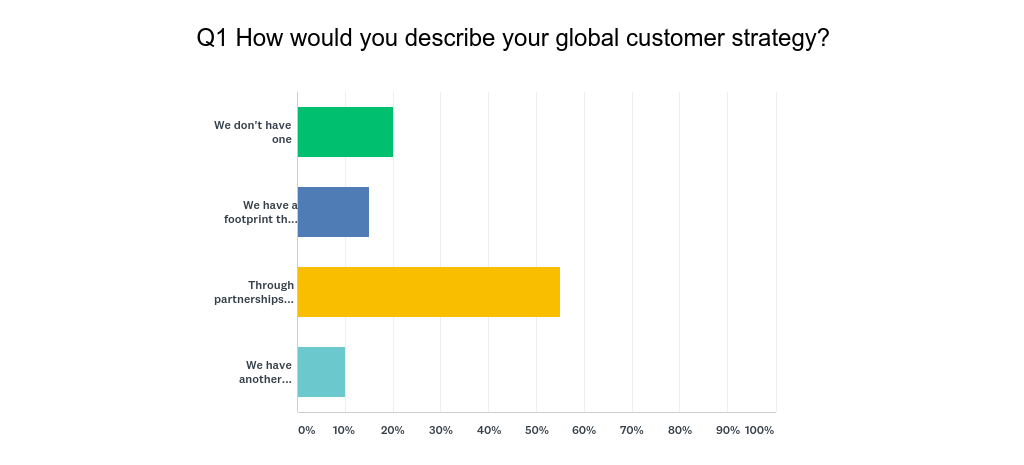 Groups including  the PSNI Global Alliance, Global AV Partnership and the decade-old Global Presence Alliance have become increasingly important to integrators who are looking to do work outside North America. Those groups carefully select members they want to represent them in areas across the U.S. and around the world.
One survey respondent says their clients traditionally bring them into new geographical territories.
As is often the case when systems integrators take their talents outside North America, one survey respondent says their clients traditionally bring them into new geographical territories.
"While we don't seek out global work, there are times it's required for U.S. clients with offices abroad," the respondent wrote. "In that scenario, we often send a few members of our team and partner with a local so that they are familiar with the project and can handle all service after the installation is complete."
Another respondent said their worldwide customer strategy often involves "smoke and mirrors, but we must 'answer the question.'"
A couple of the others say they're regional integration firms so they traditionally work in a particular region of the U.S. so they aren't planning to develop a international customer strategy at this point. If we'd asked this question in another six months or so, we might have had another company that was doing global work, but for now, that respondent said they're developing their global customer strategy.
If you enjoyed this article and want to receive more valuable industry content like this, click here to sign up for our digital newsletters!