Mersive Joins Logitech Collaboration Program to Launch Wireless Content Sharing and Video Conferencing Solution
Unified Mersive Technologies and Logitech wireless content sharing workflow 'brings new levels of productivity to meeting rooms and educational spaces.'
Leave a Comment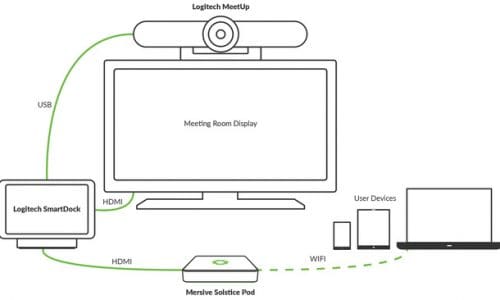 Mersive Technologies recently announced it has joined the Logitech Collaboration Program (LCP) as an integration partner, meaning the company "delivers an exceptional user experience through proven and mutually validated integrations," according to the joint announcement.
Mersive's Solstice wireless content sharing & collaboration system allows users to simultaneously share and curate content on a shared display, while SmartDock for Skype Room Systems extends that content, leveraging Skype video conferencing to remote parties.
"Many of our customers have started asking for an integrated solution for both wireless content sharing and video conferencing," said Rob Balgley, CEO of Mersive, in the announcement about the company's membership in the Logitech Collaboration Program.
"Working together with Logitech allows Mersive to offer our channel partners and users a plug and play solution for all of their Skype rooms that also use Solstice. Given both products' successful track records, I believe customers are getting the best of both worlds with these two products."
Solstice supports BYOD environments, provides high-quality streaming and allows any number of users to simultaneously share content from any device.
Unlike traditional wireless presentation and wireless content sharing systems, Solstice allows corporations and universities to deploy across multiple locations due to its advanced security and centralized management and analytics.
"We are very pleased that Mersive has joined our program" said Scott Wharton, VP and GM of Logitech Video Collaboration, in the joint announcement.
"By closely collaborating with Mersive, we are able to offer an enhanced collaboration experience to our joint customers."
Mersive recently showed off Solstice Kepler in its InfoComm 2018 booth, introducing a way to help people make their meetings more productive by allowing them to rate them and leave feedback on which components worked best and worst.
Logitech recently teamed with furniture maker Herman Miller to find new ways to combine the design and furniture within meeting rooms with the technology being used in the spaces.
Biamp is among other pro AV manufacturers in the Logitech Collaboration Program, which launched in 2015.