If Alexa Is In My Hotel Room, Do I Need Two Keys Now?
Alexa for Hospitality will help hotel room guests order room service, request housekeeping or play some tunes. Count me out.
Leave a Comment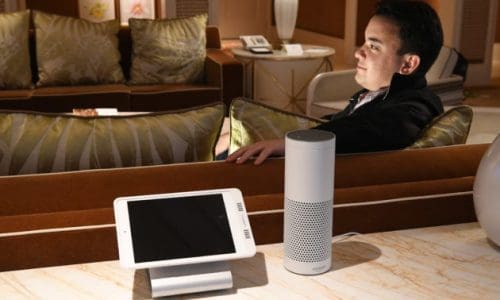 Amazon this week introduced Alexa for Hospitality, a special version of its voice control device that will be distributed to hotels, vacation rental properties and other getaway spots by request.
As someone who still calls the front desk every night for my morning wake-up call whenever I travel, I'm here to tell Alexa: stay the heck out of my hotel room!
For those who are interested in bringing the Alexa experience from their living rooms to their hotel rooms, Alexa for Hospitality will be customized and tailored to each location. Guests will be able to order room service, request housekeeping or adjust room controls (thermostat, blinds, lights, etc.) using an Amazon Echo in their rooms.
They can also ask location-specific questions, such as what time the hotel pool closes or where the fitness center is.
Marriott International plans to integrate Alexa for Hospitality at select Marriott Hotels, Westin Hotels & Resorts, St. Regis Hotels & Resorts, Aloft Hotels, and Autograph Collection Hotels starting this summer.
The Wynn Las Vegas has already put Echos in rooms — even before Amazon optimized Alexa to interact with new guests every day. Did any of the almost 43,000 InfoComm 2018 attendees have some good chats with AI earlier this month?
Hey, Alexa, Close the Door! I'm Showering!
I think voice control devices, as omnipresent as they are about to become because of the supposed simplicity they add to some tasks, can lead to laziness and I hope I'm never faced with staying in a hotel room where I'm face-to-face with Alexa.
I'm fine with turning on my own lights, opening or closing my own shades and calling the front desk if I have anything that needs to be fixed or updated in my hotel room.
According to Amazon officials, the well-known security and privacy issues have been limited in the hotel-based version, but I'm not ready to take the chance.
That means:
recordings of commands are deleted daily
hotels are not given access to voice recordings of AI interactions
hotels are not able to review Alexa's responses to users
On the other hand, hotels can use Alexa for Hospitality to "measure engagement through analytics" or "customize the deployment" by choosing default music stations from iHeartRadio or connecting custom skills to their Echo devices, including Marriott offering TED Talks on Echo devices.
Amazon says users will "soon" be able to temporarily link their own Amazon accounts with Echos that are running Alexa for Hospitality to have access to their Amazon Music and Spotify subscriptions or Audible audiobooks.
Read Next: Will Facebook's Fiona Join Alexa and Watson in the Boardroom?
When a guest checks out, Amazon says Alexa for Hospitality automatically disconnects their Amazon account from the in-room device. But does it really? Do you really want to know the answer?
If you enjoyed this article and want to receive more valuable industry content like this, click here to sign up for our digital newsletters!