BrightSign Rounds Out Series 4 Portfolio with HD and LS Media Players
New BrightSign HD4 and LS4 media players are the first to support the new BrightSign operating system (v 8.0), made for web developers.
Leave a Comment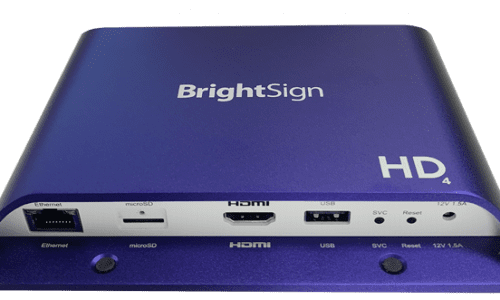 BrightSign, LLC this week unveiled the new HD and LS media players, rounding out its Series 4 player family.
Both players "feature major updates to the HTML rendering engine, with the HD4 now offering 4K native decode supporting HDMI 2.1 and HDR10.
The three new BrightSign HD4 and LS4 models "feature upgraded player hardware and run the latest version of BrightSign's dedicated operating system (v8.0), making them exceptionally powerful while maintaining the same price-points as their predecessors," according to the company.
Both the HD4 and LS4 boast higher power efficiency than their Series 3 counterparts," according to the BrightSign announcement.
BrightSign OS 8.0 offers a host of enhancements, giving web developers a much better, more recent set of development tools for Chrome.
The new HD and LS players join BrightSign's previously announced XD and XT players to complete the Series 4 portfolio.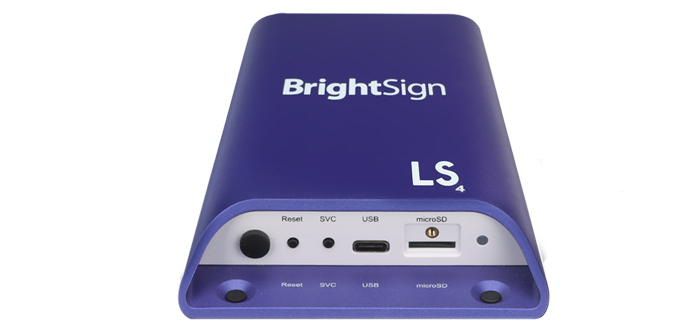 BrightSign introduced the Series 4 XD4 and XT4 at ISE 2018 in Amsterdam in February.
The XT line supports PoE+ and XT1144 supports HDMI In to deliver Live TV to endpoints either via an HDMI cable or streaming over a network. The new players will continue using the patented industrial design of the Series 3 players.
These four models in the BrightSign Series 4 range are designed to support Dolby Vision and HDR10+. The XD234 and XD1034 replaced the XD Series 3 models and XT244 and XT1144 replaced the XT Series 3 line.
BrightSign XT1144-T, complies with the Trade Agreements Act (19 U.S.C. & 2501-2581) – a feature that it says makes the product a good fit for government agencies.
The BrightSign XT1144-T, which sells for $850 and is available now, is a variant of the XT1144 and is manufactured in accordance with the TAA, writes the company in a press release.
The new media player's performance and specifications are identical to the XT1144, however the manufacturing process is Trade Agreements Act compliant, paving the way for sales into government agencies within the United States.